Zarika, Phiri Promise To Bring Down The Roof In Nairobi Fight Night 2
22nd March 2019 - by Mutwiri Mutuota
WBC Super bantamweight champion from Kenya and Zambian challenger tip the scales at 55Kg each during weigh-in to pave way for the showdown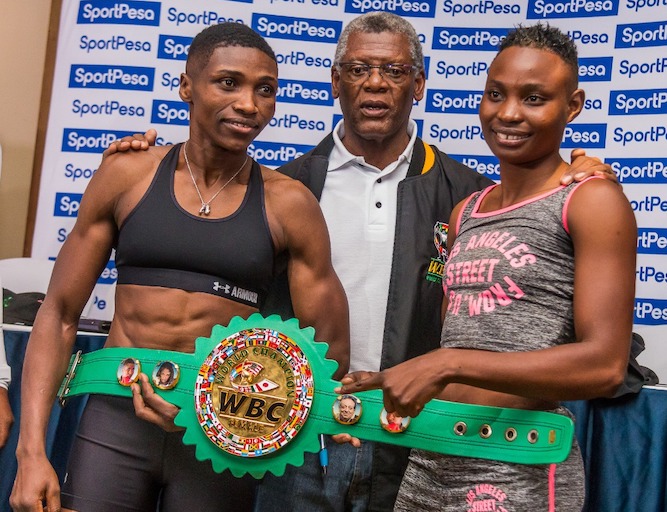 SUMMARY
Tipping the scales at exactly 55Kg each that is on weight for the category whose maximum allowed weight is 55.7Kg, Zarika and Phiri who will trade punches for the second time
At the same time, boxers from all four undercards highlighted by the men Super welterweight showdown between Hassan 'Champez' Mwakinyo and Argentine Sergio 'El Tigre' Gonzalez also made the weight for their fights to be sanctioned by the Kenya Professional Boxing Commission (KPBC)
Thambo Sampo from South Africa will be the ring referee for the title fight with judges from Uganda, Namibia and South Africa scoring
NAIROBI, Kenya- Homegirl titleholder Fatuma 'Iron' Fist Zarika and Zambian challenger Catherine Phiri promised fans a ring battle for the legend during their World Boxing Council (WBC) women Super bantamweight title bout that will be the main event of Nairobi Fight Night 2 as both made the cut during the weigh-in at the Kenyan capital on Friday.
Tipping the scales at exactly 55Kg each that is on weight for the category whose maximum allowed weight is 55.7Kg, Zarika and Phiri who will trade punches for the second time.
The Kenyan won the first bruising encounter 3-0 on unanimous decision on December 2, 2017 and on their rematch, the boxers promised they will leave nothing behind in their scheduled 12-round encounter at the Kenyatta International Convention Centre (KICC).
At the same time, boxers from all four undercards highlighted by the men Super welterweight showdown between Hassan 'Champez' Mwakinyo and Argentine Sergio 'El Tigre' Gonzalez also made the weight for their fights to be sanctioned by the Kenya Professional Boxing Commission (KPBC).
"I would like to thank my fans and I'm grateful you are all here. I'm great, there is no need to talk much, we can only go to the ring and do our talking there," Zarika, 34, who was a face of intense concentration ahead of her third title defence in her home capital spoke.
She was escorted to the weigh-in venue at a Nairobi hotel by retired WBC cruiserweight champion and British boxing star, Tony Bellew as well as her other coaches from the United Kingdom, John McNally and Declan O'Rourke.
MUST READ: Against All Odds: Zarika's Rise From The Ashes To Taking Over The Boxing World
"I'm grateful to be here. It's not about the boxers but the children this event will inspire. All organisations going out there to help the children and develop the sport. She is ready to go for 25 rounds, insanely driven and motivated. These guys (McNelly, O'Rouke) have been amazing fighters during their time.
"I'm just excited and I can't wait to experience the Nairobi atmosphere. I wish both fighters well and to Phiri fighters do not give excuses, they go there and do what they have to do," Bellew who spent three weeks in Liverpool training the Kenyan champion courtesy of entertainment and technology business, SportPesa added while tipping his boxer to hold on to her belt.
The younger Zambian, 32, who is bidding to reclaim a WBC belt after controversially losing the welterweight crown in Mexico two years ago, promised a fight for the ages in her mission to atone for her first loss to Zarika.
"Thank you so much to the Kenyan fans and I'm here for the second time. Last time, I said it's going to be fire for fire and you so what happened. This time, this is going to be nuclear for nuclear. Do not come late because if you do, you might miss out on the action," Phiri roared, adding to the already charged atmosphere.
Weight class
WBC supervisor and commissioner for the face-off, Dr. Peter Ngatane then led both fighters to the scales and much to the relief of both camps after a spot of haggling, both made their weight class, clearing the last hurdle before the main business on Saturday night.
Speaking at the press conference that preceded the weigh-in they all came for, Ngatane noted WBC, the biggest global promotion in the world, was excited that Nairobi was once again becoming a hub for big boxing shows.
MUST READ: Flashback Friday: Here Is How Fatuma Zarika Vs Yamileth Mercado Went Down
"Kenya used to be a powerhouse in boxing in the old days. We had powerful activity in Kenya. I'm very excited that SportPesa has come up to revive the sport of boxing in Kenya.
"What makes me more proud, is these days we have buzz around female athletes and I'm so happy that they have decided to have the major fight a female fight and the undercard male. It gives female boxing a great platform," the long-serving WBC and Africa Boxing Union official underscored.
"I believe this will be a grudge fight and the fans will be given their money's worth. I support both boxers, they are here to represent female sport no matter where they come from. Return the sport of boxing to return the glory of where it was. It shows the importance the promotion has put in this tournament," Ngatane emphasised.
"The fight is already sanctioned by KPBC. The challenge we face is lack of sponsorship and we appreciate SportPesa efforts for the support and we hope it continues in the future. These shows are expensive. I believe both boxers are ready.
"It promises to be a night of fireworks and you cannot afford to miss this show. This is bigger than Nairobi Fight Night 1. Previously, it has been a problem with boxers not being paid well or not at all. Now we can pay them six figure purses," Nairobi Fight Night 2 promoter, Thomas Mutua of Afribox Promotions stressed.
SportPesa Chief Marketing Officer, Kelvin Twissa, insisted the second edition of the event dubbed Nairobi Fight Night would not be the last as the business strives to make the country a centre of world boxing title fights.
MUST READ: Six Things You Did Not Know About Tanzanian Boxing Sensation Hassan Mwakinyo
"When we did the last one, we gave a piece of Las Vegas atmosphere to Kenya. It's an amazing opportunity to show the world what Africa can achieve. This is a continuing story, we shall continue to break new barriers," Twissa assured.
Thambo Sampo from South Africa will be the ring referee for the title fight with judges from Uganda, Namibia and South Africa scoring.
Elsewhere, there were light moments during the weigh in when Mwakinyo, Kenyan favourite Rayton 'Boom Boom' Okwiri as well as compatriot Joyce Awino initially failed to make weight before they were eventually cleared to box within the two hours permitted by the rules in an exercise conducted by KPBC Organising Secretary and legendary boxer, Olympian Steve 'Vedo' Okumu.
Sanctioned Nairobi Fight Night 2 Card

Super Lightweight- Men
Iddi Mkwera (TZ) vs Nichola Mwangi (KE)
Super Lightweight- Women
Sarah Achieng (KE) vs Joyce Awino
Middleweight- Men
Raymond Okwiri (KE) vs Pascal Bruno (TZ)
Super Welterweight- Men
Hassan Mwakinyo (TZ) vs Sergio Gonzalez
WBC Super Bantamweight title bout- Women
Fatuma Zarika (KE) vs Catherine Phiri (ZAM)
MUST READ: This Is How Visit To Aging Pal Pal Gym Humbled 'The Bomber' Bellew
STARE DOWN: Hassan 'Champez' Mwakinyo (left) and Sergio 'El Tigre' Gonzalez get up close and personal during the Friday, March 22, 2018 weigh in of their main undercard of the Nairobi Fight Night. PHOTO/Brian Kinyanjui/SPN