Against All Odds: Zarika's Rise From The Ashes To Taking Over The Boxing World
22nd March 2019 - by Louis Kalinga
The title bout dubbed the 'Nairobi Fight Night 2' will be held at the Kenyatta International Convention Center (KICC) on Saturday, March 23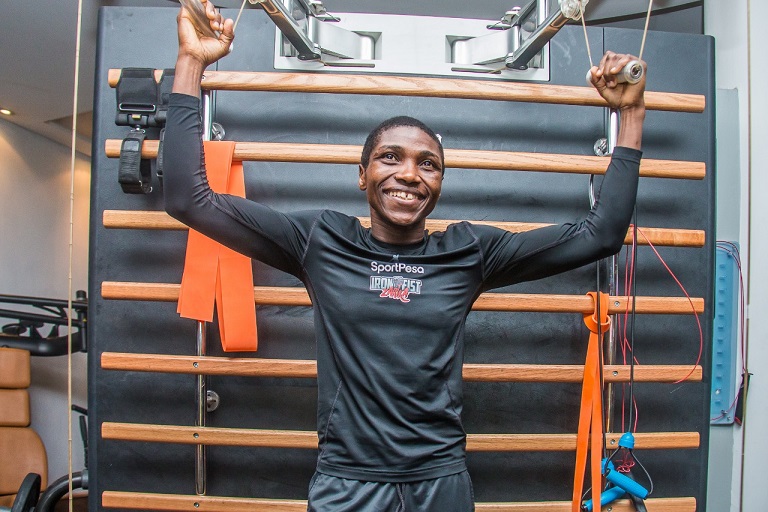 SUMMARY
As the entire world gears up for the highly anticipated encounter, SportPesa News has a look at Zarika's journey as she rose from the ashes of a humble beginning to take over the world

NAIROBI, Kenya- The journey of a thousand miles begins with a single step and that was the case for the current World Boxing Council (WBC) Super Bantamweight champion Fatuma Zarika.
Zarika is set to battle it out against Zambian Catherine Phiri for a second time as she seeks to defend her title for the third consecutive time.
The bout dubbed the 'Nairobi Fight Night 2' will be held at the Kenyatta International Convention Center (KICC) on Saturday, March 23.
As the entire world gears up for the highly anticipated encounter, SportPesa News has a look at Zarika's journey as she rose from the ashes of a humble beginning to take over the world.
PART 1 – The Beginning
'There is no easy walk to freedom anywhere, many of us will have to walk through the shadow of death again and again before we reach the mountaintop of our desires', these words by the late Nelson Mandela speak volumes on what today's 'Iron Fist' hero had to go through to become what she is today.
To become the best at what you do, one must be able to withstand every challenge that may come with it and she knew this and never let anything weigh her down.
Her attitude, resilience, perseverance, strength both mentally and physically played a key role in enabling her to become the world champion that she is today.
Fatuma Zarika was born on the 13th of March, 1985 to parents Peter Kang'ethe and Aisha Musa in Satellite, Nairobi.
Zarika attended Kabiria Primary school and barely two years into her Primary education, she was blessed with a brother – Hemed Musa, the only sibling that she would ever know.
When she was barely seven years old, her parents divorced and she was solely raised by her Ugandan mother.
After completion of her Primary school education, the inconceivable state of poverty that her family was in did not allow her the opportunity to further her studies.
"I felt really bad that I couldn't go on to the next level of my education after completing primary school.
"I understood that my mother was trying her best to provide for my brother and I. I had to do what I could to help out and maybe make enough money to put myself through school," Zarika reminisced.
Zarika was left no choice but to look for a means to make money to bail herself and her family out of the jaws of deprivation.
PART 2 – THE HARDSHIP
Zarika's first job was as a housemaid, one which she diligently did for a year before getting yet another year-long gig as an aid to an old, sickly woman in the neighborhood.
Soon after she left her job, still at a very tender age, the teenage Zarika was blessed with a daughter. Sophia Zarika was brought into this world on the 12th of August, 1997.
READ ALSO: This Is How Visit To Aging Pal Pal Gym Humbled 'The Bomber' Bellew
Despite the natural joy and sense of fulfillment that a new born brings to a mother, Zarika being no exception, there was a cloud of anxiety that engulfed her spirit as she was troubled by the thoughts of her ability to provide for her beloved Sophia.
"Sophia was a bundle of joy and she was one of the very few things that would put a smile on my face after every long day.
"Though she fell sick quite often and as a mother being unable to help by simply catering for medical expenses, is a feeling that is almost impossible for one to get over," she stated.
Zarika's mother Aisha continued to do the much that she could to provide for her family and her daughter followed in her footsteps. They both displayed extreme levels of dedication, doing any work that they could find just to put food on the table at the end of the day.
The then 19-year old Zarika moved to South B to her cousin's house in an attempt to seek greener pastures for her and Sophia.
Other than the primary needs that she needed to cater for, another huge struggle that she had to deal with was the regular medical attention that Sophia required.
PART 3 – A WAY OUT
Zarika attempted to venture into the world of sports starting with football. Things did not pan out for her as she failed to display any sort of prowess in the sport, resulting in the decision to try something else.
She then went to Mathare North in Eastlands where she met Conjestina Achieng', who later went on to become the first African woman to hold an international title after defeating Ugandan Fiona Tugume to take the vacant WIBF Middleweight crown.
Conjestina mentored Zarika and convinced her to try out boxing. Seeing as she was torn between what to do next, she agreed to start training with her in the hope that this time her efforts would bear fruit
Her decision was followed by an immediate need to take part in intense trainings which included early morning runs and gym sessions followed by training.
READ ALSO: Flashback Friday: Here Is How Fatuma Zarika Vs Yamileth Mercado Went Down
She began her amateur boxing career with the promise of being able to join the police force from her trainer.
She would train under him in Mathare North and sometimes even train at the police headquarters in the hope that she would soon be able to join the force as promised. Unfortunately, the dream would never amount to anything as the trainer had no intention to fulfil the promise he had made to Zarika.
After plenty of hard-work, determination and that ever so evident never say die attitude, Zarika was finally ready for her maiden amateur boxing match and she was up for the challenge as she won by a fine margin.
After all her commendable efforts, she was awarded with a meagre fifty shillings in an envelope and even though it was the first money she had made from boxing, it was not an amount that did much to encourage her to enter the ring for another attempt.
Lack of funds would force her to walk from Mathare North to Gikomba, a distance of approximately 14km every day to and from the gym to better her skill and improve on the little boxing knowledge she had already picked up.
Right before she called it quits in her amateur career, she squared up in the ring against her mentor and the person responsible for helping turn her into a boxer, Conjestina Achieng'. The fight ended in a draw and it was evident that Zarika had finally found something she could be great at, that could be her family's way out.
PART 4 – THE JOURNEY
Her first pro fight was against Damaris Muthoni, who was the former Kenyan champion at the time, a fight that she lost after four rounds.
Her efforts from her first fight earned her KShs 700, a remarkable improvement from what she had initially made from her amateur fight. An indication that things could indeed get better.
After two months, another fight came her way and she was promised KShs 4,000 if she won the duel. The tireless efforts in training and the sheer determination she continuously displayed paid off as she saw off her opponent.
The euphoric radiance that came after the victory was short-lived as the fight promoters once again made her stellar effort seem worthless as they failed to pay the money owed to her.
She picked herself up and continued to train in the hope of a brighter future her boxing career. By this time, she had started training under a new manager in the Pumwani area of Nairobi.
Keeping in mind that she still had not secured a steady income, she still had to walk.
"Waking up every day knowing I had to walk to the gym to seek a brighter future for my family and I motivated me to want to wake up the following day to do it again.
"I had a strong sense of belief that it would all pay off one day," Zarika stated.
Her typical day would start at 6am. A 30-minute run would get her day started before she heads back to the house to prepare her kids for school before embarking on the 1-hour walk to the gym. This routine continued until she got invited for yet another professional fight in Mumias.
Having traveled so far to participate in the fight, the discouraging end result was one that was becoming way too familiar. The promoters failed her yet again by not paying her.
"I was very disappointed after I trained so hard for the fight and did my best to win but I was not paid in the end," Zarika lamented.
READ ALSO: Six Things You Did Not Know About Tanzanian Boxing Sensation Hassan Mwakinyo
A profound feeling of satisfaction that she had never felt before came soon after when she registered her first ever knockout win in the ring. Agnes Adonga was the unlucky victim of the "Iron Fists".
PART FIVE – SINKING FEELING
The victory enabled her to get noticed by Blue Shield Insurance who wrote her first every paycheck. She penned a one-year contract that entitled her to five professional fights in that duration.
Zarika's fortunes seemed to be turning for the better as afterwards she was approached by promoter and trainer Kale Osaga, who convinced her to sign another two-year deal, this time with Osaga Promotions.
When the fights began to come, the same old curse of not being paid continued to haunt Zarika. She had entrusted Osaga with the task of turning her into one of the best female boxers in the land and the endless promises she would get made her reluctant to pressure him for her dues.
The back and forth with Zarika and promoters not paying her went on for a year and during this time she would participate in fights merely for the sake of breaking records. On a good day, she would receive KShs 10,000 for her efforts.
"Even after I left Osaga Promoters, I knew that I had to find a new avenue to make it. I still had to provide for my family, they needed clothes and school fees to pursue an education and that was enough to encourage me," she underlined.
Time went by and she kept her spirits up until she was fortunate enough to get a well-wisher who took her to America with the conventional promise of turning her boxing career around.
What began as a dream come true, became a dark reality as it did not turn out to be the American dream that she had hoped it would be. She ended up doing house-work for a long period of time and rarely training.
What began as a dream come true, became a dark reality as it did not turn out to be the American dream that she had hoped it would be. She ended up doing house-work for a long period of time and rarely training.
PART SIX – PROFESSIONAL CAREER
In 2008, Zarika participated in what she terms as one of the toughest fights in her career. She squared up against Belinda Laracuente, also known as 'Brown Sugar' at the Charter Hall in Nairobi for the interim World International Boxing Federation World Super bantamweight title.
Though many believed that she did not stand a chance against the Puerto Rican, she proved all her doubters wrong with an astounding victory, sending the Kenyan faithful in attendance into a frenzy.
Another opponent that sent chills down both Zarika and her number one fan Sophia's spine was yet another female boxer from Puerto Rico, Amanda Serrano in 2015.
When the umpire signaled for the start of the fight, both women locked horns from the get go. Zarika was on the receiving end as Serrano hit her square in the chest sending her opponent straight to the floor.
Four months later, it was announced that Zarika was to face Serrano yet again, this time in Westbury, New York.
She hit the ground running and stepped up her training as she had her eyes set on getting revenge against the only women's boxer to win world titles in five divisions, Serrano. This was not to be as Zarika went down yet again to the Puerto Rican.
Zarika then went unbeaten until October of 2016 when she went to Flint, Michigan to take part in arguably the biggest fight of her career. She was to challenge Alicia Ashley for the WBC World Super-bantamweight title.
She showed unmitigated brawn and determination to dethrone the Jamaican via split decision to make history as the first Kenyan to win a WBC world title.
PART SEVEN – HER INSPIRATION
Zarika's children are her biggest source of inspiration and have always been throughout her career.
Despite the countless times that she has been disheartened enough to call it quits, the thought of why she is doing all this, which is her kids – she always picked herself up and soldiered on.
She has displayed extreme levels of dedication, doing any work that she could find before boxing just to put food on the table at the end of the day.
READ ALSO: Gor Coach Oktay Special Week Gets Even Better With Fidelity/SJAK Award
"I was really desperate for change in my life and it took all of me not to give up because I had people counting on me.
"Seeing as I had no education and no steady source of income, I deliberated getting married and with that I left home without saying a word to my mother," Zarika explained.
The hustle of not being able to look for work because of having nobody to look after Sophia continued to be a problem weighing on Zarika's shoulders as she constantly had to turn to her mother to look after her.
The urge to give her kids a better life than she had or had ever imagined has been the constant source of inspiration in her life.
Many would have chosen to throw in the towel but that was the last thing on Zarika's mind. She had to keep going.
"My motivation was my kids. I knew that I had to provide food and a roof over their heads, so I couldn't give up," she asserted.
PART EIGHT –  THE LIGHT AT THE END OF THE TUNNEL
With that being the epitome of disappointment in her career, just as the odds would have it, soon after she came in contact with a company that would steadily change her fortunes and impact her boxing career.
Kenya's leading bookmakers SportPesa made Fatuma Zarika their brand ambassador, a position she holds until now.
"It's almost two years now since I have been part of the SportPesa family and it has been nothing short of amazing.
"All they are doing and have done to better my career has been more than I have witnessed since I began boxing 15 years ago and for that I will forever be grateful," Zarika revealed.
In December 2017, Catherine Phiri came to Kenya to challenge Zarika for the WBC World Super-bantamweight title, a fight organized by Las Vegas-based Bigger Than Life Entertainment.
She then went on her maiden trip to the United Kingdom courtesy of her partnership with SportPesa, training like she has never before with the very best as she prepares to defend her title on home soil.
She successfully defended the title against Mexican Yamileth Mercado on September 8, 2018.
Zarika underwent yet another training stint in the United Kingdom and is now set to defend her title for a final time against a familiar opponent in Catherine Phiri.
Former WBC Cruiserweight Champion Tony Bellew jetted into the country as well to offer his support for the boxer whom he has plenty of respect and belief in.
The bout dubbed the 'Nairobi Fight Night 2' will be held at the Kenyatta International Convention Center (KICC) on Saturday, March 23.