This Is How Visit To Aging Pal Pal Gym Humbled 'The Bomber' Bellew
21st March 2019 - by Mutwiri Mutuota
Derelict boxing facility at the heart of Nairobi sprawling Majengo slum brought stark reality to visiting British boxing star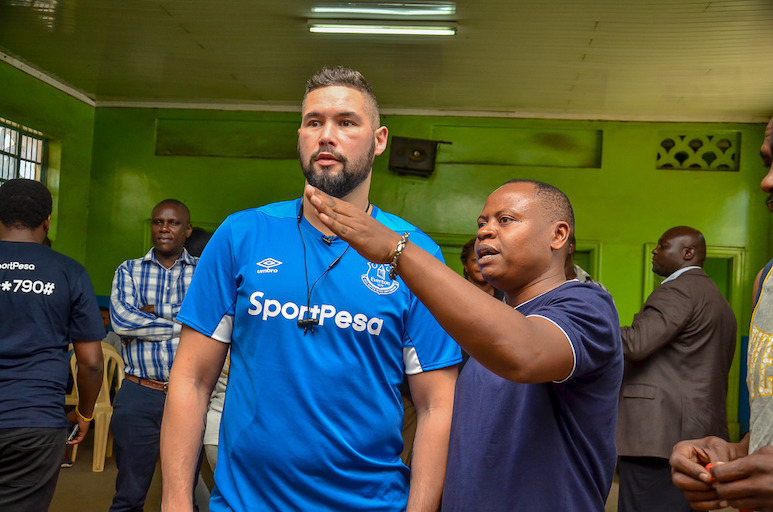 SUMMARY
Bellew, the former World Boxing Council (WBC) and Commonwealth Games cruiserweight champion, witnessed first hand the harsh environment where some of the country's most famous fighters among them Seoul 1988 Olympic gold medallist, Robert Wangila Napunyi and Fatuma Zarika hailed from
Located in the middle of the crime infested lower income eastern part of Nairobi, the Pal Pal facility has offered hope for tens of youth from Majengo and the surrounding slums of Mathare and Kariobangi who are keen to escape the trap of drug abuse and other anti-social behaviour
The former world champion, together with staff from global entertainment and technology business, SportPesa donated spanking new kit including boxing gloves, shorts, training vests, punching bags, speed ball sets and skipping ropes to the Pal Pal gym to crown their visit
NAIROBI, Kenya- Retired British boxing hero Tony 'The Bomber' Bellew made his pilgrimage to the humble Pal Pal Gym in the sprawling Majengo Slums of Nairobi where some of the most iconic Kenyan boxers in history honed their skill on the first day of his tour to the country on Thursday afternoon.
Bellew, the former World Boxing Council (WBC) and Commonwealth Games cruiserweight champion, witnessed first hand the harsh environment where some of the country's most famous fighters among them Seoul 1988 Olympic gold medallist, Robert Wangila Napunyi and Fatuma Zarika hailed from.
Zarika will put her WBC title on the line on Saturday against Zambian challenger Catherine Phiri in the signature event of the second edition of Nairobi Fight Night at the Kenyatta International Convention Centre where Bellew will be among the luminaries in attendance.
'The Bomber' who retired last year travelled to the country as part of the coaching team that prepared Zarika and Tanzania Super welterweight sensation, Hassan Mwakinyo who will fight Argentine Sergio Eduardo 'El Tigre' Gonzalez on the same card.
During his afternoon visit, the man who has seen his fair share of hardship as he rose from the mean streets of Liverpool was simply taken aback by the simple equipment the fighters from this part of the world contend with to make it that pales in comparison to the world class facilities available in his native England.
RECOMMENDED READ: England Boxing Star Tony Bellew Lands For Nairobi Fight Night
"I'm so happy to come to this gym and see the amount of training you are putting in with the little that you have. It's not easy to get the most out of all this but I feel joy in my heart watching you putting in so much work and effort," Bellew who retired with an imposing record of 30 wins (20 via knockout), a draw and only three loses said.
His arrival at the facility under tight security caused a stir as local residents threw him a rousing welcome in true African fashion where the British icon shared his thoughts with aspiring boxers at Pal Pal on how to make it big in the sport.
"What you are doing now is what I was doing 25 years ago and the one thing I want to say is that you have to believe in yourself. Hard work and determination is what will make you the best version of yourself and I see a lot of that here.
Eager guests
"It's all about you guys. How much you want it and how far you want to go is all up to you," the lifelong English Premier League side Everton FC fan and ambassador told his eager guests.
THIS IS HOW YOU DUCK: Retired British boxing icon turned coach, Tony Bellew, demonstrates to an aspiring boxer at the Pal Pal Gym in Nairobi how to evade a punch on Thursday, March 21, 2019. PHOTO/SPN
Located in the middle of the crime infested lower income eastern part of Nairobi, the Pal Pal facility has offered hope for tens of youth from Majengo and the surrounding slums of Mathare and Kariobangi to escape the trap of drug abuse and other anti-social behaviour.
RECOMMENDED READ: Old Is Gold: 'El Tigre' Serves Warning To Tanzania Hot Shot Mwakinyo
The derelict facility with its aging ring that is crying for renovation is the only semblance of order in an area where unplanned high rise buildings tightly hugging on each other for support, poor drainage as well as lack of security create a toxic environment in the slum that lies barely three kilometres from the Nairobi Business District.
However, the rise of Zarika who rose from the ashes of poverty in Majengo where she was introduced to the sport before moving to the equally sprawling Kariobangi slum and eventually, defying all odds to become one of the most revered female boxers on the planet has offered impoverished youth from this part of the world hope.
Seeing a boxer from a faraway land- who also rose from the rough in Liverpool before conquering the world- in the flesh on Thursday undoubtedly left an indelible mark especially when Bellew challenged them to produce the next Zarika who captured the coveted WBC title when she shocked Jamaican Alicia Ashley on October 1, 2016 in New York.
"If you have the numbers you will eventually find a new champion. The biggest problem is that people don't believe in themselves, that's all you need to do and despite the lack of facilities, you can be great," Bellew rallied.
RECOMMENDED READ: Gor Coach Oktay Special Week Gets Even Better With Fidelity/SJAK Award
The former world champion, together with staff from global entertainment and technology business, SportPesa donated spanking new kit including boxing gloves, shorts, training vests, punching bags, speed ball sets and skipping ropes to the Pal Pal gym to crown their visit.
"Our biggest setback is lack of facilities and equipment because we can't afford them. We are very grateful to SportPesa and our guest Bellew for providing all these for us and we will put them to good use and improve on the boxing skills we already possess," trainer Mbao Mbao stated.
Bellew further engaged in one on one sessions with the aspiring boxers, punching on the pads as he taught them how to improve on ducking and to inflict the killer punch as well as blocking
"This has been one of the greatest days since I started learning the sport. I will never forget all I have learned today," upcoming boxer Chris Njoroge offered.
RECOMMENDED READ: Mwakinyo To Gonzalez: I Will Knock You Out Cold
THIS HAS TO GO DOWN IN MY STORY: British boxing star Tony 'The Bomber' Bellew snaps a selfie at the Pal Pal Gym in Nairobi on Thursday, March 21, 2019. PHOTO/SPN