Mwakinyo To Gonzalez: I Will Knock You Out Cold
20th March 2019 - by Erick Ochieng
The 24 year-old Tanzanian sensation warns Argentine rival their main undercard in Nairobi Fight Night 2 will not go to six rounds on Saturday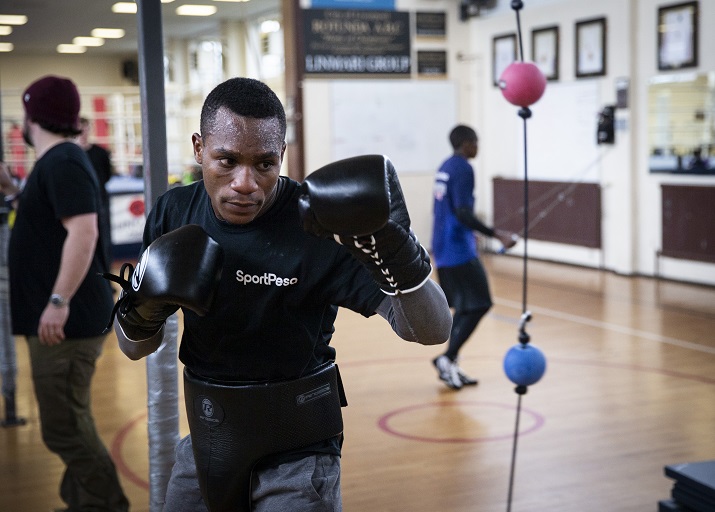 SUMMARY
The pugilist who shot to fame after he floored British boxer, Sam Egginton, on September 8, 2018, has assured his legion of fans back in his home town of Tanga, located on the west of Indian Ocean, that he will not let them down  in his slug-fest with Gonzalez
Ahead of the challenge,  Mwakinyo was stepping up his training at Rotunda Gymnasium in Liverpool, United Kingdom (UK) under former World Boxing Council Cruiserweight champion Tony Bellew and renowned British trainer, Declan O Rourke courtesy of entertainment and technology business, SportPesa
Mwakinyo has cleared the air why he was not able to take on Olympian Rayton 'Boom!Boom!' Okwiri and James 'Yule Mbaya' Onyango who were earlier selected for him by Thomas Kiswili of Afribox Promotions for the six round non-title fight
He has hinted that he would like to challenge Australian Michael Zerafa for the World Boxing Association International Welterweight belt which the latter is holding adding that he is ready to take the Australian either home or away
NAIROBI, Kenya- Tanzania rising boxing star, Hassan 'Champez' Mwakinyo has told his Argentine opponent, Sergio Eduardo 'El Tigre' Gonzalez to expect a knock-out in their main under-card Super Welteweight bout slated for Kenyatta International Convention Center in Nairobi on Saturday.

The 24 year-old has predicted the fight will not go beyond the fourth round as he has prepared well and is ready to execute his plan to the letter.
"I have never met Gonzalez, but one thing I'm so sure of is that he will not defeat me. He should expect a hard time in the ring. This battle will not be decided by the six rounds," Mwakinyo underlined on Wednesday.
MUST READ: Zarika, Mwakinyo Arrive From The UK In Style For Nairobi Fight Night
The pugilist who shot to fame after he floored British boxer, Sam Egginton, on September 8, 2018, has assured his legion of fans back in his home town of Tanga, located on the west of Indian Ocean, that he will not let them down  in his slug-fest with Gonzalez.
"I'm asking my supporters to expect the usual from me – a knock-down of Gonzalez- I'm not relaxing until this is done," he highlighted.
Ahead of the challenge,  Mwakinyo was stepping up his training at Rotunda Gymnasium in Liverpool, United Kingdom (UK) under former World Boxing Council Cruiserweight champion Tony Bellew and renowned British trainer, Declan O Rourke courtesy of entertainment and technology business, SportPesa.
He did a lot of road work and sparring  while in the UK with some of the best boxers in England  to shape up for the forthcoming challenge.
MUST READ: Gor Mahia's Stunning CAF Qualification A Beacon Of Hope For Kenyan Football
"I trained in some of the state of the art facilities. I believe the exercises have given me advantage ahead of the showdown," he emphasized.
Mwakinyo has cleared the air why he was not able to take on Olympian Rayton 'Boom!Boom!' Okwiri and James 'Yule Mbaya' Onyango who were earlier selected for him by Thomas Kiswili of Afribox Promotions for the six round non-title fight.
"I'm currently ranked 16th in the world in my category. Okwiri is rated below me. I believe I can only gain fighting someone above my position, so this is the reason we had to look for a fighter with good records," he underscored.
Since jetting into the country on Saturday, Mwakinyo has embarked on a solo exercise to top up his practice.
MUST READ: February Toast Of SPL, Kasumba Sets Sights On Uganda Cranes
He does a lot of road work to keep his fitness intact but has stopped sparring to make his hands lighter for punches ahead of his battle with Gonzalez.
He has hinted that he would like to challenge Australian Michael Zerafa for the World Boxing Association International Welterweight belt which the latter is holding adding that he is ready to take the Australian either home or away.
Apart from the UBO belt he won last year, Mwakinyo is also a proud owner of the Tanzania, Pugilistic Syndicate of Super Welterweight Title (2016) , East and Central African Professional Boxing Federation Super Welterweight Title and the World Boxing Association Pan African Super Welterweight Title, both won in 2017.
TALE OF THE TAPE
Name: Hassan Mwakinyo
Category: Super Welterweight
Fights: 16
Wins: 14 (10 knock-outs) 
Losses:2 (1 knockout)