Unlucky Kenya Shujaa Bow Out Of 2019 Sydney Sevens
Feb 03 - by Erick Ochieng for SportPesa News
The team failed to win a game in the tournament, picking only a point to take their overall tally to 12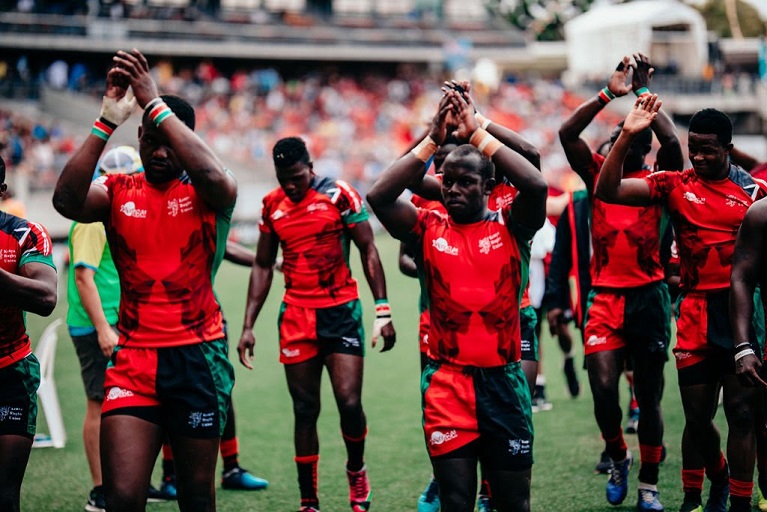 Kenya Shujaa lost 17-20 to Tonga in the 13th Place semifinal to bow out of 2018/2019 HSBC World Rugby Sevens Series fourth leg in Sydney, Australia on Sunday
Tonga's scorers in the closely contested  tie were John Tapueluelu  who notched a brace, Potolaka Maake and  Lotu Inisi
Shujaa lost all their group matches against Canada (14- 24), USA ( 0-41) and France (17-40) in Pool B which saw them miss out on the Main Cup quarterfinals
The series fifth  and sixth legs will be held in Las Vegas (USA) and Vancouver (Canada) on March 1 to 3 and 9 t0 10 in that order
SYDNEY, Australia- Kenya Shujaa lost 17-20 to Tonga in the 13th Place semifinals to bow out of 2018/2019 HSBC World Rugby Sevens Series fourth leg in Sydney, Australia on Sunday.

Kenya's skipper Jacob Ojee and Eliakim Kichoi dotted down a try each  in the first half as Daniel Taabu added another on resumption which was successfully converted by Vincent Onyala.
Tonga's scorers in the closely contested  tie were John Tapueluelu  who notched a brace, Potolaka Maake and  Lotu Inisi.
MUST READ:Shujaa Overpowered, Miss Out On Sydney Sevens Cup Quarterfinals 
Shujaa lost all their group matches against Canada (14- 24), USA ( 0-41) and France (17-40) in Pool B which saw them miss out on the Main Cup quarterfinals.
Shujaa finished runners- up in the Challenge Trophy in Hamilton last weekend where they lost 7-36 to England in the final to add seven points to the board having faded in the opening legs of Dubai and South Africa where they collected four.
Their loss to Tonga this weekend saw Kenya pick only a point in Sydney, bringing their overall tally  to 12 points in the standings.
MUST READ:This Is What Kenya Shujaa Are Aiming To Do At Sydney 7s
Fiji and USA are commanding the leader board  with 57 points apiece as New Zealand follow in third with 54.
The series fifth  and sixth legs will be held in Las Vegas (USA) and Vancouver (Canada) on March 1 to 3 and 9 to 10 in that order