Shujaa Overpowered, Miss Out On Sydney Sevens Cup Quarterfinals
Feb 02 - by Erick Ochieng for SportPesa News
Kenya finished at the bottom of Pool B, failing to beat USA, France and Canada in their contests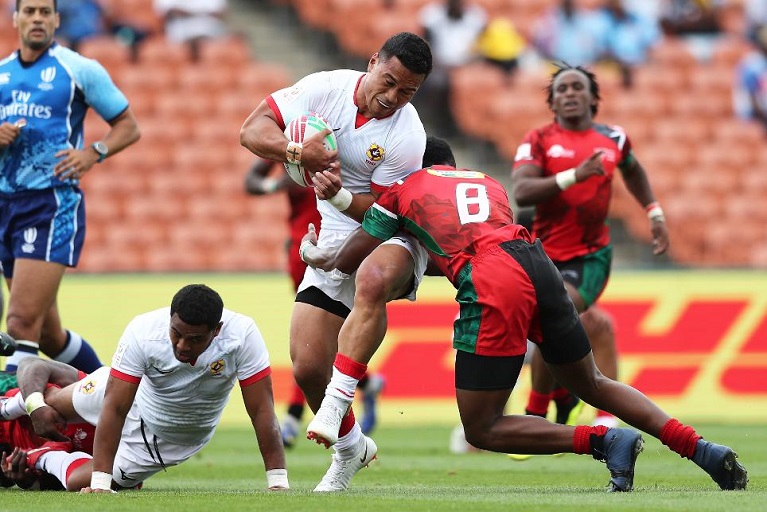 Poor Kenya Shujaa were outrun in the ongoing 2018/2019 HSBC World Rugby Sevens Series fourth leg in Sydney, Australia on Saturday
Shujaa failed to tackle Hamilton Sevens Main Cup runners-up, USA, who buried them with a 0-41 victory
Kenya who missed the services of injured skipper Jacob Ojee, failed to shine against France who won the third game 17-40 to sail into the Main Cup quarterfinals
Fiji, who emerged Main Cup champions in Hamilton after thrashing USA 38-0, are joint at the top of the standings with the latter at 57 points apiece while New Zealand  follow in third with 54
SYDNEY, Australia- Poor Kenya Shujaa were outrun in the ongoing 2018/2019 HSBC World Rugby Sevens Series fourth leg in Sydney, Australia on Saturday.

Kenya suffered a 24-14 defeat in the hands of Canada in their opening match of Pool B at the Spotless Stadium located in the heart of Sydney's Olympic Park.
Shujaa failed to tackle Hamilton Sevens Main Cup runners-up, USA, who buried them with a 0-41 victory.
MUST READ: This Is What Kenya Shujaa Are Aiming To Do At Sydney 7s
Kenya who missed the services of injured skipper Jacob Ojee, failed to shine against France who won the third game 17-40 to sail into the Main Cup quarterfinals.
USA beat France 7-0 in a tight encounter before thrashing Canada 22-0 in other Pool B results. France also managed to edged Canada 17-12.
Shujaa finished runners- up in the Challenge Trophy in Hamilton last weekend where they lost 7-36 to England in the final to add seven points to the board having faded in the opening legs of Dubai and South Africa where they collected four.
MUST READ: Shujaa Outfoxed By England In Hamilton Challenge Trophy Final
Fiji, who emerged Main Cup champions in Hamilton after thrashing USA 38-0, are joint at the top of the standings with the latter at 57 points apiece while New Zealand follow in third with 54.
Kenya Shujaa Sydney results
Kenya 14 24 Canada
Kenya 0 41 USA
Kenya 17 40 France