This Is How Nairobi Fight Night 2 Brought Las Vegas To Kenya
25th March 2019 - by Mutwiri Mutuota
Home girl Fatuma 'Iron Fist' Zarika crowned the record-breaking boxing festival by holding on to her WBC women Super Bantamweight title with an unanimous 3-0 victory over Zambian challenger, Catherine Phiri in the most-talked about event in town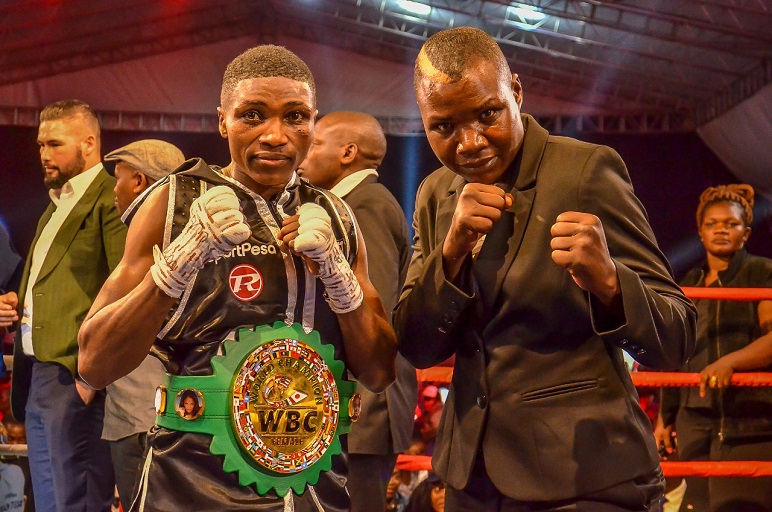 SUMMARY
Home girl, Fatuma 'Iron Fist' Zarika retained her World Boxing Council (WBC) Super Bantamweight in another 3-0 unanimous victory over Zambian challenger Catherine Phiri after a bruising 10-round contest that was the only bout in the five on the cards that lasted the distance
Hard and Clean Punches – To the untrained eye, it can appear as if a boxer is landing a lot of shots, when, in fact, most are being blocked or are not landing flush. A judge needs to look for hard shots that land clean
Besides Zarika's stirring victory, the other enduring moment of Nairobi Fight Night 2 was the sight of former World Boxing Federation champion and pioneering Kenya boxing queen, Conjestina 'Hands of Stone' Achieng' looking healthy after her well documented troubles with mental illness
NAIROBI, Kenya- Bringing Las Vegas to Kenya. That was the main theme of Nairobi Fight Night 2, a sizzling festival that attracted the biggest crowd ever witnessed for a boxing event in the country's history on Saturday (March 23).
Home girl, Fatuma 'Iron Fist' Zarika retained her World Boxing Council (WBC) Super Bantamweight in another 3-0 unanimous victory over Zambian challenger Catherine Phiri after a bruising 10-round contest that was the only bout in the five on the cards that lasted the distance.
Iddi Mkwera (Tanzania), Sarah Achieng' (Kenya), Rayton 'Boom Boom' Okwiri (Kenya) and Hassan Mwakinyo (Tanzania) had earlier subdued their opponents Nicholas 'Makaveli' Mwangi (Kenya), Joyce Akinyi (Kenya), Pascal 'Prince Kilimanjaro' Bruno (Tanzania) and Sergio Eduardo 'El Tigre' Gonzalez (Argentina) via knockout to set the fiery stage for the show stopper.
RECOMMENDED READ: Queen Zarika Survives Phiri Onslaught To Rule Nairobi Fight Night 2
The big 5,000-seater dome erected for the event at the iconic Kenyatta International Convention Centre (KICC) grounds filled to the rafters while hundreds more converged next to Kenya Archives in the Nairobi Central Business District to watch the event on the SportPesa viewing and display track a few metres from the venue.
FROM L TO R: SportPesa Tanzania CEO, Pavel Slavkov, former WBC men Cruiser weight champion, Tony 'The Bomber' Bellew and SportPesa Africa CEO, Captain Ronald Karauri, cheer on Fatuma 'Iron Fist' Zarika after she was declared the winner during her WBC women Super Bantamweight title fight against Catherine Phiri during Nairobi Fight Night 2 on Saturday, March 23, 2019. PHOTO/SPN

Millions caught the action on television as Nairobi Fight Night 2 superseded the inaugural Nairobi Fight Night on September 8, 2018 by a country mile.
As the dust settled organisers of the dazzling show, entertainment and technology business SportPesa inched closer to their stated aim of making Nairobi a hub of international boxing to rival the famed Las Vegas strip in the United States where famous fights have held their pride of place.
To understand the impact of Nairobi Fight Night 2, conversation about the outcome of the WBC title fight in a country that had long given up on boxing continued throughout Sunday and Monday in mainstream and social media.
RECOMMENDED READ: Eager Kenyans Gather At Archives In Support Of World Champion Zarika
Such is the ambivalence to the rules of scoring in boxing amongst most Kenyans that many believed Phiri, who to her immense credit gave an energetic display, won the fight.
To begin understanding why reputed judges, Michael Neequaye (Ghana), Fillemon Mweya (South Africa) and Irene Semakula (Uganda) awarded Zarika victory after scoring 98-92 99-91 and 97-93 on their cards, one needs to go over how professional fights are scored.
The scoring system used in professional boxing is called the 10-Point Must System. These are the basics for scoring a round:
Judges score on a 10-point scale. Most rounds will end 10-9, with the more dominant boxer receiving 10 points, the other receiving 9.
If a boxer is knocked down, they lose a point. If a boxer is knocked down twice, they lose two points. If both fighters are knocked down, the knockdowns cancel each other out.
Completely even
While uncommon, if a fighter completely dominates a round but does not score a knockdown, a judge can still score that round 10-8.
If a judge deems the round completely even, both fighters receive 10 points.
When the referee sees fit, he can take away a point or two for an intentional foul; he can do the same for unintentional ones, but that usually occurs after at least a warning.
RECOMMENDED READ: Tanzania Hot Shot Mwakinyo Delivers Classy Gonzalez Knock Out
While you would probably do well relying on the eyeball test to determine the winner of each round, it helps to know what a judge is looking for. These things help determine which fighter won a round:
Fatuma 'Iron Fist' Zarika is declared the winner during her WBC women Super Bantamweight title fight against Catherine Phiri during Nairobi Fight Night 2 on Saturday, March 23, 2019. PHOTO/SPN

Effective Aggression – Being aggressive gives the impression of dominance, but unless the boxer is landing shots and not constantly getting countered, it's not exactly "effective." Judges look for effective aggression, where the aggressor consistently lands his punches and avoids those from his opponent.
Ring Generalship – The fighter who controls the action and enforces his will and style.
Defense – How well is a boxer slipping, parrying, and blocking punches? Good defence is important.
Hard and Clean Punches – To the untrained eye, it can appear as if a boxer is landing a lot of shots, when, in fact, most are being blocked or are not landing flush. A judge needs to look for hard shots that land clean.
In that respect, then it is clear that Zarika, who landed most of the scoring punches, carried the day.
RECOMMENDED READ: Fists Of Fury: Okwiri Destroys Bruno To Spice Nairobi Fight Night 2
"I wonder what people are complaining about.This time around,it wasn't even close. It was far much better than their last encounter.
"Just because there is movements, it doesn't mean there is progression. Congratulation Iron fist," Kenya's two-time Olympian and twice Commonwealth Games medallist, Benson Gicharu Njagiru, who sat among regular ticket holders during Nairobi Fight Night 2, wrote on Facebook after the social media site was flooded with claims Phiri was 'robbed'.
Unlike the last time the boxers met on December 2, 2017, the Phiri camp agreed their boxer came off second best.
"This was fair, a good fight, we have no complains at all unlike 2017.Our champion made some errors which cost her. She didn't have follow up punches when trying to knock out Zarika. We still have some work to do," Phiri's manager, Christopher Malunga, conceded.
Roaring success
The roaring success of Nairobi Fight Night 2 however, is evident for the simple reason that a nation that never cared much about boxing suddenly embraced the sport and made the Zarika versus Phiri fight a topic of hot conversation.
Top leaders fell over themselves to hail the queen of the night, Zarika for flying her nation's flag in what was a third successive WBC title defence on home soil after stopping Phiri twice and Yamileth 'Yelmi' Mercado of Mexico last September in the inaugural Nairobi Fight Night show-stopper.
"Congratulations to World Boxing Council (WBC) Super Bantamweight Champion Fatuma Zarika for flooring challenger Catherine Phiri to retain the title. We savour your exploits following a dogged, tactical and assured display. #NairobiFightNight," Deputy President, Dr. William Ruto tweeted on Saturday night.
RECOMMENDED READ: Tanzanian Jukwaa La Mabingwa Winners Lap Up Nairobi Fight Night Fever
"Congratulations Fatuma Zarika on beating Catherine Phiri from Zambia to retain the WBC Super Bantamweight World title in an exciting bout at the #NairobiFightNight. You have done Kenya proud. Keep inspiring all our youth and aspiring sportspeople with your exploits," former Prime Minister, Raila Amolo Odinga added on the same micro-blogging site.
TAKE THAT! Fatuma 'Iron Fist' Zarika (right) delivers a punch at challenger Catherine Phiri of Zambia during their WBC women Super Bantamweight title fight against Catherine at Nairobi Fight Night 2 on Saturday, March 23, 2019. PHOTO/SPN

Above all, the biggest lesson from Nairobi Fight Night 2 was a loud message to Government that the appetite for sport runs deep and cuts across the Kenyan society judging by the cosmopolitan crowd that filled the KICC dome.
Public anger over what is perceived at the raw deal the current regime gives sports was pronounced when the representative from the Ministry of Sports and Heritage sent by new Cabinet Secretary, Dr. Amina Mohammed was loudly booed when he stepped to the ring to deliver a short address, drowning out whatever he had to say.
That the man also alluded to event title partners as 'M-Pesa' the award-winning Safaricom mobile money service instead of SportPesa enraged the fans even more.
Besides Zarika's stirring victory, the other enduring moment of Nairobi Fight Night 2 was the sight of former World Boxing Federation champion and pioneering Kenya boxing queen, Conjestina 'Hands of Stone' Achieng' looking healthy after her well documented troubles with mental illness.
RECOMMENDED READ:The Nairobi Fight Night 2 Moment Of Truth For Zarika, Phiri Is Here
When 'Conje' as her beloved fans call her was invited into the ring to celebrate with Zarika, a special night that will live long in memory was complete.