Eager Kenyans Gather At Archives In Support Of World Champion Zarika
24th March 2019 - by Louis Kalinga
There was never a dull moment throughout the encounter as Phiri took Zarika to the extreme edge, seeking revenge for the December 2017 fight at the Carnivore Grounds in Nairobi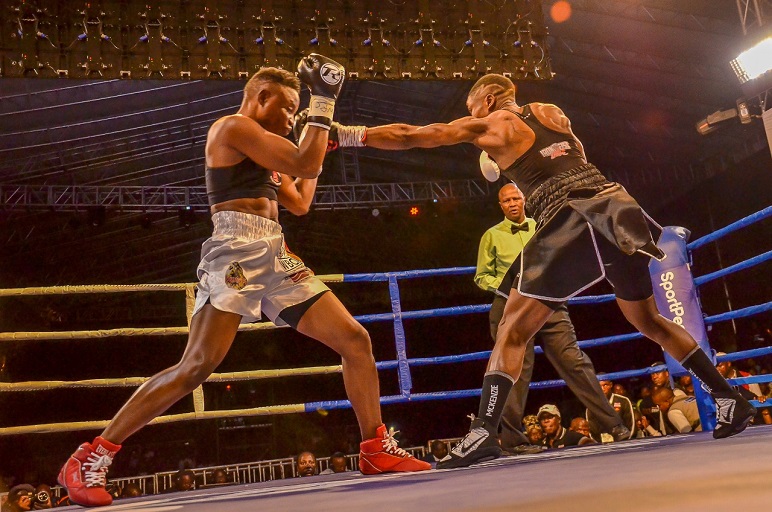 SUMMARY
The World Boxing Council (WBC) Super Bantamweight champion, Zarika was set to take on Zambian Catherine Phiri for a second time at the Kenyatta International Convention Center (KICC)
The huge, blue Mercedes Benz truck with gargantuan screens on either side set up shop at the Nairobi Archives, which is dead center of the Central Business District to offer the ultimate viewing experience
In between the fights, there was plenty of fun and games offered as the revelers indulged in competitions with the chance of winning some of the fantastic SportPesa merchandise available

NAIROBI, Kenya- All the hype that preceded the most anticipated boxing match in recent Kenyan history was met by just as much vivacity as thousands gathered to show their perennial love and support for Fatuma 'Iron Fist' Zarika as she took to the ring to defend her title once more.
The World Boxing Council (WBC) Super Bantamweight champion, Zarika was set to take on Zambian Catherine Phiri for a second time at the Kenyatta International Convention Center (KICC) yesterday and from the moment the gates were open at 4pm, the venue began to fill up.
With the amount of support Zarika receives from her Kenyan fans, it was certain that not all of them could fit in the arena set up. Though that was not going to be an issue as the fight was broadcasted live on television and for those that merely wanted a different experience, were treated to it by the SportPesa display truck.
The huge, blue Mercedes Benz truck with gargantuan screens on either side set up shop at the Nairobi Archives, which is dead center of the Central Business District to offer the ultimate viewing experience for anybody who wished to enjoy the boxing spectacle.
READ ALSO: Queen Zarika Survives Phiri Onslaught To Rule Nairobi Fight Night 2
No sooner had the sun begun to set than the crowd around the truck started to get bigger and bigger by the minute, proving the notion that boxing is slowly becoming an integral part of the sporting culture in the country, not just the customary football.
Four undercard fights, meaning the riveting action was set to go all the way into the night, preceded the main title bout as hundreds of fans from all walks of life gathered round and shared a voice as they cheered on their countrymen and women.
"This is actually something like I have never seen before. It's just amazing to say the least.
"I had no idea that I would come here and find this many people watching the fight. I am so hyped and feeling even more confident knowing that we are a whole army behind Zarika," Joseph Omollo, a barber from Mathare slums told SportPesa News.
In between the fights, there was plenty of fun and games offered as the revelers indulged in competitions with the chance of winning some of the fantastic SportPesa merchandise available.
There was also an electric bull at the venue which many were stunned to try for the first time, only to figure out it is not as easy as it looks with many of them falling off it much to the amusement of everyone in attendance.
Before Zarika took to the ring, another Kenyan brought out the best from the huge crowd at the screening.
Former AIBA continental welterweight champion, Rayton 'Boom!Boom' Okwiri caused raptures among a passionate home crowd when he put seasoned Tanzanian Pascal 'Prince Kilimanjaro' Bruno out of his misery with a third round technical knockout in one of the most stirring fights of the Nairobi Fight Night 2 undercard.
READ ALSO: Tanzania Hot Shot Mwakinyo Delivers Classy Gonzalez Knock Out
The humble Okwiri, who commands a lot of respect from his peers, put on a great show and got the crowd motivated as the anxiety ahead of Zarika's fight continued to brew.
"Okwiri is a beast and we all have to accept that now. He has done this repeatedly without even looking like he struggled.
"I knew it wouldn't go past the third round. Now we are waiting for Zarika to defend her title and everyone here can go to sleep happy," Samson Ireri offered.
As the highlight bout of the night took center stage, the hundreds of Kenyans joined their voices to sing the reggae tunes that Zarika chose to lead her out to the ring at a packed KICC and a worldwide audience eagerly awaiting the fight.
There was never a dull moment throughout the encounter as Phiri took Zarika to the extreme edge, seeking revenge for the December 2017 fight at the Carnivore Grounds in Nairobi, where Zarika won on a split-points decision.
READ ALSO: Fists Of Fury: Okwiri Destroys Bruno To Spice Nairobi Fight Night 2
The jubilant crowd rallied behind their own every time she ducked an incoming jab or connected well with any part of her opponents' body with loud cheers and song that brought an extra sense of life into the usually quiet night Nairobi streets.
Judges Michael Neequaye, Fillemon Mweya and Irene Semakula eventually gave a 98-92 99-91 97-93 ruling in Zarika's favor to spark wild celebrations among the home crowd on a hot Nairobi night.
"I cannot explain how happy I am that Zarika won. She is an inspiration not only to mothers like myself but to every Kenyan out there.
"She deserves the victory and I wish I could tell her how proud we all are," Grace Mukami stated.
Harrison Juma, echoed his compatriot and said with an exaggerated smile on his face, "This woman is phenomenal. I have to admit I was very nervous but she kept her cool and held her own, she did this for Kenya."