The Nairobi Fight Night 2 Moment Of Truth For Zarika, Phiri Is Here
22nd March 2019 - by Mutwiri Mutuota
Kenyan WBC women Super bantamweight champion puts her belt on the line against hard-fighting Zambian in title battle of 'nuclear' proportions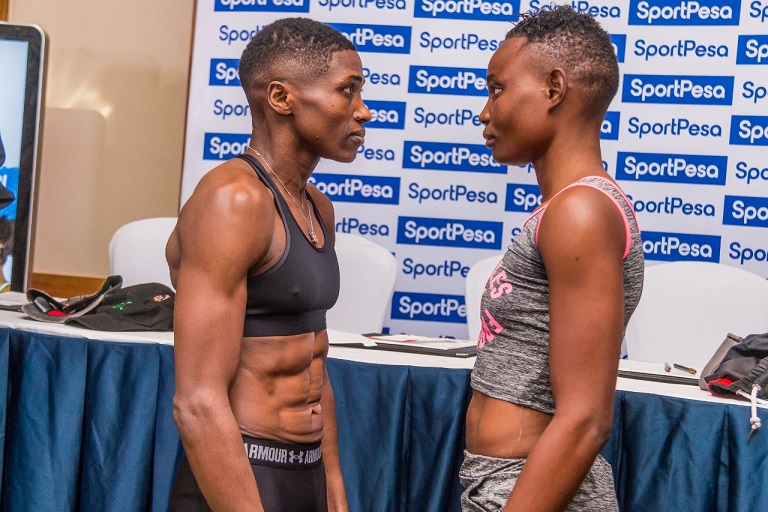 SUMMARY
Phiri beat Mexican Yazmin Rivers three years ago to clinch the WBC bantamweight title and after losing it, decided to turn to the next weight class to fulfill her ambitions of winning the coveted crown of boxing's biggest global promotion
The Kenyan favourite has not lost a fight since he turned to the paid ranks after the Rio 2016 Olympics in Brazil and during the first Nairobi Fight Night, he brought the crowd to its feet when he knocked out his opponent inside two rounds
Dubai based Nicholas Mwangi will face Tanzanian Idd Mkwera in the first bout of the evening in a men Super lightweight contest
NAIROBI, Kenya- Finally the D-Day is here! World Boxing Council (WBC) Women Super Bantamweight champion Fatuma 'Iron Fist' Zarika will once again put her belt and her country's honour on the line against a familiar foe in the shape of hard-hitting Zambian Catherine Phiri.

From Nairobi to Lusaka through Dar-es-Salaam, Tanzania and Liverpool in the United Kingdom, the headline act of the mega event dubbed 'Nairobi Fight Night 2' is set to be at the centre of the boxing world and beyond.
When she started out as a struggling professional in 2003 to put food on the table for her two daughter, home favourite Zarika never imagined that 16 years later, she would be commanding boxing events fit for the iconic Madison Square Gardens in the United States.
Following in the shadows of pioneering Zambian female boxer, Esther Phiri, namesake Catherine has also risen from the backwaters of Lusaka to own a WBC title when she punched her way to the bantamweight belt in August 2016 before losing it to Mexican Mariana 'Baby Suarez in April 2017.
Undeterred, she stepped up the weight and challenged Zarika for her title on December 2, 2017 in Nairobi and after a bloody battle that went all the way to 12 rounds, succumbed to an unanimous 0-3 loss and now, she is here for revenge.
That sets the stage to the mother of all rematches in female boxing history on Saturday night in an event that will be broadcast live across Africa and beyond on satellite television and Facebook.
"Last time it was fire by fire, this time it will be nuclear for nuclear. There will be nowhere for her to hide in the ring," Phiri underlined on Thursday, summing the spectacle in one elaborate sentence.
RECOMMENDED READ: Against All Odds: Zarika's Rise From The Ashes To Taking Over The Boxing World
"I promise Catherine Phiri that after our bout, her whole body will hurt. She will not eat meat for a week," Zarika had earlier warned her Zambian rival who still grumbles about the first outcome of their meeting.
One only prays that the giant dome elected at the Kenyatta International Convention Centre (KICC) is strong enough to hold the seismic energy the boxers and the charged atmosphere expected.
Before the princesses step into the ring to trade blows for the right to the queen of the night, four other enthralling contests in the undercard fronted by the Kenyan debut of Tanzania rising sensation, Hassan 'Champez' Mwakinyo versus dogged Argentine veteran, Sergio 'El Tigre' Gonzalez will provide enough fuel to the fire.
Zarika vs Phiri 2
In going with the theme of the night, the main affair is also a second meeting after the Kenyan won their first slug-fest held at Nairobi's Carnivore Grounds on unanimous point decision when she was awarded 97-92, 98-91 and 99-9 by three international judges.
While Phiri was stepping up her training in Lusaka under head coach Michael Zulu ahead of the weekend fight, Zarika traveled to Liverpool, United Kingdom to prepare for the duel.
As far as trainers go, the Kenyan was in illustrious company with retired WBC cruiserweight men champion and British star, Tony Bellew and renowned coaches John McNally and Declan O'Rourke taking her through the rigorous regimen.
"I ensured she had the best coaches and great sparring partners while in England. She also had a physio and a masseuse once a week.
RECOMMENDED READ: Zarika, Phiri Promise To Bring Down The Roof In Nairobi Fight Night 2
"She had everything a world champion needs to prepare for a battle, I strongly believe Zarika will knock down Phiri in the later rounds," narrated Bellew who is also the English Premier League (EPL) Everton FC ambassador.
Zarika first won her belt in 2016 in Flint, Michigan against Jamaican Alicia Ashley and defended it against Phiri and Mexican Yamileth Mercado in 2017 and 2018 in that order.
Phiri beat Mexican Yazmin Rivers three years ago to clinch the WBC bantamweight title and after losing it, decided to turn to the next weight class to fulfill her ambitions of winning the coveted crown of boxing's biggest global promotion.
In the undercard menu, Mwakinyo, who shot to fame after flooring British boxer, Sam Egginton, in England on September 8, 2018 has promised his 40 year-old Argentine opponent a knock-out in the eight round bout.

RECOMMENDED READ: Emerging Stars Coach Kimanzi: We Can Stage Big Sudan Comeback
"The fight will not reach the fourth round, I will send Gonzalez to the canvas," Mwakinyo, 24, promised.
Soft spoken Gonzalez whose has not won any last five fights experience is banking on his experience to take him past the rising youngster who is dead set on conquering the men's middleweight division.
Boom Boom
Another gripping under-card battle will be that of Kenyan Olympian Rayton 'Boom Boom' Okwiri who will be up against another seasoned campaigner in the shape of Pascal 'Prince Kilimanjaro' Bruno of Tanzania.
Okwiri flew to Dubai to train for this contest at Round 10 Boxing Club under Romanian coach Morovon Viorel as he continues finding the ropes in professional boxing.
The Kenyan favourite has not lost a fight since he turned to the paid ranks after the Rio 2016 Olympics in Brazil and during the first Nairobi Fight Night, he brought the crowd to its feet when he knocked out his opponent inside two rounds.
RECOMMENDED READ: Six Things You Did Not Know About Tanzanian Boxing Sensation Hassan Mwakinyo
Ugandan Patrick Amote was the unfortunate victim of a flurry of hard punches and to his credit, it was a mini-miracle he lasted that long having kissed the canvas thrice before going out to the count.
Much travelled Bruno, 42, has amazing endurance and has been preparing for the fight at the legendary Pal Pal Gym in Nairobi's Majengo Slums and has the potential to give Okwiri a lesson or two in the art of pro boxing.
Kenya's Universal Boxing Organisation (UBO) champion Sarah Achieng will take on compatriot and Mombasa-based Joyce Awino in a non-title affair in the second undercard of the night.
Achieng, 31, is the only Kenyan pugilist who has won all her fights on foreign soil, winning the UBO belt against Marina Popova of Russia in 2015 before knocking out Bonita van Jaarsveld in Carnival City, South Africa, last year to retain her belt.
Awino who is also 31 has stepped into the ring against tough opponents in Tanzania, Malawi and Zambia and has the opportunity to make it count against one of the best local female boxers in the business.
RECOMMENDED READ: Flashback Friday: Here Is How Fatuma Zarika Vs Yamileth Mercado Went Down
Dubai based Nicholas Mwangi will face Tanzanian Idd Mkwera in the first bout of the evening in a men Super lightweight contest.
NAIROBI FIGHT NIGHT 2

Title Fight
1. Fatuma 'Iron Fist' Zarika vs Catherine Phiri (Zambia)-Women Super Bantmaweight
Main Under-card
2. Hassan ' Champez' Mwakinyo (Tanzania) vs Sergio Eduardo 'El Tigre' Gonzalez (Argentina)-Super Welterweight
Under-cards
3. Rayton 'Boom Boom' Okwiri vs Pascal 'Prince Kilimanjaro' Bruno- Middleweight
4.Nicholas Mwangi vs Idd Mkwera (Tanzania)- Super Lightweight
5. Sarah Achieng vs Joyce Awino- Super Lightweight