Special Feature: Samuel Wanjiru Legend Lives Eight Years After Passing On
17th May 2019 - by Erick Ochieng
The latest anniversary of the demise of the Beijing 2008 marathon winner lacked the fanfare that followed the dark day of May 15, 2011 but his enduring memory shines bright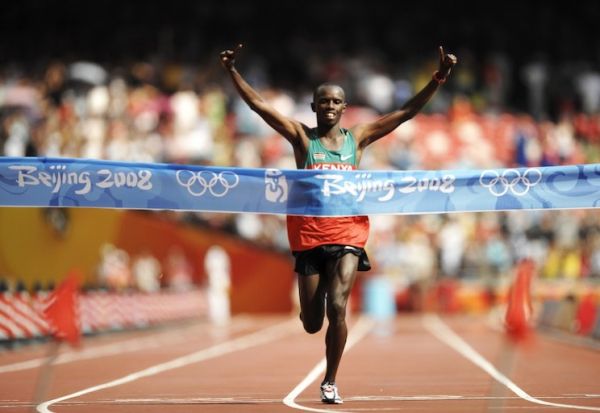 SUMMARY
Eight years later, perhaps only members of the divided family he left behind, fellow athletes across the world who were spellbound by his majesty, journalists lucky to have covered his running exploits and a few on social media who paid tribute to the Beijing 2008 Olympic champion
Yes, Wanjiru is gone but will always be credited with altering the history of the marathon forever. He invented the style that has been perfected by the man hailed as the Greatest Of All Time (G.O.A.T) marathoner, reigning Olympic title and world record holder, Eliud Kipchoge
His private life would also require more than a Netflix special but one thing is certain, as the countdown to another year without him tolls, athletics will never forget the man who the World Marathon Majors trophy was named in his honour
NAIROBI, Kenya- The latest anniversary of one of the darkest days in Kenyan sport came and passed on Wednesday without so much as a cursory mention or ceremony.
On the cold night of May 15, 2011 in Nyahururu- 155km from capital Nairobi- athletics lost one of the finest marathoners that ever lived when the world woke to the shocking news of the death of Samuel Kamau Wanjiru.
Eight years later, perhaps only members of the divided family he left behind, fellow athletes across the world who were spellbound by his majesty, journalists lucky to have covered his running exploits and a few on social media who paid tribute to the Beijing 2008 Olympic champion.
The almost deafening silence was in sharp contrast to the worldwide media circus that followed the news that the former course record holder of the Fukuoka, London and Chicago marathons.
MUST READ: Nyairera Fears IAAF Gender Rules Will End Her Career
Aged 24, those who still grieve Wanjiru still harbour a deep regret of what might have been had he lived to fulfil his immense potential. He will forever remain as the flame was extinguished before it could shine its brightest.
So, where does someone start in paying respects to a man of such audacious ability yet possessed by demons that ultimately contributed to his date with the grim reaper at such a young age that tragedy does not even begin describing?
This writer was one of the journalists fortunate enough to tell bits of the unfolding Wanjiru's story up close, from his emergence as a raw road running teenager to that day when he had to make that painful journey in the wee hours of the morning to document the unthinkable.
Kenya's Samuel Kamau Wanjiru celebrates after winning the men's marathon at the "Bird's Nest National Stadium during the 2008 Beijing Olympic Games on August 24, 2008. PHOTO/AFP

By the time he and a cameraman got there, a battery of local and international press hounds had descended on his Muthaiga Estate home and Nyahururu District Hospital where his body was removed to before it was transferred to the Lee Funeral Home in Nairobi, where the country's notables are preserved before burial.
It was reported that Wanjiru died after a fall from his balcony following a domestic dispute with his spouse, Trizah Njeri and to date, an inquest to whether his death was a suicide, homicide or accidental is in the country's courts.
MUST READ: Steeplechase Record-Holder Chepkoech Out For A Double In Shanghai
Aspiring reporter
In journalism school, they teach that aspiring reporter, anchor, broadcaster or editor to never become part of the story. 
Objectivity, impartiality, accuracy and integrity are preached as the cornerstones of a profession informally known as the Fourth Estate.
But when it came to Wanjiru, who was as slippery as an eel (showing up when least expected and vanishing from contact for months), possessed a big heart, broke down barriers in his sport almost at will besides leading a colourful life off the sport, the professional lines were blurred for members of the press who interacted with him.
As yet another anniversary of his death ticked by, your truly spent the last couple of days, alongside many others who are yet to come to terms with the fact he lies in repose some six kilometres from Nyahururu town, reflecting on the man who was soft-spoken by mouth but a colossus with his blessed powerful legs.
MUST READ: G.O.A.T Eliud Kipchoge Set To Attempt Sub 2-Hour Marathon In INEOS159
Moments shared with the man who made an entire nation rise up at the crack of dawn to cheer him to Olympics glory when he made history as the first Kenyan male to win the marathon at the Summer Games in China flooded through the mind. 
Fittingly, the national anthem was the last to ring out at the Bird's Nest before the dazzling spectacular closing ceremony that lingers long in memory as a nation divided by the deadly post 2007 General Election violence united under the flag due to the brilliant heroes of the Beijing 2008 Olympics.
Trying moment
On Thursday, this author who was on another mission in Nyahururu could not bring themselves to pass by his resting place, sat surrounded by trees in a marble grave that bears the photo of his famous broad white smile to pay his respects. 
The pain is still raw and too much to bear. It ranks as the most trying moment in a media career that has spurned over one and half decade, a nightmare story that proved even a journalist is after all a feeble human being.
As this writer stood there listening to colleagues detail the gory details of his randy ways, conspiracy theories surrounding his final hours and other lurid tales of a man who acted as the big fish in the small Nyahururu pond, all they could think is why was no one celebrating the trendsetting sports icon he was?
MUST READ: Kenya Bag Bronze In Japan IAAF World Relays, USA Rule Charts
But the cold reality of news reporting is a tale of a son of a single mother who rose from the village to global stardom through athletics will not attract more attention than the tale of a millionaire sportsman imploding in a maelstrom of illicit affairs.  
Spectators cheer as Kenya's Samuel Kamau Wanjiru celebrates winning the men's marathon at the Bird's Nest National Stadium during the 2008 Beijing Olympic Games on August 24, 2008. PHOTO/AFP

Yes, Wanjiru is gone but will always be credited with altering the history of the marathon forever. He invented the style that has been perfected by the man hailed as the Greatest Of All Time (G.O.A.T) marathoner, reigning Olympic title and world record holder, Eliud Kipchoge.
"I dedicate this gold medal to Wanjiru. Studying the way he ran the marathon taught me so much," Kipchoge remarked following his 2:08:44 victory at Rio 2016, that was well below the Beijing winner's 2:06:32 Olympic record but time does not really matter when it comes to the chase for the coveted gold.
Pussy footing
What made Wanjiru revered is the boldness in which he set his targets before achieving them, there was no pussy footing when you asked him what he wanted to do before a race.
His ultra competitive nature saw the short, but stocky athlete; achieve what most of his peers can only dream of in a whole career in record time.  
MUST READ: Homeboyz Trio Recalled As Shujaa Head To Europe To Battle Relegation
He is to distance running what the acclaimed artistes, Tupac Shakur (born Lesane Parish Crooks) or The Notorious BIG (born Christopher Wallace) were to hip-hop or rap. 
Opulently gifted, Pac (September 11, 1996) and Biggie (March 9, 1997) were plucked from earth at their prime aged 25 and 24 in that order under a hail of bullets as a consequence of the feudal war between the west and east coasts of America for rap supremacy. 
But their music and legend lives on and has inspired whole generations of rappers from their era to date and the same can be said of Wanjiru to marathoners.
Just how good was Wanjiru?
As Team Kenya trained for Beijing at Nairobi's Nyayo National Stadium in July 2008, then head coach, Julius Kirwa, was desperately trying to plot the downfall of Ethiopian great, Kenenisa Bekele, in the men 10000m.
Your truly was among a handful of journalists watching the select team of Micah Kogo who eventually won bronze, Moses Ndiema Masai who had wrought the third medal from Osaka 2007 World Championships and Martin Irungu Mathathi go thorough some speed work training.
"They are still not getting it, to beat Bekele and the Ethiopians, you need to finish with stamina," Kirwa muttered under his breath.
Bright idea
Out of the blues, the unmistakable figure of Wanjiru, accompanied by his pacemakers including close friend Joseph Riri, showed up to do some speed-work of his own as he prepared for his Olympic debut in the ultimate race.
MUST READ: Malkia Strikers Upbeat Ahead Of AAG Qualifiers In Kampala
Kirwa had a bright idea. He summoned Wanjiru and asked him to join his 10,000m and it was soon clear, the trio of Kogo, Masai and Mathathi who also hails from Nyahururu like the fallen star could not keep up.
Olympic Champion Sammy Wanjiru of Kenya poses with his trophy near Buckingham Palace after winning the Men's Elite 2009 London Marathon, April 26, 2008 in London. PHOTO/AFP

"If someone who is going to run the marathon is doing this to them, what will happen in Beijing?" Kirwa posed privately.
There and then, it was evident that in the aging red tartan of Nyayo, history was unfolding right before our eyes.
"I will go there and win with a record. I will bring gold to this country and become the first Kenyan Olympic marathon gold winner," Wanjiru stated nonchalantly after the exercise leading Kirwa who led the team to six gold, four silver and six bronze to quip later, "If only all our athletes had Wanjiru's confidence! Do not doubt him, he will bring it home."
Having been beaten by compatriot Martin Lel earlier that April at the 2008 London Marathon where he lost to the reputed superior finishing sprint of the former, some could not believe he could match the searing pace of the three-time winner of the British capital's World Marathon Majors race.
Less than a month later however and true to his word, Wanjiru made his triumphant entry to a screaming and packed iconic Bird's Nest in Beijing where beaming in his famous smile, he saluted, waved and lapped the adulation before sinking to his knees in prayer draped in his country's flag.
MUST READ: Bandari Fight Back To Drown Tusker, Leapfrog Sofapaka
"I realised that if I waited to go close to the finish, I could miss my chance. So, I decided to train to run fast from the start, all the way to the end," he later said, toasting his epic victory with a swig of beer, straying from the norm of the reserved nature of the Kenyan athlete.
Memorable triumph
The following day, it is reported he did a 70km run to warm down, having spent the night making merry in the afterglow of his most memorable triumph.
Kenyan marathon runners Samuel Wanjiru (L) Duncan Kibet (C) and Abel Kirui pose for photographers during a photo call in London, on April 23, 2010. PHOTO/AFP

After being plagued by injury that saw him opt out of a defence of his 2009 London Marathon title won in a then course record of 2:05:10, Wanjiru chose to run at the 2010 Chicago Marathon that October.
A stomach virus before the race harmed his preparations and he entered the competition with the lesser aim of reaching the top three. 
Ethiopian Tsegaye Kebede took the opportunity to forge a lead, but Wanjiru (despite a lack of peak physical form) persevered with the pace and caught up with the Ethiopian. He took the lead in the final 400 m to defend his title in Chicago with a time of 2:06:24. 
"It was the greatest surprise I have ever seen in my life", remarked his manager Federico Rosa.
It is impossible to fill in the supreme career milestones Wanjiru who was educated at Sendai Ikuei Gakuen High School in Japan before signing for the Toyota Kyushu corporate team in a single article.
His private life would also require more than a Netflix special but one thing is certain, as the countdown to another year without him tolls, athletics will never forget the man who the World Marathon Majors trophy was named in his honour.
MUST READ: How EPL Clubs Are Set To Splash Cash In The New Transfer Window
After all, in life and in death, Wanjiru was the very embodiment of elite marathon running. Gone but never forgotten, Rest In Eternal Peace Samuel Kamau Wanjiru. 
The widow of Kenyan marathon champion Samuel Kamau Wanjiru, Tereza Njeri (2nd-L) is consoled during her late husband's burial on June 11, 2011 at the stadium in Nyahururu where he was laid to rest. PHOTO/AFP