G.O.A.T Eliud Kipchoge Set To Attempt Sub 2-Hour Marathon In INEOS159
6th May 2019 - by Mutwiri Mutuota
The Olympic champion is fresh off winning his fourth London marathon title and has set his sights on breaking the legendary two-hour barrier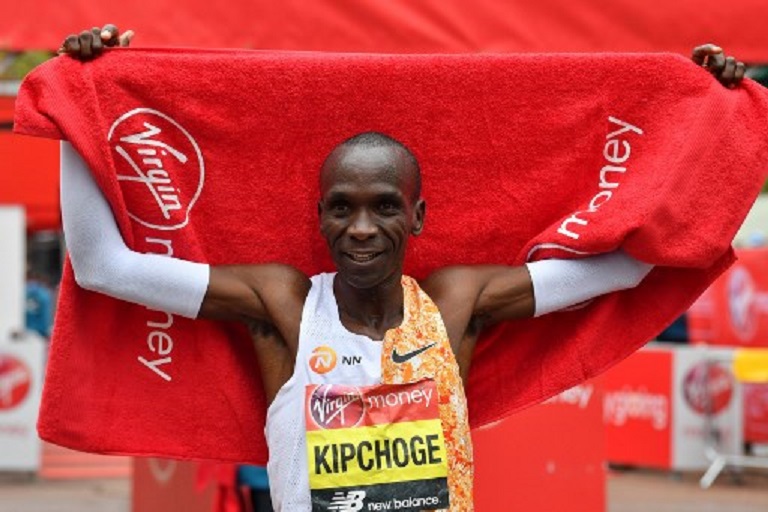 SUMMARY
Four-time London Marathon champion Eliud Kipchoge has announced that he will contest the INEOS 1:59 Challenge in the United Kingdom which is slated for later this year
Kipchoge, the greatest marathon runner of all time, made this announcement yesterday on a day that marked the event's 65th anniversary
On 6 May 1964, Sir Roger Bannister achieved what many believed to be impossible and ran the world's first sub-four-minute mile at the Iffley Road track in Oxford

NAIROBI, Kenya- Four-time London Marathon champion Eliud Kipchoge has announced that he will contest the INEOS 1:59 Challenge in the United Kingdom which is slated for later this year.
Kipchoge, the greatest marathon runner of all time, made this announcement yesterday on a day that marked the event's 65th anniversary.
The Olympic champion is fresh off winning his fourth London marathon title and has set his sights on breaking the legendary two-hour barrier.
On 6 May 1964, Sir Roger Bannister achieved what many believed to be impossible and ran the world's first sub-four-minute mile at the Iffley Road track in Oxford.
That historic achievement remains one of the most iconic events in the history of sport.
READ ALSO: RS Berkane, Zamalek Oust Tunisian Clubs To Set Up CAF Confed Cup Final Date
Eliud came close to making history in his first attempt to go sub-two when he clocked 2:00.25 in a specially created event (not recognised as an official world record) at Monza, Italy in May 2017. 
"I learnt a lot from my previous attempt and I truly believe that I can go 26 seconds faster than I did in Monza two years ago. It gives me great pride to accept the challenge presented by INEOS.
"I am very excited about the months of good preparation to come and to show the world that when you focus on your goal, when you work hard and when you believe in yourself, anything is possible," Kipchoge stated.
On 17 September 2018, Eliud then took 1 minute 18 seconds off the official world record in an awe-inspiring performance at the Berlin Marathon, clocking 2:01:39.
Now, following a historic fourth London Marathon win, the world number one believes he is ready to break the two-hour barrier in the INEOS 1:59 Challenge.
Eliud will be supported by Patrick Sang, his inspirational long-term coach, and the team that has led him throughout his successful career who will do all they can during the preparatory phase to ensure that nothing is left to chance. 
READ ALSO: Valverde Warns Barcelona To Be Wary Of History At Anfield
"As Eliud showed in Monza, when he came within touching distance of achieving what many had previously thought impossible, he is a truly special athlete with incredible levels of mental resolve," explains Sang.
"Throughout his dazzling marathon career he has pushed the event to a new stratosphere and with the right preparation, I believe he has the ability to make history."
The venue for INEOS 1:59 Challenge is currently being decided, with a number of options that offer a flat looped circuit being investigated for the event which is planned for late September or early October 2019.
A major marketing campaign will publicise the run and live coverage will be broadcast across the world, both on traditional and digital channels. Tens of thousands of spectators are expected to attend.
INEOS 1:59 Challenge is being supported by INEOS, one of the world's largest manufacturing companies, which also sponsors the children's running charities, GO Run For Fun and The Daily Mile.
READ ALSO: Series Set For Game 5 As Nuggets, Raptors Win To Level NBA Playoffs
Sir Jim Ratcliffe, Founder and Chairman of INEOS says, "Eliud Kipchoge is the greatest ever marathon runner and the only athlete in the world who has any chance of beating the two-hour time.
"We are going to give him every support and hopefully witness sporting history".
-Additional material from ineos159challenge.com