Kenya Bag Bronze In Japan IAAF World Relays, USA Rule Charts
12th May 2019 - by Erick Ochieng
The country was represented in the race by Jared Momanyi, Maureen Nyatichi, Hellen Syombua and Haron Koech whose effort realised six points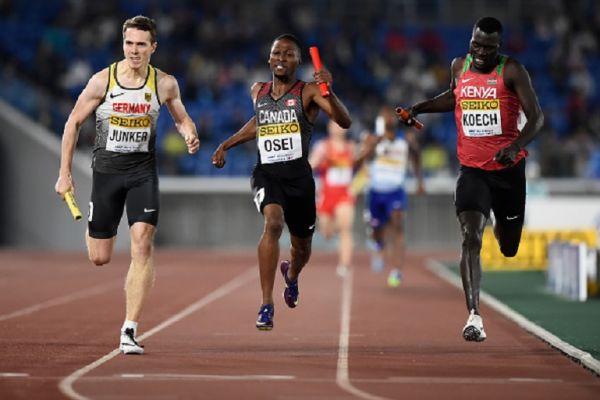 SUMMARY
Kenya clocked 3:19.43 to win bronze in mixed 4X400  relay competition at the the ongoing IAAF World Relays Championships in Yokohama, Japan on Sunday
Joanna Atkins steered USA to victory in 3:16.43 as Canada ended the tape  in 3:18.15 to bag silver
YOKOHAMA, Japan- Kenya clocked 3:19.43 to win bronze in mixed 4X400 relay competition at the ongoing IAAF World Relays Championships in Yokohama, Japan on Sunday.

The country was represented in the race by Jared Momanyi, Maureen Nyatichi, Hellen Syombua and Haron Koech whose effort realised six points.
Joanna Atkins steered USA to victory in 3:16.43 as Canada ended the tape in 3:18.15 to bag silver.
Kenya is currently ranked ninth on 11 points while USA are commanding the log on 47.
READ ALSO: Staunch Kenyan Arsenal Fans Tip Gunners To Lift Europa League Trophy
At the same time, USA was dominant in the opening day on Saturday- capping mixed shuttles hurdles relay, in what turned out to be just a two-team final.
Injuries to Andrew Riley and Norman Pittersgill kept Jamaica from the start line and a false start by lead off Brianna Beahan left Australia out of the running before they even began.
That left only the US and Japan to vie for the inaugural title, with Asian champion Ayako Kimura lining up against world indoor silver medallist Christina Clemons.
READ ALSO: Roaring KCB Destroy Quins To Set Up Kabras Kenya Cup Final Date
Energised by the vocal crowd, Kimura got Japan off to a solid start, beating Clemons, who was running with red chopsticks in her hair, to the first exchange by about two metres.
Running back towards the finish, Shunya Takayama extended the host's lead, but that would-be challenge came to an abrupt end midway through leg three when Sharika Nelvis powered by Masumi Aoki with anchor Devon Allen patiently looking on.
The Rio Olympic finalist then took command, extending the lead en route to a 54.96 performance to secure the US$50,000 first place prize for his team, more than half a second ahead of Japan, who collected $30,000.
READ ALSO: Spanish GP: Bottas Blows Hamilton Away To Secure Pole Treble