Roaring KCB Destroy Quins To Set Up Kabras Kenya Cup Final Date
11th May 2019 - by Louis Kalinga
The bankers kicked off the encounter with bang recording two early tries within the first ten minutes courtesy of Andrew Amonde and Isaac Njoroge with Jacob Ojee adding the extras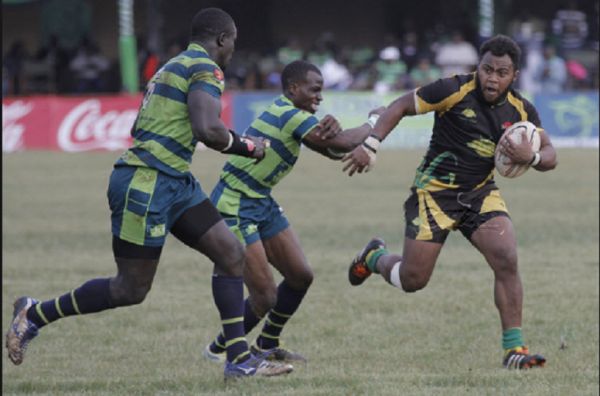 SUMMARY
Resolute Kenya Commercial Bank RFC (KCB) spanked Kenya Harlequins RFC 46-13 on Saturday afternoon in the Kenya Cup semifinal to set up a Kabras Sugar FC final date
The reigning Kenya Cup champions seemed to be in the mood as they dominated proceedings at the KCB Sports Club to continue to stamp their authority in the local rugby scene
The bankers will take on Kabras in the Kenya Cup final in Kakamega on Saturday, May 18 after their 23-11 win over Stanbic Mwamba RFC

NAIROBI, Kenya- Resolute Kenya Commercial Bank RFC (KCB) spanked Kenya Harlequins RFC 46-13 on Saturday afternoon in the Kenya Cup semifinal to set up a Kabras Sugar FC final date.
The reigning Kenya Cup champions seemed to be in the mood as they dominated proceedings at the KCB Sports Club to continue to stamp their authority in the local rugby scene.
The bankers kicked off the encounter with bang recording two early tries within the first ten minutes courtesy of Andrew Amonde and Isaac Njoroge with Jacob Ojee adding the extras.
This sparked Harlequins into life as they managed the KCB attack well, applying more pressure at the breakdowns.
Quins then put three points on the board to make the score 12-3 at the half-hour mark.
MUST READ: Champions Gor Host Sofapaka In Top Of The Table Clash, Leopards Away At Sony
With the help of scrumhalf Samuel Asati, KCB got their third try of the game with flanker Amonde getting his second try of the game.
The ever-reliable Ojee was on hand yet again to add the extras, the scoreline reading 19-3 to KCB.
The second half kicked off with the home side looking to add to their lead earning an early penalty which that man Ojee converted with ease.
Shortly afterwards, Ojee was sent to the bin for what the referee deemed worthy of a yellow card after an illegal infringement.
With KCB down to 14 men, Quins took the advantage and scored through flanker Peter Misangu to make the score 22-8 after 55 minutes on the clock.
READ ALSO: Spanish GP: Bottas Blows Hamilton Away To Secure Pole Treble
Through persistence of the maul the bankers added yet another to make the score 29-8 with the added two points.
Ojee was in fine kicking form as he added a further three points from a penalty kick leaving the score at 32-8 to KCB.
Fly half Eden Agero put a further five points into the scoreboard after an overlap was created on the left side to cross over the chalk. Scores reading 32-13.
The reigning Kenya Cup champions seemed a little rattled by the pressing Quins outfit forcing running plays through the midfield trying to add their bonus points.
KCB were not done with the scoring and fullback Isaac Njoroge got his second of the afternoon with Ojee adding the further two points once again to leave the score at 39-13 with three minutes left on the clock.
RECOMMENDED READ: SportPesa Racing Duo Happy To Be Back In Europe For Spanish GP
The game concluded with KCB holding on to the ball tactfully, not allowing their opponents any room to move the call around and with that KCB were able score yet again through George Musila.
The bankers will take on Kabras in the Kenya Cup final in Kakamega on Saturday, May 18 after their 23-11 win over Stanbic Mwamba RFC.
-Ndirangu Ruhiu contributed to this article