Staunch Kenyan Arsenal Fans Tip Gunners To Lift Europa League Trophy
11th May 2019 - by Louis Kalinga
Many have tipped the Gunners to beat Chelsea FC in the crunch tie that will be watched by millions of viewers across the globe from the Baku Olympic Stadium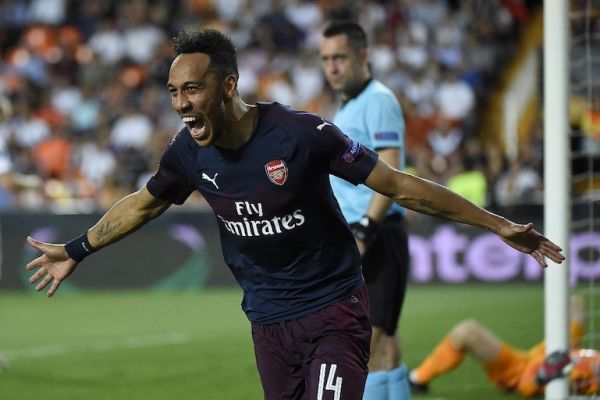 SUMMARY
Arsenal FC fans in Kenya are over the moon after their team cruised over Valencia to qualify for the Europa League final that will be held in Baku, Azerbaijan on May 29
Michael Oduor, a die-hard Arsenal supporter at Technical University of Kenya who took his time to watch the side romp into the final on Thursday night is convinced Arsenal head coach Unai Emery will deliver the coveted trophy
Some supporters like Rogers Eshitemi littered social media with photos of their previous visits of Emirates Stadium to celebrate the victory against Valencia

NAIROBI, Kenya- Arsenal FC fans in Kenya are over the moon after their team cruised over Valencia to qualify for the Europa League final that will be held in Baku, Azerbaijan on May 29.
Many have tipped the Gunners to beat Chelsea FC in the crunch tie that will be watched by millions of viewers across the globe from the Baku Olympic Stadium.
"The final is a done deal, it's ours to lose," stated Erick Ludeya, one of the Arsenal Kenya Supporters fan club coordinators.
According to Ludeya, Arsenal have been superior over their opponents both in the league and in the FA Cup in the recent past.
"We beat them 2-0 in the league in January and won 2-1 in the FA Cup final at Wembley in 2017, the stats are there to speak for themselves," he underlined.
MUST READ: Champions Gor Host Sofapaka In Top Of The Table Clash, Leopards Away At Sony
Michael Oduor, a die-hard Arsenal supporter at Technical University of Kenya who took his time to watch the side romp into the final on Thursday night is convinced Arsenal head coach Unai Emery will deliver the coveted trophy.
"Remember, he won Europa three consecutive times with Sevilla between 2013 and 2016, so nothing is impossible.
"We only need to tie a few lose ends, especially in the midfield where we should have depth to hold the ball and we will be home and dry," Oduor highlighted.
Arsenal Tournament Kenya national coordinator, Denis Njau has predicted a 2-1 win against Chelsea in the Baku showdown.
He sees the Blues as strugglers owing to their performance in the league this term.
"Compared to their past, Chelsea have not been solid of late. We only need to plant Ozil (Mesut) in the midfield, Lacazette (Alexandre) and Aubameyang (Pierre-Emerick) up front and our vehicle will run smoothly throughout the 90 minutes," Njau emphasised.
"The winner on the night will be determined by who will be clinical and I think we have that grit.
MUST READ: Nadal Crushes Wawrinka To Reach Madrid Open Semis
"We should also avoid zonal marking and concentrate on man-marking to pile pressure on the rivals," highlighted Njau who recently expanded the local tournament in other counties including Kakamega, Elgeyo Marakwet and Nakuru.
Other supporters like Haron Onami Aondo have taken to social media to display their 'air tickets' complete with stadium seat numbers after UEFA announced on Friday that the finalists have been allocated 11,800 tickets at the 68,700 capacity Baku Olympic Stadium.
"Baku we are on our way, bring on the UEFA Europa League Final," Aondo wrote on the Arsenal fans-Kenya Facebook.
Some supporters like Rogers Eshitemi littered social media with photos of their previous visits of Emirates Stadium to celebrate the victory against Valencia.
Arsenal rivals were not left in the celebrations with some warning the Gunners supporters not to celebrate just yet as Chelsea will not be a walk in the park.
John Nene, a staunch Manchester United follower, softened his stance on Arsenal saying: "On behalf of European giants Man United fans, I sincerely congratulate Gunners and Blues for qualifying for the Europa League final.
MUST READ: Pep Urges Man City To Embrace Privilege Of EPL Title Chase Pressure
"I know excited Arsenal fans are over the moon, gearing up to celebrate their first European Cup victory. We are watching keenly. In case you need assistance from us on how to celebrate, kindly let us know because we know its' been long since you won a major tournament. We are with you comrades."
While giving a hint on what is in store for the Gunners in Baku, Emery wrote on his twitter handle, "Congratulations Gunners! We'll go to Baku to enjoy and to win it together! We are the Arsenal!"