Special Feature: Catherine 'The Great' Ndereba's Apple Fell Far From The Tree
30th May 2019 - by Mutwiri Mutuota
In the second and last part of her special feature on SportPesa News, the two-time world champion and former women's marathon record holder talks through her challenges, motivation and closely-knit family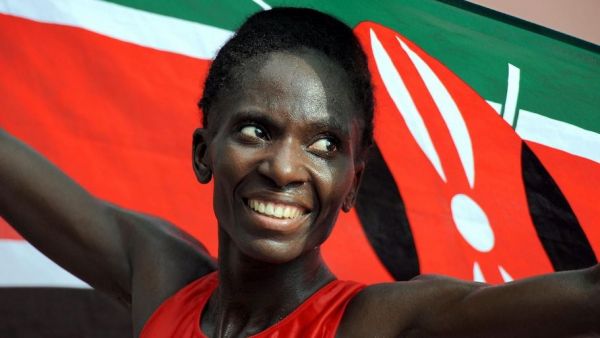 SUMMARY
Born in 1997, Wairimu was the reason behind her celebrated mother; Catherine 'The Great' Ndereba took a one-year break from the sport that catapulted her to international acclaim but she has declined to follow the path to greatness taken by her famous parent
As a role model to hundreds of girls who want to make a career out of distance running from all over the world, Ndereba too was motivated to make it in a tough sport when she set out to launch her running career after graduating as a wardress at the Prisons Training Staff College in Ruiru
Turning to pets, the distance running maestro was told to opt between a cat and a dog
NAIROBI, Kenya- It is often said the apple does not fall far from the tree but Jane Wairimu who recently turned 22, went against the old adage despite being born with the genes of one of the most famous female distance runners in history.
Born in 1997, Wairimu was the reason behind her celebrated mother; Catherine 'The Great' Ndereba took a one-year break from the sport that catapulted her to international acclaim but she has declined to follow the path to greatness taken by her famous parent.
In the second and last part of her special feature on SportPesa News, Ndereba talks through her challenges, motivation and the closely-knit family she shares with husband Anthony Maina, a pilot and daughter Wairimu who is in college.
The first segment of the eye-opening interview conducted at the SportPesa Kenya headquarters in Nairobi can be read HERE.
To get us off, what pushes the two-time women's world champion and former world record holder following her retirement from the sport that saw her talent shine through major cities in the world?
"What is driving me is the fact that I want to give back to the community. I just want to give back to the community through sports, my passion.
"I do mentorship for young Kenya Prisons officers, nurture talent and ensure they get vacancies at Prisons and ensure their talent is developed," the four-time Boston winner responded.
Would she fancy a chance of being the President of the Republic of Kenya?
DO NOT MISS: Chipu Boss Paul Odera Appointed New Senior Simbas Head Coach
"Oh my God! Oh my, only God knows," she quipped as she broke into melodious laughter from the audacity of the question.
At the height of her career, Ndereba was a medal machine that rarely failed to finish in the podium, winning IAAF World Championships gold twice in Paris 2003 and Osaka 2007 after taking silver in the intervening edition of Helsinki 2005.
Women marathon running icon, Catherine 'The Great' Ndereba (centre) poses with SportPesa staff, Lola Okulo (Public Relations) and Duncan Sirma (Creative) when she paid a visit to their Nairobi headquarters earlier this week. PHOTO/SPN

She came close twice to delivering the coveted Olympics crown to her nation, finishing in the silver position at the Athens 2004 and Beijing 2008 where she thought she had won.
Heritage doubts
After kneeling in deep prayer on the red tartan of the majestic Bird's Nest Stadium in Beijing, Ndereba rose and to her horror Romanian Constantina Dita was busy completing her lap of honour for the gold.
Nevertheless, most of the difficulties she faced in her journey from obscurity to greatness came from her own nation.
"Most of the challenges I used to go through came from the selection of the national team. Sometimes, the right people were not chosen.
"I remember one time, somebody asked me how comes you are running and you are Kikuyu," she recalled with a pinch of pain.
Born in Nyeri County in the central part of Kenya, Ndereba who does not hail from the athletics-rich catchment of the north and south of the Rift Valley, confessed apart from nepotism during the selection for the national teams, she also faced doubts on her heritage.
DO NOT MISS: Migné AFCON Stars Axe Falls On Wanga, Isuza, Bwire; Miheso, Avire In
"To some level, people believe I'm not a Kikuyu and some just go like let us know your father, where does he come from?
"I'm a plain Kikuyu that is all I know; I know I resemble my dad that is great proof. God can do anything. Because he is the giver of those talents and gifts, he can choose give them to anyone from whatever region," she emphasised.
"Whatever you believe you are good or can be good at is what drives me," the legendary female distance-running icon added.
When put to her that the online community recognises her as the Greatest Of All Time (G.O.A.T) female marathoner, Ndereba seemed to be taken aback, perhaps thinking the term referred to the animal as opposed as an acronym for highest honour.
"I don't know, I don't know," she said amid peals of laughter, she initially answered.
When it was explained further, the humble star that now serves as the Head of Sports at Kenya Prisons Service paid homage to the adulation.
"It makes me feel good and motivates me so much. Probably, I have come across it and never gave it much thought. It makes me driven especially to keep on doing what I do better."
How did she handle the celebrity and fame that followed each of her big success on the international stage?
DO NOT MISS: Special Feature: Samuel Wanjiru Legend Lives Eight Years After Passing On
"As I kept on winning, I started to get used to it. Up to date, I'm that one person who likes doing his or her own stuff. That thing of being a celebrity never got my mind, I remained who I am," Ndereba replied with ease.
However, like any other superstar, she was not spared some crazy moments.
"One time I met a girl in town and she was like hey Catherine Ndereba, you mean you can walk!
"What does she expect me to do? Even if I have a car, I cannot get into the shop with it. I have to alight at some point and then walk, that is me!" the 2001 Chicago Marathon champion recalled.
We all know she could run quite fast but is she a quick or slow walker?
"There is nowhere I cannot go. I'm a fast walker, I hate walking slowly and I adopted it from one of our teacher's in primary school teacher.
"He used to cane us and tell us to walk as if we are living, don't walk like a dead person. He wanted us to march; little did I know I would become a soldier at some point. You had swing your arms and walk first," the Prisons sports boss recalled with nostalgia.
What nickname would she have given herself?
Greatest fear
"I have a nickname, 'The Great' I would not have chosen a nickname for myself. Its people who normally nickname you," came back.
DO NOT MISS: Selfless Cheprot Earns KSh2m For Giving Up Victory In Nigeria Race
As a role model to hundreds of girls who want to make a career out of distance running from all over the world, Ndereba too was motivated to make it in a tough sport when she set out to launch her running career after graduating as a wardress at the Prisons Training Staff College in Ruiru.
"My greatest inspiration is this lady, Jean Benoit, I read in a certain book, back in 1984 when she was preparing for the Los Angeles Olympics, she got injured and she could not train.
"She did it in a pool and ended up winning gold for her country," she disclosed.
Ndereba concurred the greatest fear for any sportsperson was injury, revealing how her celebrated career almost never took off while she was still a primary school pupil in Nyeri.
"As I was running one morning, I tripped and had a bad fall. When I fall, I have little resistance, I hit the ground properly. I hurt my knee and elbow and messed my skirt.
"It affected inside my knee and lasted months. When the bruises went, my feet started swelling and I could not moved.
"I missed school for two weeks and I thought I was dying. In 1990, I thought it was all over," she narrated.
Was there any other sporting discipline she was good at apart from athletics?
"I did not take part in any other sport apart from running from 100m though I was not good to 10000m.
"I tried volleyball but I could not hit the ball above the net, it could either go down, or comeback to me," Ndereba explained.
At her formative years as a pupil, she also engaged in Physical Education activates and was a member of the agricultural 4K Club (in Kiswahili, Kuungana, Kufanya, Kusaidia Kenya, a clarion call to help the country be food secure).
DO NOT MISS: SportPesa News Transfer Juice: Some Arsenal Players Must Go; Neymar, Dembele Swap On
Despite her initial dream of becoming a teacher being overtaken by the strides she made towards becoming an internationally acclaimed distance runner, Ndereba maintains there are still aspects of her previously desired profession in her.
"Yes, I wanted to become a teacher but when I look at my life, I still see the teacher in me because when someone comes to me, I still direct him or her, so there is that bit of teaching still there," the retired great who is a Member of the National Olympics Committee-Kenya asserted.
Having met her future husband Anthony at PSTC before they tied the knot while still junior Prisons officers, the couple's only daughter Jane has decided to take a different career trajectory from that of her parents.
"My daughter is neither a pilot of an athlete. She ran in primary and high school but after that, she said no more sport. She is studying forensic science," Ndereba disclosed.
How did she choose that field?
"I have no clue," came the reply that was accompanied by another crack of her infectious laughter.
Turning to pets, the distance running maestro was told to opt between a cat and a dog.
DO NOT MISS: If You Can Beat Them, Join Them: US Athlete Who Ran As A Man Now Wins As A Woman
"I would rather take a dog just for security purposes, not to keep in the house. I admire cats from far but I do not like anything that will be all over me. Even a dog has to keep its distance from me."
As the engaging and entertaining interview wound down to a close, SportPesa News asked her what she would tell the younger version of herself.
"Just stick to your principals. I believe I'm a principled person," she advised.
Does she have a pet peeve by any chance?
"I cannot stand people who click with their mouths. My mother would not allow it to be done in our house. I do not care but if you do it on my face, to me it's like an assault, insult."
Farid Kipirash, Mutwiri Mutuota, Jane Njoroge and Brenda Chekata contributed to this report. Photography by Duncan Sirma and courtesy