Special Feature: The Driving Force Behind Catherine 'The Great' Ndereba Part 1
28th May 2019 - by Mutwiri Mutuota
In the first segment of this absorbing two-part series, SportPesa News brings you the scoop on how a girl who only wanted to be a teacher ended up as a global running superstar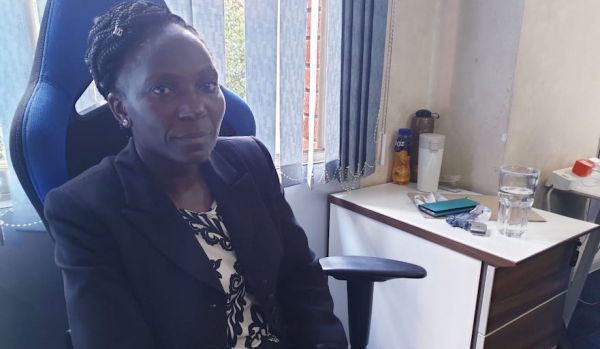 SUMMARY
So, one can only imagine the palpable excitement among members of the SportPesa Digital team who got the chance to interview and engage a living sporting great without the hustle and trappings of celebrity
Daughter Jane Wairimu was welcomed to the family she shares with husband Anthony Maina, whom he met at the PSTC in Ruiru before he went on to sturdy flying where he now serves as a charter pilot, in 1997
"Some seafood and also don't take alcohol and I have never smoked. I understand seafood is good, the rest of my family, husband and daughter are adventurous and they eat seafood," she added with a chuckle as the SportPesa Digital team burst out in laughter
NAIROBI, Kenya- One does not expect anyone worthy of or carrying the illustrious label, Greatest Of All Time (G.O.A.T), to just waltz in and have a simple chat in an open plan office without lights, cameras or a horde of minders and production crew to record proceedings.
So, one can only imagine the palpable excitement among members of the SportPesa Digital team when they got the rare chance to interview and engage a living sporting legend without the hustle and trappings of celebrity.
Looking immaculate in a black and white print dress, leather jacket and well plaited African hairstyle, Catherine 'The Great' Ndereba looked so far removed from the woman who is hailed as one of the best female marathoners of all time when she patiently sat and gave SportPesa News an insight into her glittering life.
Forget the holder of among other big honours, two world titles, four Boston, two Chicago, former world record holder and two Olympic silver medals in the marathon, on that cold Monday afternoon, Ndereba looked more like a guest coming in to drop something.
MUST READ: Special Feature: Samuel Wanjiru Legend Lives Eight Years After Passing On
In living with her disarming demeanour, her presence at SportPesa Kenya head office in Nairobi did not cause a rush for autographs or selfies, just admiration that there was a star in their presence who had intentionally left the celebrity coat outside.
After she was done with a guided tour of the facility, Ndereba sat down for a grilling that focused more on the person as opposed to the global sporting icon that continues to inspire generations of female marathoners everywhere.
As she eased her famous frame to an office chair, still looking capable of taking on the roads and hammering the best, Ndereba gave an absorbing insight on what makes her rated as a G.O.A.T.
"Last book I read, my Jesus! I read The Power of a Praying Woman. It's about how someone can impart my life through prayer," the deeply religious runner who retired three years ago started.
MUST READ: Kahata To Decide Future After AFCON As Simba Close In On Gor Star
Not a keen reader, the book authored by Stormie Omartian is etched on her mind because of its key message.
'Even as you run up and down trying to accomplish a lot in this oh so competitive world, or as you struggle taking care of your five kids, that God needs you to have a relationship with Him, not just praying for everyone else and forgetting that you too need to pray and connect with Him.'
It retails for some KSh990 (less than USD10).
Television junkie
The globetrotting distance running superstar is not a movie buff or television junkie, she disclosed.
"I cannot remember the last time I watched a movie. Very rarely, I like listening to news, not watching. Sometimes you see things that you do not want to see," the 2003 Paris and 2007 Osaka world marathon winner told.
Ndereba is however, a keen radio listener with Kameme and Inooro that broadcast in her native Kikuyu as well as the English-speaking Capital FM ranking as her stations of choice.
"My favourite presenters is anybody who presents anything inspirational, Sheila Mwanyiga is one of them; I was with her last Saturday," she added in reference of the former local pop queen turned show host.
What would have Ndereba been if she did end up as a gifted distance runner?
MUST READ: This Is Why 'Naughty' Neymar Was Dropped As Brazil Captain
"When I was in school I was really looking forward to be a teacher in Swahili and Agriculture but ilipotea nilipokuja mtaa (when I came to Nairobi)
"That dream of becoming a teacher died, or rather got replaced by becoming a Prisons Officer. By the fact that I realised if I join teaching, I will not have enough time to do training and also participate in different races," she recounted how the then 21 year-old launched a professional career in the sport.
The woman who ran a world record when she won the 2001 Chicago race in 2:18:47 owes her rewarding career to two coaches she found at the Kenyan Prisons Service where she now serves as a Head of Sports.
"Thank God, there are those who know more than we do, so I got that advise from my coach. Stephen Mwaniki and Adriano Musonye coach of Central Province and Mwaniki was acting as his deputy
"On August 15, 1994 after graduation from Prison Staff Training College (PSTC) I got to training from Monday to Friday that was my work," the holder of four Boston titles went on.
MUST READ: Golden Boot Scramble, Battle To Avoid Play-Off Spices Up 2018/19 SPL Finale
A year later, she went on to record victory at the Orange Classic 10K race in New York in a performance that opened doors for her eventual ascent to distance running immortality.
"In 1996, I started winning almost everything. I ran a total of 16 road races and only missed one victory and the one I missed, I finished number two," she recounted.
Boring flight
That was the year she represented Kenya for the first time in a women's relay race in Seoul, Korea and needless to say, her first flight as a member of her country's team turned from joy into nightmare.
"I was so excited then later, it turned out to be very boring because I had never sat for such a long time, we were flying from Seoul, Korea through Paris.
"By the time we got to Seoul, my life was upside down; I could not tell whether it was Monday, Tuesday or Wednesday. The turbulence, airsickness and the long flight made me feel like leaving the seat and sitting on the ground, I did not enjoy it at all.
MUST READ: Tundo Off To Zambia To Flex For Record Sixth Safari Rally Title Attempt
"Nowadays, I slowed down, I do not fly as often as I used to before."
Retired two-time women marathon world champion and former record holder, Catherine Ndereba (centre) poses with SportPesa Digital staff (From L to R) Mutwiri Mutuota, Farid Kipirash, Brenda Chekata and Jane Njoroge when she visited the SportPesa Kenya headquarters in Nairobi. PHOTO/SPN

Daughter Jane Wairimu was welcomed to the family she shares with husband Anthony Maina, whom he met at the PSTC in Ruiru before he went on to sturdy flying where he now serves as a charter pilot, in 1997.
"Having a baby just stopped me for a year; I was back to form and back to winning," Ndereba underscored.
Unlike Anthony and the now 22 year-old Wairimu, Ndereba does not relish filling her palate with ocean delicacies.
"Some seafood and also don't take alcohol and I have never smoked. I understand seafood is good, the rest of my family, husband and daughter are adventurous and they eat seafood," she added with a chuckle as the SportPesa Digital team burst out in laughter.
MUST READ: Real Madrid President Perez: I Hope Eden Hazard Comes This Year
-Part two of this interview will be published on Thursday
Farid Kipirash, Mutwiri Mutuota, Jane Njoroge and Brenda Chekata contributed to this report. Photography by Duncan Sirma