Selfless Cheprot Earns KSh2m For Giving Up Victory In Nigeria Race
29th May 2019 - by Mutwiri Mutuota
Social media hails the man dropped his ambition of winning the Okpekpe title for a second time and instead stopped to pick his colleague, lifted him up and they both walked slowly until they finally crossed the finish line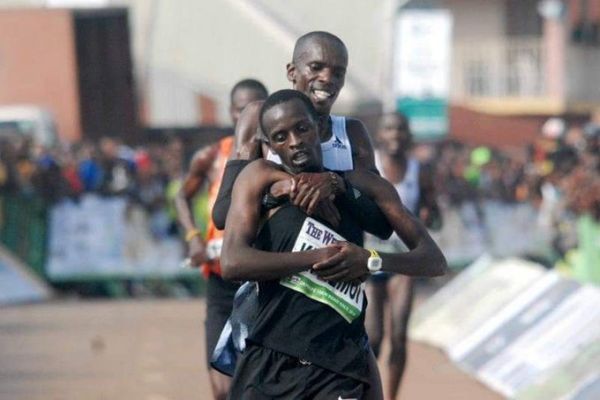 SUMMARY
"On Saturday, Kenyan athlete Simon Cheprot was on his final seconds to winning the the 2019 Okpekpe International 10Km race when something suddenly happened
As a result of this gesture of patriotism and the 'big man' gesture, Kenyans have taken to social media to hail the former Okpekpe champion and his touch of humanity did not escape Nigeria
"This guy Simon Cheprot is a hero, not to Kenya only but to the entire world. He was on the verge of winning at Okpekpe Int'l 10KM Road Race in Nigeria on Sunday but stopped a few metres from the finish line to help his teammate Kenneth Kipkemoi who had collapsed. Humanity," Dixon Moses tweeted
NAIROBI, Kenya- In competition, winning comes at all costs in the cut throat nature of sports where some even cheat to taste the glory that is often accompanied by riches.
Last weekend, a road race in Nigeria produced an act of selflessness that has since gone viral and catapulted Simon Cheprot into a social media star.
Here is the narrative.
"On Saturday, Kenyan athlete Simon Cheprot was on his final seconds to winning the the 2019 Okpekpe International 10Km race when something suddenly happened.
MUST READ: Kahata To Decide Future After AFCON As Simba Close In On Gor Star
"Suddenly, he saw his compatriot and rival Kenneth Kipkemoi collapse just as they were approaching the finish line. How heart breaking that is," the story started.
"To the surprise of many, Cheprot dropped his ambition of winning the Okpekpe title for a second time and instead stopped to pick his colleague, lifted him up and they both walked slowly until they finally crossed the finish line. They finally finished at position 15 and 16.
Brother's keeper
"Fans at the venue and those watching on live TV hailed him as a hero and for being a brother's keeper."
MUST READ: Migne: France Camp Will Focus Harambee Stars For AFCON Charge
As a result of this gesture of patriotism and the 'big man' gesture, Kenyans have taken to social media to hail the former Okpekpe champion and his touch of humanity did not escape Nigeria.
The Nigeria IAAF representative Mike Itemuagbor described him as "our hero" and later rewarded him KSh1m for his humanitarian effort. The organisers of the 7th Okpekpe International 10km Road Race also rewarded him KSh2m shillings for being "brother's keeper"
"This guy Simon Cheprot is a hero, not to Kenya only but to the entire world. He was on the verge of winning at Okpekpe Int'l 10KM Road Race in Nigeria on Sunday but stopped a few metres from the finish line to help his teammate Kenneth Kipkemoi who had collapsed. Humanity," Dixon Moses tweeted.
MUST READ: Here Is SportPesa News 2018/19 SPL Team Of The Season