Asbel Kiprop Leaves For London Hoping Doping Nightmare Will End
20th March 2019 - by Mutwiri Mutuota
Beijing 2008 Olympics and three-time world men 1500m champion travels for the Disciplinary Tribunal verdict into EPO charges levelled against him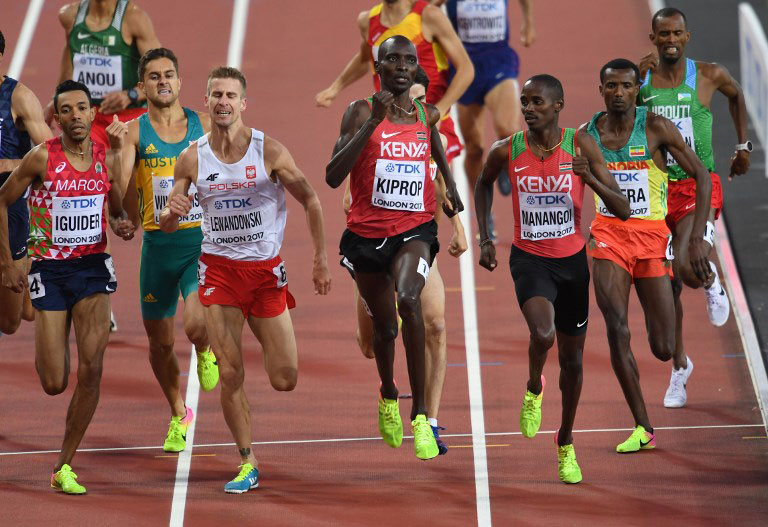 SUMMARY
Speaking ahead of his departure from Nairobi on Wednesday, Kiprop yet again maintained his innocence after the AIU confirmed in May last year that his samples from an out-of-competition test conducted in his home in Iten on November 27, 2017 had returned adverse finding for banned blood booster EPO
Already, three hearings scheduled for September and November last year and another this January were pushed back to March 21, leaving the athlete who won men 1500m gold at the Daegu 2011, Moscow 2013 and Beijing 2015 editions of the IAAF World Championships in career limbo
Kiprop is facing a minimum four year ban should the charges against him stick but the length it has taken to rule on his case has left more questions than answers
NAIROBI, Kenya- Beijing 2008 Olympic and three-time men 1500m champion Asbel Kiprop is hoping his doping nightmare will finally end on Thursday when the Athletics Integrity Unit (AIU) is expected to deliver a final ruling on the case that stunned the sport in London.
Speaking ahead of his departure from Nairobi on Wednesday, Kiprop yet again maintained his innocence after the AIU confirmed in May last year that his samples from an out-of-competition test conducted in his home in Iten on November 27, 2017 had returned adverse finding for banned blood booster EPO.
In the staggering case, the body formed by world governing body, the IAAF in April 2017, also admitted two of its Doping Control Officials (DCOs) who arrived at Kiprop's home had taken money from the athlete who is still serving a provisional suspension from competition.
Already, three hearings scheduled for September and November last year and another this January were pushed back to March 21, leaving the athlete who won men 1500m gold at the Daegu 2011, Moscow 2013 and Beijing 2015 editions of the IAAF World Championships in career limbo.
RECOMMENDED READ: Athletics Royalty Gathers In Kilgoris For Daniel Rudisha's Heroic Send Off
However, the AIU allowed the two-time World Cross winner to resume training alone in November but still barred from active competition.
"I pray for the truth to prevail and this will be no further delay. This case has cost me a lot financially, emotionally as well as stopping me from doing the sport that I love the most. It has been a rough time for me and I hope there will be no further delays," Kiprop who won the African 1500m title in 2010 said before departure to London in the company of his lawyer, Katwa Kigen.
Having been one of the most vocal Kenyan athletes against the vice, Kiprop was snared in the doping web on May 3, 2018 when British publication, the Daily Mail, outed him as the middle distance star suspected of having tested positive for EPO.
Kiprop immediately fired back at the accusations in a statement released through Kigen where he revealed that the two DCOs sent to his home- Simon 'Mburu' Karugu and Paul Scott, who he was familiar with from previous tests had asked him for money notified him on their visit a day before.
Adverse finding
"I remain perplexed on how my innocent sample could turn positive on the only time when money was extorted from me. It is not beyond my suspicion that my sample turned positive because I might have remitted less money than I was expected to remit," part of Kiprop's statement said at the time.
Two days later (May 5, 2018), AIU confirmed in that urine samples collected from Kiprop had returned adverse analytical findings for EPO while admitting the DCOs had taken money and alerted the athlete which went against their anti-doping protocol and subsequently, the two were relieved of their duties.
RECOMMENDED READ: Mwakinyo To Gonzalez: I Will Knock You Out Cold
"On 3 February 2018, Mr Kiprop was notified of the Adverse Analytical Finding and on 20 February 2018, Mr Kiprop was informed that the B sample analysis had confirmed the Adverse Analytical Finding.
"On 16 March 2018, Mr Kiprop was charged with violations of the IAAF Anti-Doping Rules and the matter is currently proceeding before the independent IAAF Disciplinary Tribunal," the AIU wrote in their communication.
"The AIU has confirmed that the Doping Control Assistant involved in testing Mr Kiprop on 27 November 2017 (who is known to Mr Kiprop) admitted that he provided Mr Kiprop with advanced notice of the testing that was to take place on that date.
"This is extremely disappointing. The AIU has submitted to the Tribunal that these actions may constitute a departure from the requirements of the International Standard for Testing and Investigations (ISTI)," it added noting that this did not 'invalidate' the results.
Kiprop is facing a minimum four year ban should the charges against him stick but the length it has taken to rule on his case has left more questions than answers.
The reputation of the AIU and the entire new anti-doping machinery in the sport that was one of the IAAF President Sebastian Coe's four pillars of reform under scrutiny.
In January, the AIU president, Brett Clothier, expressed concern over the lengthy time it had taken to convict or acquit Kiprop of the charges levelled against him and wrote a letter to the investigators concerned asking them to ensure there was no further delay to the proceeding past tomorrow (Thursday).
RECOMMENDED READ: February Toast Of SPL, Kasumba Sets Sights On Uganda Cranes
Following the damning allegations levelled against him, Kiprop has gone through a public meltdown that saw him make the headlines for all the wrong reasons, including the scandal that saw him release an explicit video featuring the spouse of former training partner Andrew Chepsiwa Rotich before he came out to ask for forgiveness.