Athletics Royalty Gathers In Kilgoris For Daniel Rudisha's Heroic Send Off
18th March 2019 - by Mutwiri Mutuota
Construction of a stadium and school named at the centre of sombre funeral of pioneering athlete and father of two-time Olympic champion David Rudisha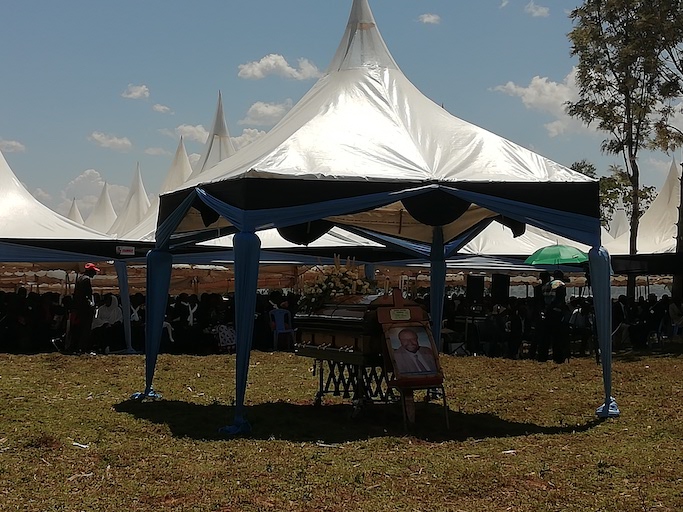 SUMMARY
The somber ceremony was a roll call of past and present world beaters who came to pay homage to the retired sprinter turned educationalist that died on March 6 aged 74 who was among the founding fathers who paved the way for Kenya's distance running excellence
Outspoken Narok Senator, Ledama Olekina and his Mount Elgon counterpart, Martin Ndiwa fronted a slew of politicians from national and county level where speaker after speaker exalted the virtues of a man who broke barriers in sport before rising to be a long-serving teacher and educational disciplinarian
The doping scourge issue that threatens to soil the rich tradition of Kenya's athletics was not far as retired world champion Moses Tanui (Tokyo 1991) and Konchellah demanded sterner action to be taken against drug cheats
KILGORIS, Kenya- Athletics royalty, senior political figures and the teaching fraternity turned out in force on Monday at Ol Tanki Village, Kilgoris to give a heroic send-off to pioneering runner and 1968 Olympics silver medallist, Daniel Matasi - the father of men 800m record holder David Lekuta Rudisha.
During the daylong burial owing to the sheer volume of speakers, repeated calls were made to expedite the construction of the Daniel Rudisha Stadium in Kilgoris as well as establishing sports and academic scholarships for the benefit of youth from his home area as an enduring legacy to the departed icon on the two things he lived for.
The somber ceremony was a roll call of past and present world beaters who came to pay homage to the retired sprinter turned educationalist that died on March 6 aged 74 who was among the founding fathers who paved the way for Kenya's distance running excellence.
From his Mexico 68 Olympics teammates, Dr. Hezekiah Kipchoge Keino and Tecla Chemabwai Sang, to the next generation led by world under 20 champion Wycliffe Kinyamal and everything in between, the final farewell of the elder Rudisha was indeed a calendar of the might of the country's distance running through the generations.
It is not often you find the greatest 3000m steeplechaser of all time and two-time Olympics champion, Ezekiel Kemboi and former world titleholders, Alfred Kirwa Yego (Osaka 2007/800m), Benjamin Limo (Helsinki 2005/5000m), Billy Konchellah (1987/1991 800m) Milcah Chemos (Moscow 2013/steeplechase) and World Cross short course champion, Isaac Songok, playing the role of ushers at a funeral but on Monday in a dusty Kilgoris, the incredible happened.
READ ALSO: Gor Mahia's Stunning CAF Qualification A Beacon Of Hope For Kenyan Football
Reputable athlete; Geoffrey Mutai, Viola Lagat, Amos Rono, Cornelius Birir, Haron Keitany, Sammy Tangui (David Rudisha's long term pace maker), Sila Kosgei, Sammy Kipkurgat, Stephen Ole Marai, Japheth Kimutai, Augustine Choge, Hosea Kogo, Alex Sampao and Ugandan ace Abraham Chepkirwok among others also came to pay their last respects.
Outspoken Narok Senator, Ledama Olekina and his Trans Nzoia counterpart, Martin Ndiwa fronted a slew of politicians from national and county level where speaker after speaker exalted the virtues of a man who broke barriers in sport before rising to be a long-serving teacher and educational disciplinarian.
"I urge the youth of this area to combine education and sport and we shall offer all the support we can to make them realise their goals," two-time Olympic winner and his most famous scion, David Rudisha, told hundreds of mourners, including tens of school children from surrounding institutions who came to bid farewell to their patriarch who fathered 20.
"He was my mentor and the first person who taught me how to train when he saw me running around our house.
"He would ask me to sprint from one homestead to the next five times and shout at me 'break' and whenever I'm competing, I always hear him say 'break' and that is when I go," the man who set the 1:40.91 world record when winning his first Olympic gold in London 2012 recalled.
READ ALSO: Nairobi Fight Night 2: Six Most Memorable Tony Bellew Fights
"We should build a stadium and a Daniel Rudisha School to give children from this area scholarships.
"The Government should also build a national monument to honour sporting legends since all our achievements will be forgotten," Kipchoge who is widely hailed as the father of Kenyan athletics who won the 1500m title at Mexico 68 underscored.
Drug cheats
His comments were echoed by university don, Professor Mike Boit, the Munich 1972 Olympics 800m bronze medallist and Kenyatta University lecturer.
"Daniel Rudisha loved education and sport and we should establish schools in Kilgoris, Narok and Kajiado since the Maasai community needs education," Boit, who finished fourth in the Mexico 68 1500m final won by Keino emphasised.
One of the most stirring tributes was given by veteran Irish coach, Bro Colm O'Connell who tutored his son David when he spotted his talent at a school competition in Iten.
"I'm honoured to be in the presence of greatness. If it was not for the likes of Daniel and Kipchoge, there would have been no great Kenyan athletes. David put a mark in the sport in London and I'm honoured to have been a part of his career," the St. Patrick's School Iten based who more than most has played a critical role in the rich distance running talent line in Kenya told the gathering.
READ ALSO: Kenyan Mourns Another Fallen Track Legend, Daniel Rudisha, Father To David Rudisha
"I ran with Daniel in 1968 and he taught me to use a spoon and a fork to eat since it was my first time to travel out of the country," Kenya's pioneering female Olympian who at 18 was the youngest member of the Mexico squad who later won the 1978 All Africa Games gold recalled.
The doping scourge issue that threatens to soil the rich tradition of Kenya's athletics was not far as retired world champion Moses Tanui (Tokyo 1991) and Konchellah demanded sterner action to be taken against drug cheats.
"ADAK (Anti-Doping Agency of Kenya) is a toothless institution since it does not have the powers needed to get rid of doping. Why are we still on the international doping watchlist if people are really working?
"There is a lot of talent in Kenya and the terrain to train to become world beaters and our athletes should be protected, even when they are said to have tested positive. There is no one to fight for them," Konchellah who is a double 800m champion claimed.
"If you dope, you will not live long. Mzee lived to be 74 years and we ran clean and knew how to take care of our bodies. If you dope, you will not live for long even if you have all the money.
"We have high altitude that increases red blood cells that makes us champions, we do not need drugs," former Boston Marathon winner Tanui charged.
Senator Olekina pledged to host the younger Rudisha, Konchellah and the region's other great 800m, Stephen Ole Marai who was also present to explore ways of turning the proposed stadium to reality.
READ ALSO: Undisputed Star Vivian Cheruiyot Adds Star Dust To Lisbon Half Field
"Corrupt leaders should follow the example of athletes. Some people are dying of hunger in Turkana while others are looting billions.
"This money can be used to wipe out drought," Olekina said with his Trans Nzoia colleague Ndiema stating the County Government should expedite a budget for building the proposed stadium.
Daniel's family remembered a patriarch who gave them his all despite the huge size of his nucleus family and inspired them to be notable members of society, epitomized by the rise of his son David into an international great.
"He was a fearless man and his distinguished athletics career made him love many people. You can see the number of children he had, we were 20. We shall live to celebrate you," his eldest surviving daughter, Elizabeth Tanchu eulogized.
Following the lengthy speeches, mourners were given the chance to view the body for the last time before the legend was finally laid to rest at sundown.