Nairobi Fight Night 2: Six Most Memorable Tony Bellew Fights
18th March 2019 - by Erick Ochieng
The pugilist turned professional on October 6, 2007 but had to wait for three years to challenge for a belt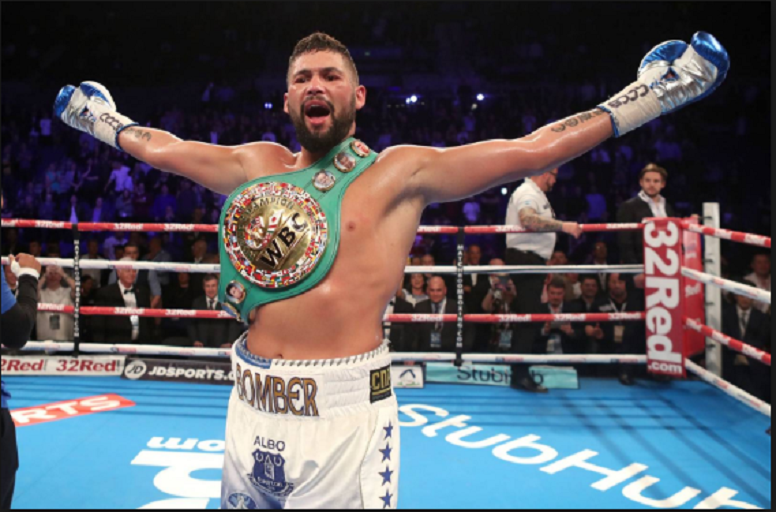 SUMMARY
 British former professional boxer Anthony Lewis Bellew had an impressive record in his amateur and professional career that ended in 2018
He was successful in his first title contest and this  soared him to greater heights, out of his 34 fights he won 30, including 20 on knock-outs. He lost three ( two knock-outs) and drawn one
Bellew won his first heavyweight fight on March 4 , 2017 against fellow Briton and former World Boxing Association (WBA) heavyweight champion David Haye where he led in all the three scorecards 96–93
NAIROBI, Kenya- British former professional boxer Anthony Lewis Bellew had an impressive record in his amateur and professional career that ended in 2018.

Bellew turned professional on October 6, 2007 but had to wait for three years to challenge for a belt.
He was successful in his first title contest and this soared him to greater heights, out of his 34 fights he won 30, including 20 on knock-outs. He lost three ( 2 knock-outs) and drawn one.
SportPesa News takes a look at six of his biggest and most memorable fights in his boxing history.
RECOMMENDED READ: Former World Cruiserweight Champ Tony Bellew Confirms Retirement
1.Commonwealth: Bellew vs McKenzie
Bellew successfully defended his Commonwealth Light Heavyweight Title for the third time in a row against compatriot Ovill McKenzie at Echo Arena in Liverpool on July 16, 2011 on unanimous point decision.
This victory was significant as he also won the vacant British belt in the 12 round contest.
He floored Ghanaian Atoli Moore at the venue in his first attempt at the Commonwealth belt on December 3, 2010.
He went on to defeat Bob Ajisafe and McKenzie in his first and second title defence before a repeat with the latter in the third defence.
RECOMMENDED READ: Nine-Man Gor Mahia Claw Atletico To Qualify For CAF Confed Cup Quarters
2. WBC Light Heavy: Bellew vs. Stevenson
Bellew was made a mandatory challenger for the World Boxing Council (WBC) Light Heavyweight title against Adonis Stevenson of Canada on November 30, 2013 following his early victory the same year against Isaac Chilemba of Malawi in the WBC Silver Lightweight category.
Even though Stevenson became the first boxer to stop Bellew, winning the fight via TKO in round 6, the fight lived up to its billing.
According to Nielsen Media Research firm, the bout attracted an average of 1.3 million viewers on the HBO network, making it the fifth most watched bout of 2013 season.
RECOMMENDED READ: ATP Indian Wells: Dominic Thiem Beats Roger Federer To Lift Title
Tony Bellew with WBC Super Bantamweight champion Fatuma 'Iron Fist' Zarika after their training in Liverpool, United Kingdom recently. PHOTO/SPN
3.WBO Cruiserweight: Bellew vs Brudov
Bellew celebrated his first fight as a cruiserweight with a 12th-round knockout of Valery Brudov of Russia on March 15, 2014 at the Echo Arena, Liverpool.
This was for the vacant World Boxing Organisation (WBO) International Cruiserweight title which he successfully defended against Julio Cesar Dos Santos of Brazil via a fifth round technical knock-out on July 12, 2014. Dos Santos went down following a left to the jaw.
RECOMMENDED READ: Nairobi Fight Night 2: Rayton 'Boom Boom' Okwiri, The Kenyan Rising Warrior
4.WBC Cruiserweight: Bellew vs. Makabu
Bellew overcame a first-round knockdown to deliver a thunderous knockout of Ilunga Makabu from Democratic Republic of Congo to become the new World Boxing Council (WBC) World Cruiserweight champion, at Goodison Park Stadium in Liverpool on May 29, 2016.
This fight was important as it gave Bellew a first world title in his nine year boxing career.
5. Heavyweight: Bellew vs. Haye
Bellew won his first heavyweight fight on March 4 , 2017 against fellow Briton and former World Boxing Association (WBA) heavyweight champion David Haye where he led in all the three scorecards 96–93.
With a 60-40 split of the £7 million (KSh910m) purse, Haye earned £4.2 million (KSh520m) while Bellew took home £2.8 million (KSh260m), his biggest purse by far.
It was reported that the fight generated 890,000 buys on Box Office Pay Per View.
He later repeated the same feat on May 5, 2018, knocking down Haye three times and eventually winning the fight via TKO in round five.
Both boxers earned a minimum purse of £2.5 million (KSh328m) each for the fight.
RECOMMENDED READ: Derby Drama: Inter Edge AC Milan In Five-Goal Thriller
6. Return to Cruiserweight/Retirement: Bellew vs. Usyk
This fight against Oleksandr Usyk of Ukraine at the Manchester Arena on November 10, 2018 had four belts on the line with a winner takes it all.
The belts included; the International Boxing Federation World Cruiserweight Title, World Boxing Association Super World Cruiserweight Title, World Boxing Council World Cruiserweight Title and the World Boxing Organisation World Cruiserweight Title.
On fight night, Usyk, who is usually a slow starter, eventually took full control of the bout and stopped Bellew in round eight to retain all the cruiserweight belts.
Afterwards, Bellew paid tribute to Usyk and announced his retirement from boxing, saying; "I have been doing this for 20 years, and it is over."
While claiming his body could no longer take it, Bellew said: "It's definitely over now, you won't see me in a boxing ring again. I just want a normal life, I don't want this pressure. I only created the name Tony Bellew to make my dad proud. I've never been Tony Bellew, I've always been Anthony. Everyone who truly knows me calls me Anthony. Tony Bellew died on Saturday, Anthony Bellew comes back alive. I want reality back."
-Materials from https://www.wikipedia.org/ was used in the preparation of this article