Veteran Football Commentator Mohamed Njuguna Passes On
8th June 2019 - by Mutwiri Mutuota
Tributes pour in for one of Kenya's most celebrated radio broadcasters who was hailed as a pioneer in his craft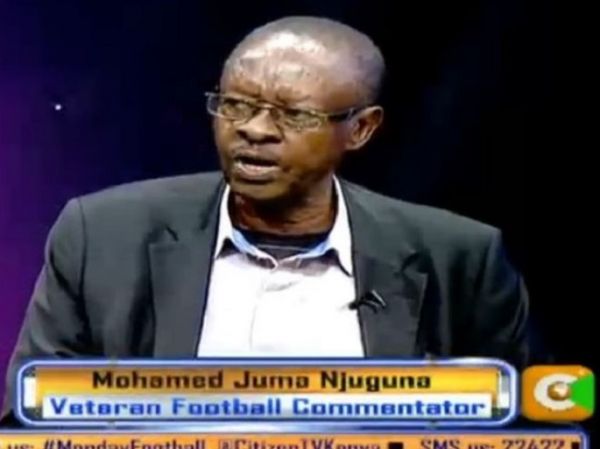 SUMMARY
Njuguna has been unwell and was admitted at Nairobi Hospital for a while where he breathed his last on Saturday morning according to his employers Royal Media Services (RMS)
Until his demise, the hilarious reporter was working for Radio Citizen where he was a content producer having been the pioneer football commentator at the leading local station where he joined from the State owned Kenya Broadcasting Corporation
Njuguna had over 40 years experience in the trade. He was awarded with a Head of State Commendation by retired President Mwai Kibaki on March 10, 2010 for his illustrious career in the media
NAIROBI, Kenya- Tributes poured in for fallen veteran football commentator Mohammed Juma Njuguna who died on Saturday as sports fans, media colleagues and the public celebrated the life of one of the most eminent voices on local radio.

Njuguna has been unwell and was admitted at Nairobi Hospital for a while where he breathed his last on Saturday morning according to his employers Royal Media Services (RMS).
Until his demise, the hilarious reporter was working for Radio Citizen where he was a content producer having been the pioneer football commentator at the leading local station where he joined from the State owned Kenya Broadcasting Corporation.
He also served as a producer for BBC Radio besides working for many other media organisations.
READ ALSO: Special Feature: Ambitious Sharks Defender Teka Sets Sights On Everton's Walcott
His death shocked his ardent followers who turned to social media to express their condolences.
"Njuguna was not only a dedicated member of the Royal Media Family but fiercely loyal to the brand, a rare breed in the current media landscape.
"He was among the founding members of Radio Citizen in 1999 and remained committed to the cause even during the trying times," RMS chair and vice chairpersons, Dr. S.K and Gathoni Macharia told Citizen Digital
"I am deeply saddened; the country has lost a broadcasting icon, who demonstrated the highest level of commitment and passion for his work.
"I have lost a dear friend and colleague. May his soul rest in peace," the media house's Group Managing Director Wachira Waruru added.
"He had a unique way of football commentary. May his soul rest in eternal peace," former Harambee Stars head coach Jacob Ghost Mulee, wrote on social media.
"Our paths crossed on so many occasions. A friend. A mentor. Veteran Radio Presenter and football commentator. Rest in peace my friend," female sports radio personality, Carol Radull tweeted.
READ ALSO: Migné: Beating Madagascar Has Given Us Confidence Ahead Of AFCON
"I'm saddened by the news of passing of veteran broadcaster Mohammed Juma Njuguna who succumbed to diabetes aged 75 at Nairobi Hospital today. You will surely be missed," Ambassador Ibrahim Hussein stated.
Royal Media colleague, Charity Wanja who grew up listening to Njuguna commentating still remembers some of his fresh anecdotes on radio.
" Ukiskia kabwebwe mama Kabwebweeeee jua kuna team inanyoroshwa (If you hear total silence from a rival know their team is being beaten). I will miss him," Wanja recalled Njuguna's favourite refrain.
READ ALSO: Chelsea Forward Hazard Joins Real Madrid On A Five-Year Contract
Wanja who would later work with Njuguna at the Communications Centre explains how the commentator would announce his arrival every morning at work.
"He would come to the sports desk, pull his trouser waist high, clears his throat and says 'Habari yenu? (how are you this morning?), before he starts to bombard us with hilarious jokes. He always made our day," Wanja said.
Njuguna had over 40 years experience in the trade. He was awarded with a Head of State Commendation by retired President Mwai Kibaki on March 10, 2010 for his illustrious career in the media.
READ ALSO: Raptors On Cusp Of History After Ripping Warriors In NBA Game Four
The broadcast giant who was born in Majengo, Nyeri was later interred at the Kariokor Cemetery in Nairobi in accordance to his Muslim faith. His wit and charm saw him make friends in high places including retired presidents Daniel arap Moi and Kibaki.