Special Feature: Ambitious Sharks Defender Teka Sets Sights On Everton's Walcott
7th June 2019 - by Mutwiri Mutuota
Having established himself as a regular despite being only 19, the former Kakamega High School captain is ready for the big test on July 7 when the Blues play his team in Nairobi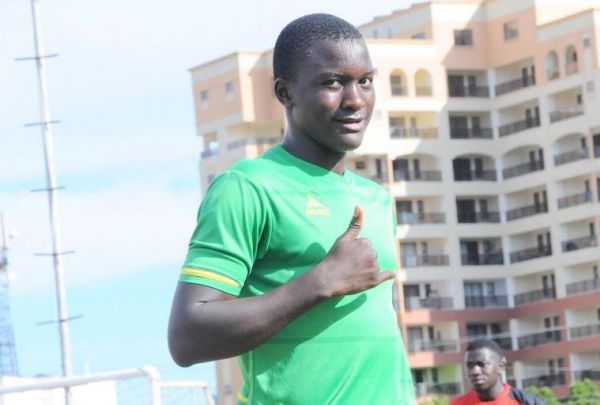 SUMMARY
Like every other squad member of the team that booked the right to host Everton when they lifted the SportPesa Cup in Dar-es-Salaam in January, Teka is buzzing at the prospect of showcasing his talent on July 7, with the England international who rose to fame in Kenya at Arsenal where he won two FA Cup titles firmly in his sights
For Teka though, being thrust into the deep end of the country's top division at such an early age was not unnerving
"We have tried especially since we played many games back to back. Although we did not perform to our expected standards we learned a lot and we will be ready for next season," Teka summed their 2018/19 campaign that was sealed with a 1-3 loss to Bandari in the Shield final
NAIROBI, Kenya- Theo Walcott has terrorised many a defences with his searing pace at English Premier League clubs Southampton FC, Arsenal FC and now Everton FC in a 13-year professional career that has yielded 76 goals.
He is the player that ambitious young Kariobangi Sharks FC defender, Tom Teka Omenda, cannot wait to face should Marco Silva play him on July 7 when the SportPesa Cup winners host Everton in a landmark friendly at the MISC Kasarani Stadium in Nairobi.
Still 19, Teka exudes the confidence and maturity that is far beyond his years, having risen from a water boy at Kakamega High School's famed Green Commandoes football team to the limelight of the SportPesa Premier League.
His objectives do not end with pressing to be part of the Sharks team that will play in their most glamorous game in their history to date next month for this young defender dreams of one day, lining up for the likes of Everton in Europe.
Like every other squad member of the team that booked the right to host Everton when they lifted the SportPesa Cup in Dar-es-Salaam in January, Teka is buzzing at the prospect of showcasing his talent on July 7, with the England international who rose to fame in Kenya at Arsenal where he won two FA Cup titles firmly in his sights.
MUST READ: Patillah Omoto: A Beacon Of Hope From Kariobangi Out To Shine Against Everton
"The player I'm looking forward to play against most is Walcott. I want to see whether his famous pace can match mine," Teka told SportPesa News earlier this week.
"I wish my parents will come and watch the game. It would make me proud to have them in the stadium when we are playing Everton. If it were not for Sharks, I would never imagined playing Everton," he added.
Born Tom Teka Omenda in Wananchi location, Webuye, Bungoma County, he credits his steady rise to the apex of local football to his strict parents, a father who worked at Pan Paper Mills and his mother who was a small-scale businesswoman.
Home discipline steered the last born in a family of five, three daughters and two sons away from trouble and provided him a platform to tap into his football talent
"I grew up in a sound environment of strong morals. I was raised among disciplined youth and my parents were tough," Teka who started playing football as a pupil at Webuye ACK Primary School stated.
Paper balls
"I started playing as a kid, kicking about polythene paper footballs. There was a village team called Spitfire and their players motivated me to play the game since they would take me to every game since they treated me as their biggest fan," the defender who joined Kakamega High for his secondary education went on.
It was at this proud football institution that is the pride of the western part of Kenya that Teka was instilled with the values that have served his career development and the patience to wait for his chance.
"I did not play for Green Commandoes in Form 1. I carried water for the seniors at every of their games and it was a struggle so that you learn what the others were doing for and in the team," the Kenya Under 20 international who was admired for long by Sharks before they snapped his signature last November highlighted with a chuckle.
MUST READ: Special Feature: The Rise And Rise Of Bandari FC Head Coach Bernard Mwalala
Like everyone else who makes it in life, he had his personal mentor in the shape of Joseph Okumu who plies his trade as a defender for Real Monarchs SLC, the reserve team of American football club Real Salt Lake that plays in the USL Championship.
"I learned a lot from Okumu, who is now in the United States and was my biggest inspiration. I slept above him in the same decker in the dormitory.
"I would wake up every morning to get his tea and other chores because I knew if I serve him, he would one day remember me one time. He did a lot for me, giving me boots and other help to get into the team," Teka said of his biggest inspiration who played locally for SportPesa Premier League (SPL) side Chemelil Sugar FC before moving to Free States Stars FC of South Africa, AFC Ann Arbor in the US and now Monarchs.
"He told me not to give up and persevere and one day, I would get my chance," the Sharks centre back added
He finally donned the famous Green Commandoes jersey when he was a form three student where he fulfilled his first big life goal.
"At the start, it was discouraging since those ahead of me would say they also carried water when they came in.
MUST READ: Benjamin Kigen Rules Rome Diamond League Steeplechase
"Others told me to leave Kakamega since I would never play for the Commandoes but I never gave up and when I got to Form 3, I succeeded Okumu as the stopper," Teka recounts with pride sweeping across his face as he reclined back on his seat in satisfaction.
However, his Commandoes debut did not go according to plan when Kakamega were eliminated in the 2016 regional finals of the KSSSA School Games by surprise package Bukembe Boys, missing out on the finals held in Lodwar.
Installed as captain for his final year, Teka led his team to the nationals staged in Meru before their run ended in the semis. Dusting his team up, they went on to win the third-place play off to qualify for the East Africa School Games in Gulu, Uganda.
Here, Teka and his boys returned home with the bronze medal after once again missing out on the finals but later in the campaign, Commandoes made history when they became the first secondary school side to be promoted to the second tier of Kenyan football, the National Super League (NSL).
Hectic schedule
He then sat for his O-Level Kenya Certificate of Secondary Education national exams and according to him; he had no choice but to strike a balance between a hectic schedule on the pitch and his studies.
"It was tough. Our Principal Oliver Minishi and his deputy were stern when it came to matters academics. When it was game time, we went to the pitch and when it came to class time, we had to be in class
"The school games and the league finished early so there was time to prepare for the KCSE and I'm grateful for what I got. That was God's plan," he offered.
As he waited for his results to be announced, Teka returned home and within a short time, his talent shone to attract the attention of one of the leading homegrown football coaches.
MUST READ: SportPesa News Transfer Juice: Neymar Rejects Real Madrid For Barca, De Ligt Overwhelmed
"Later, I joined Webuye All Stars and within a short time, I was spotted by Bernard Mwalala who then coaching Nzoia Sugar FC at a December football tournament after I cleared high school," Teka who would have aspired to be an Air Force soldier in the Kenya Defence Forces outlined.
"My brother inspired me even though he did not make to be recruited to the KDF," he added.
Mwalala, now head coach of SPL runner-ups and SportPesa Shield champions, Bandari FC, had just led Nzoia back to the top flight by winning the NSL title and was looking to bolster his side for their forthcoming SPL campaign.
Kariobangi Sharks FC central defender, Tom Teka (right) in training with his SportPesa Premier League club. PHOTO/Courtesy/Kariobangi Sharks FC

"Nzoia was a good team for me since we were a number of youngsters. I did not have a hard time and I played in a number of games for the then new SPL team and it did not take long to make the first team after signing for them," Teka spoke of his former club.
Incidentally, Teka made his SPL debut against Sharks in the fourth game of the 2017 SPL season when they hosted them at Sudi Stadium.
The visitors had lost their opening three games on their top-flight debut but they went on to shock the hosts 1-0 to register their first SPL points of the season they went on to finish third.
For Teka though, being thrust into the deep end of the country's top division at such an early age was not unnerving.
"Before playing in the SPL, football in the school competition helped me because there were mature and big players and I did not fear anything since to me lack of experience was nothing, I found it to be just normal," he charged.
However, Sharks forward, Duke Abuya, now his teammate gave him a football clinic on his SPL debut that Teka will not forget.
"When I joined Sharks, he sent me a photo telling me, you see how you suffered here?" the defender recounts with a laugh.
His decision to join Sharks was motivated by the interest shown in his services by the 2018 Shield champions even before he completed high school in Kakamega.
Professional footballer
"Coach (William) Muluya, would come and coach us in school and picked a few players from Kakamega such as (James) Mazembe, John Kuol, Alvin Mwangi and (Brian) Bwire who were my teammates.
MUST READ: England Long Wait For Trophy Goes On After Dutch Nations League Defeat
"It is a team for youngsters and it gave me an opportunity to grow as a professional footballer, not just playing the game. I decided to come and join my fellow youngsters," he explains the thinking behind what he now calls as a 'super decision' to sign for the Kariobangi based side.
Shortly after joining the team, the next exciting phase of Teka's football journey saw him board an aircraft for the first time in his life when Sharks made their debut in the 2017/18 CAF Confederations Cup continental tournament.
Their first away trip the second tier competition saw Sharks travel to Djibouti to play Arta Solar 7 in the second leg of their preliminary round clash where they completed a 7-1 hammering on aggregate.
"My time with Sharks has been just wow! Boarding a plane for the first time to travel to Djibouti, another to Ghana and the tricky flight to Kumasi," he started.
"I felt nervous like any first flier since it was the first time a plane was taking off and I almost let out a scream but I held it in.
"I felt everything crumbling inside my body. It felt like the end was coming but I swallowed back all the fear," he narrated his initial experiences in the skies.
Having swatted the Djibouti minnows, the then domestic cup holders took on the might of Kumasi Asante Kotoko FC in the first round where their Confed Cup debut ended in a 2-1 defeat on aggregate.
It was an outcome that scarred Teka and his teammates and stood out as the first low moment of his Sharks career.
"The challenge was a huge lesson, playing a giant like Kotoko was eye opening but we managed to hold our own and losing to them was so painful because we were to win that match. It was so sad," the centre half recalls.
The pain was soon erased when they beat Bandari 1-0 on January 27 to add the second trophy in their cabinet in just over three months when they won the eight-team regional invitational tournament in Dar.
"The accommodation was great and SportPesa did a great job. Most of us had never been in Tanzania and the experience was so satisfying and we played so well to win the title," Teka described his 10-day stay in Tanzania.
Having crashed out in the 2018 quarterfinals in Nakuru, Sharks came to the competition that pits four teams from Kenya and an equal number to Tanzania as rank outsiders for the title worth USD30,000 in prize money.
They however, started the tournament by producing one of the biggest shocks when they stunned record 27-time Tanzanian champions, Yanga SC 3-2 at an enthralling quarterfinal clash at the National Main Stadium.
"Beating Yanga in front of their noisy fans gave us the belief we could win the tournament even if we were underrated as a small team," Teka said of yet another milestone in the history of Sharks who were founded in 2000.
MUST READ: Warriors Forward Durant To Miss NBA Finals Game Four, Thompson To Return
Having served notice of their intent, their semi final meeting against the plucky Tanzanian outfit Mbao FC who followed up the season of upsets by toppling two-time winners and SPL champions Gor Mahia FC in the quarters presented them another stern test.
The teams played to a 0-0 draw in normal time before Sharks edged a nervy marathon shootout 6-5 where Teka confidently approached the spot and dispatched the third for his side.
"They came prepared and they locked everything since they had watched us play and it was a difficult game. It finished as a draw and the game went to penalties.
"Winning the cup was a great feeling and a second trophy for me," he declared.
Returning home with the ticket to play Everton FC, winning the SportPesa Cup would be the final joy in a season that saw them dethroned as Shield winners besides slumping to a ninth finish in the SPL.
"We have tried especially since we played many games back to back. Although we did not perform to our expected standards we learned a lot and we will be ready for next season," Teka summed their 2018/19 campaign that was sealed with a 1-3 loss to Bandari in the Shield final.
"If God had planned it was their day, let them get the title. We wanted to win so badly and go back to CAF and we did all we could but it is their chance and let them experience it as well," the defender outlined their disappointment.
MUST READ: Omar, Shah Set For Autocross 5 Turbo Battle In Jamhuri
He has set himself personal goals he wants to achieve in the next three years.
"I want to be the best footballer I can be and play abroad if an opportunity comes. Help my parents and remove them from where they are and help youth and guide them on how to emulate my example," Teka identified as his targets.
Stopping the fearsome Everton attackers from scoring on July 7 will be a good start towards meeting his goals.
Richarlison of Everton misses a chance during the Premier League match between Everton FC and Manchester United at Goodison Park on April 21, 2019 in Liverpool, United Kingdom. PHOTO/ GETTY IMAGES