Special Feature: The Rise And Rise Of Bandari FC Head Coach Bernard Mwalala
5th June 2019 - by Mutwiri Mutuota
After another roaring season, the star of the retired international continues to rise as he gives Kenyan tacticians hope of challenging and winning trohies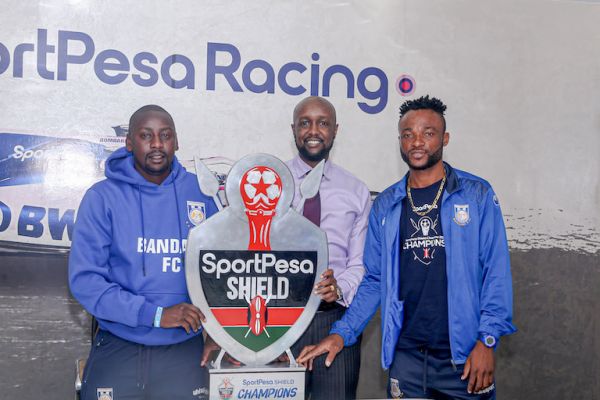 SUMMARY
Before hip injury brought a premature end to the 36 year-old's playing career in 2011 aged just 28, Mwalala had already started taking steps to continue involvement in football
Having inherited a young and exciting side from Odhiambo, Mwalala has moulded Bandari into one of the most potent sides in the SPL with many teams dreading a visit to their Mbaraki Sports Complex home ground where guests rarely get anything
With rival teams turning to foreign managers to meet their ambitions, the rise of Mwalala offers indigenous coaches hope they can still challenge for and win trophies
NAIROBI, Kenya- Charity begins at home, it is often said and with a number of leading top flight clubs spending a huge chunk of their limited budget to lure foreign head coaches, perhaps its time for they gave domestic talent a look in.
Bandari FC boss, Bernard Mwalala, a retired player of international repute, is slowly but surely enhancing his reputation as one of the most gifted head coaches in this part of the world after enjoying his third straight season of success and should he continue, the Dockers will find it difficult to retain his services.
Before hip injury brought a premature end to the 36 year-old's playing career in 2011 aged just 28, Mwalala had already started taking steps to continue involvement in football.
"When I was the Team Manager of Harambee Stars, Mwalala was one of our players and he had started training as a coach. 
"His willingness and ability to work with young players is one of the things that led us to appoint him," Bandari CEO, Edward Oduor said earlier this week when the team presented the 2019 SportPesa Shield trophy to the title partners; technology and entertainment business chief executive, Captain Ronald Karauri.
MUST READ: Patillah Omoto: A Beacon Of Hope From Kariobangi Out To Shine Against Everton
Mwalala took over at the Dockers mid 2017 season to continue the work of his predecessor Kenneth Odhiambo who had been tasked with building a formidable team using young talent as opposed to signing established stars.
It all started in the immediate aftermath of their historic 2015 domestic cup success, that was the first ever trophy for the Mombasa-based club established in 1986.
Then under seasoned former Stars head coach, Twahir Muhiddin, Bandari who had qualified for the CAF Confederations Cup for the first time ever went on a recruiting spree, bringing in 12 experienced and expensive players to challenge for the league title as well as make an impact in the second tier continental cup.
However, the costly strategy quickly backfired as the Dockers crashed out in the preliminary round of the Confed Cup, losing 1-3 on aggregate to St. Eloi Lupopo before sinking to an 11th finish in the league.
Feared team
"At the time, we were confident we could challenge Gor Mahia FC for the league title and do well in the continental competition but after what happened, we learned our lessons and had to change our approach," Oduor stressed.
That is when Mwalala happened. Having started his coaching career at Coastal Union FC in Tanzania where he was a player, he made a name in his homeland when he led Nzoia Sugar FC back to the SportPesa Premier League (SPL) in the 2016 season.
MUST READ: Watch Out Gor, We Are Coming For The SPL Title, Shield Champs Bandari Warn
His team managed a record tally of 92 points from 38 games in the second-tier National Super League (NSL), losing only one game the whole campaign that happened on the last day of the competition.
Nzoia- a feared team of the past that was disbanded in 2003 before being revived- made a solid start in the SPL and were well on course for a top eight finish when Bandari came calling for Mwalala.
In his first season, he led the Dockers to finish second behind Gor, a feat he repeated this term besides leading Bandari to the final of the 2019 SportPesa Cup in Tanzania and last Sunday, clinching a second domestic trophy when they deposed 2017 Shield winners Kariobangi Sharks FC with a 3-1 victory.
Speaking after another rewarding season, Mwalala believes he and his side can hit ever greater heights in the 2019/20 campaign where they have revved up to challenge Gor to the SPL, retain their Shield crown as well as gun for a better showing in the Confed Cup.
Sitting down with one of the hottest coaching talent in the country to unravel the past season, the first question was what meant more to him, the titles he won as a player or the trophy he had just won with Bandari as a coach.
MUST READ: Relief For Harambee Stars: Top Striker Olunga Released To Join France Camp
"As a player and as a coach, what I have achieved is massive and I thank the players, fans and management of Bandari for what we have achieved this season.
"It was a first trophy for most of the players in the team since they are young. It is good for all of them because they deserved it," the former Tanzanian giants Yanga SC star that inspired the team to two league titles held.
"We have worked hard this season. We came in as number two in the league and finished in the same position having won two points better this time. The consistency is there, it was not down to luck and the team is ready to compete for more trophies," he emphasised.
Potent side
Having inherited a young and exciting side from Odhiambo, Mwalala has moulded Bandari into one of the most potent sides in the SPL with many teams dreading a visit to their Mbaraki Sports Complex home ground where guests rarely get anything.
He also managed to keep his players fresh for the gruelling trips from the coastal town to play away matches in a shortened season occasioned by the move to align the SPL to the international August to May calendar.
"There was this element of fitness. Players from coastal teams are not fit and what I did was to put fitness into the team when I came because they can play good football.
MUST READ: SportPesa News Transfer Juice: Maradona Eyes Man United Job, Luis Suarez For Miami
"They could play well for 45 minutes and then opponents would came back and score, so it has paid off," Mwalala explained.
Bandari FC's representatives (L to R) attacking midfielder, Abdallah Hassan, captain Felly Mulumba, head coach Bernard Mwalala, Organising Secretary Dickson KIbagendi, CEO Edward Oduor and goal keeper trainer, Wilson Obungu pose with the SportPesa Shield trophy when they paid a courtesy call at SportPesa Kenya headquarters in Nairobi on Monday, June 3, 2019. PHOTO/SPN/Anthony Mwaki
While boasting one of the youngest squads in the land, the Bandari head coach paid tribute to the seasoned players in his team led by his captain and rear-guard rock, Felly Mulumba who was voted the 2018 SPL Defender of the Year.
"David Kingatua, Mulumba, Shaban Kenga and Duncan Otewa have done well to remind the youngsters where Bandari has been. Felly has been a good leader and has given me a lot," he hailed his seasoned men.
He reserved special praise for former Sofapaka FC star Mulumba who won his first Shield with Batoto ba Mungu in 2014 as well as the other foreign contingent at the Dockers for setting a model example for local players.
"When I'm not around, he will take over, command the team and push the players. As a foreigner, he came to this country to look for something.
"I also recognise the input of Fred Nkata and William Wadri, they came here and know what they want. Felly has been a good captain who has always been there without any disciplinary issues," the Dockers head coach went on.
MUST READ: Verjee Eyes Victory In Autocross 5 To Keep 2WD Non-Turbo Title Dream Alive
While he has enjoyed a good run since taking over, Mwalala admitted their 0-1 loss in the final of the SportPesa Cup in Dar-es-Salaam to Sharks was a low point that deflated the team, especially coming in a country where he remains a football celebrity.
As fate would have it, the two sides were left standing from the 64-team Shield and many branded the 2019 final as the chance for the Dockers to go for sweet revenge.
Once again, Mwalala came up against another bright young local coaching talent, William Muluya, who had led Sharks to the domestic cup finals for the third season in a row and therefore, he knew he was coming in for a stern test.
"It was a sad moment for us in Tanzania because we wanted to win that trophy. I reminded my players not to think about Dar or revenge, just think about your performance in 90 minutes and focus on winning," the Bandari technical leader started on the lead up to the game that turned out to be his finest hour yet with the Dockers.
Last Saturday, he saw his team race to a 2-0 first half lead through club top scorer Yemi Mwana before Patillah Omoto hit back for Sharks with a delightful goal but the match was halted when heavy rains made the MISC Kasarani pitch unplayable.
MUST READ: Gianni Infantino Re-Elected Unopposed As FIFA President
"Football is so funny. When you look at it, Sharks were better in terms of possession and attacking but we won. It was the same in Dar, we were better but they won.
"When you have that killer instinct in a final match, then you carry the day. We utilised our chances and became champions."
Killed game
The 2019 Shield decider made history as the first domestic cup final played over two days and Mwalala conceded the deferment of the game left he and his team dumbfounded.
"I had never gone through such a situation as a player of coach before. I worked hard because we saw what Sharks had done on Saturday; they were dominating possession and out passing us. 
"We went back and analysed that game and on that night, we decided if we did not press them high they would finish us," he underscored.
When play resumed in the 46th minute at 2-1, Benjamin Mosha scored a third in the 80th to seal a 3-1 victory that punched Bandari's ticket to the Confed Cup next season and earned the team KSh2m. 
"It was a sleepless night as we wondered what would happen tomorrow (Sunday) and lucky enough, we got another goal and killed the game."
With the 2018/19 season done and dusted, focus now turns to their targets for the next term where all eyes will be on Bandari and whether they can step up.
MUST READ: Joshua, Ruiz Rematch Set For December- Promoter Hearn
"It's the SPL. We have reached the level to compete with big teams and we can go for that. We have won the Shield twice and we are yet to win the league and that is the target as a coach, players and management
"We have to wait for the fixtures to be announced and then we can judge. For now, we are happy that our Managing Director and Patron is taking us to South Africa," Mwalala highlighted.
"When we are there, we shall try to look for two or three international friendly matches to give the players of what happens in the Confed Cup. 
"We have played teams like Simba SC and Coastal Union in Tanzania and a couple of teams in Zanzibar, so my players have an idea of what they will face against foreign teams," he added.
The good work at Bandari has not gone unnoticed with bigger clubs hovering over the Dockers to poach their brightest talent with Mwalala declaring he would not stand in the way of any of his men seeking a move for greener pastures.
"That is one thing you cannot run away from, when you have good players, some of them have to leave and we are bound to lose big players. The likes of Farouk (Shikhalo), Abdallah (Hassan), Yema and Wadri, teams are targeting them," he spoke on the futures of his star players.
MUST READ: Injured Warriors Star Durant Out Of NBA Game Three, Looney Uncertain
"It all boils down to the passion of the player, when they approach us and ask to leave, I was a player once and I cannot stop them as long as the clubs agree.
"I would not wish to coach someone who does not work for Bandari," he added.
With rival teams turning to foreign managers to meet their ambitions, the rise of Mwalala offers indigenous coaches hope they can still challenge for and win trophies.
Bandari FC captain, Felly Mulumba in an interview with SportPesa News earlier this week. PHOTO/SPN/Anthony Mwaki