SportPesa News Transfer Juice: Maradona Eyes Man United Job, Luis Suarez For Miami
5th June 2019 - by Erick Ochieng
Callum Hudson-Odoi's move to Bundesliga side Bayern Munich has reportedly hit a snag and he is set to renew contract with Chelsea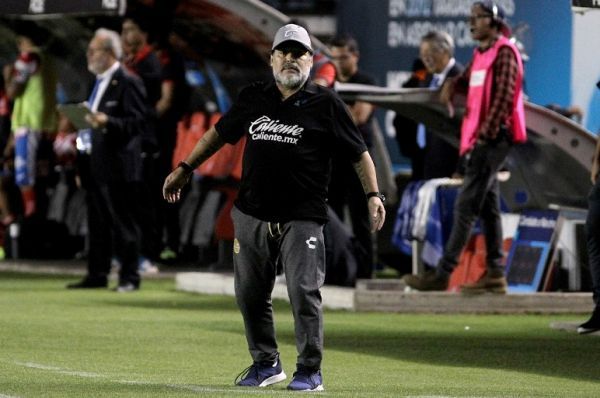 SUMMARY
Maradona who captained the Argentine national team to victory in the 1986 World Cup in Mexico believes he is the answer to the current United owes which has seen the club fail to clinch both the Premier League and UEFA Champions League trophies in the recent past
Former United midfielder, David Beckham has hit the road to chase Barcelona star Louis Suarez signature for his Inter Miami CF side in the Major League Soccer. Beckham believes the Uruguayan will add depth in his squad as he target to lift the trophy with the side next season
Chelsea are increasingly confident of Callum Hudson-Odoi signing a new deal in the coming weeks
NAIROBI, Kenya- Legendary footballer Diego Maradona has declared interest to replace Ole Gunner Solskjær as Manchester United manager.

Maradona who captained the Argentine national team to victory in the 1986 World Cup in Mexico believes he is the answer to the current United woes which has seen the club fail to clinch both the Premier League and UEFA Champions League trophies in the recent past.
Christian Eriksen is eager to opt out of Tottenham but the club is hesitant to allow him to run down his deal and leave as a free agent next summer due to his high value and the fact that the 27-year old is in the peak of his career.
Former United midfielder, David Beckham has hit the road to chase Barcelona star Louis Suarez signature for his Inter Miami CF side in the Major League Soccer. Beckham believes the Uruguayan will add depth in his squad as he target to lift the trophy with the side next season.
Here is the latest hottest transfer gossip gathered by the SportPesa News Transfer juice on Wednesday.
Maradona Eyes Man United job
Legendary footballer Diego Maradona is currently managing lowly Dorados in the Mexican second division – but has told FourFourTwo he could return Manchester United to their former glory. In an exclusive interview, he also reveals his verdict on the current Reds side.The former Argentina coach has managed two teams in the United Arab Emirates in recent years, before taking up his current role with Dorados last year. READ MORE
Eriksen wants a break from Tottenham
Christian Eriksen has confirmed the worst kept secret at Tottenham: that he wants to take on a new challenge at another club this summer. The 27-year-old Denmark midfielder, who has been at Spurs since 2013, has one year to run on his current contract and has shown no inclination to renew for another cycle in north London. Spurs cannot afford to allow him to run down his deal and leave as a free agent next summer, given his high value at arguably the peak of his career and the fact they have repayments to make on their new stadium. Consequently, they have let it be known in recent weeks he would be available at a price, albeit an extremely high one. READ MORE
United to Swap Dybala with Pogba
Manchester United could buy Juventus star Paulo Dybala or two other players in a shock transfer swap for a disgruntled Paul Pogba. United could land a number of Juventus players in a swap deal for Paul Pogba. Juventus have been alerted to Pogba's situation as Real Madrid still need to shuffle a few of their players around before having the finances needed for a deal. READ MORE
Inter Miami chasing Luis Suarez signature
With matches like the Clasico at the Santiago Bernabeu or the match in which the La Liga title was decided against Atletico, Luis Suarez has shown he is determined to keep playing at the highest level. Barcelona missed the Uruguayan's presence during the Copa del Rey final, where Messi was too lonely and could hardly create danger. The Uruguayan, a big part of Barcelona's successes, has reportedly received a big offer from David Beckham to go to MLS. READ MORE
Hudson-Odoi to renew contract with Chelsea
Chelsea are increasingly confident of Callum Hudson-Odoi signing a new deal in the coming weeks.The England teenager was desperate to join Bayern Munich in January, with the German champions seeing four bids rejected. But the 18-year-old's hopes of leaving Stamford Bridge for the Bundesliga this summer have been dashed by his ruptured Achilles. READ MORE