Benjamin Kigen Rules Rome Diamond League Steeplechase
7th June 2019 - by Erick Ochieng
Lawrence Kipsang and Barnabas Kipyego finished fourth and ninth in that order while Wilberforce Chemiat and Benard Nganga dropped out after the race became unbearable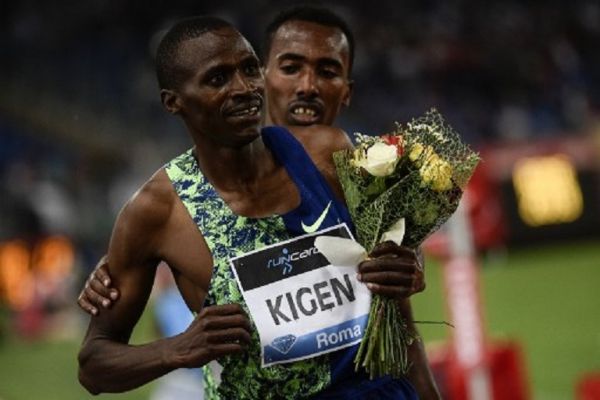 SUMMARY
Getnet Wale (8.06.83) and Chala Beyo (8.09.95), both Ethiopians, came second and third in hot pursuit of the Kenyan who won the IAAF Diamond League meetings in Rabat and Eugene last year
The field started to get strung out at about the half-way mark and by the start of the final lap, Kigen was part of a three-man lead pack
Kinyamal edged ahead as they entered the home straight, but clipped Amos in doing so, throwing the pair off balance
ROME, Italy- Benjamin Kigen lived up to expectations when he clocked 8.06.13, a world leading time, to win the IAAF Rome Diamond League men's 3000m steeplechase in Italy on Thursday night.

Getnet Wale (8.06.83) and Chala Beyo (8.09.95), both Ethiopians, came second and third in hot pursuit of the Kenyan who won the IAAF Diamond League meetings in Rabat and Eugene last year.
The field started to get strung out at about the half-way mark. By the start of the final lap, Kigen was part of a three-man lead pack.
MUST READ: Kigen Faces Stiff Challenge In Rome Diamond League Steeplechase
As was the case in Rabat and Eugene last year, Kigen's finishing speed proved unbeatable and he closed well to win in a world-leading.
Lawrence Kipsang and Barnabas Kipyego finished fourth and ninth in that order while Wilberforce Chemiat and Benard Nganga dropped out after the race became unbearable.
A well-timed run down the home straight in the men's 800m gave Donavan Brazier his first ever IAAF Diamond League victory.
After the pacemaker led the field through the first lap in 49.96, Nijel Amos and Wycliffe Kinyamal took up the running.
Kinyamal edged ahead as they entered the home straight, but clipped Amos in doing so, throwing the pair off balance.
MUST READ: Hamilton: F1 Should Be Physically Challenging Like Marathon
Brazier was sat close behind but stayed out of trouble. Kinyamal faded badly in the closing stages while Amos tried desperately to hold on to the lead, but the US runner just caught him on the line to win in a world-leading 1:43.63.
Amos was second in 1:43.65 and Canada's Brandon McBride came through for third place in 1:43.90.
At the same time, a familiar name but an unfamiliar face came out on top in the men's 5000m at the Golden Gala Pietro Mennea as Telahun Haile Bekele won in a world-leading time of 12:52.98.
No relation to world record-holder Kenenisa, twice a 5000m winner in Rome, this Bekele wasn't one of the best-known athletes in the field.
He had finished fifth in Shanghai last month, but six days before that had won the 5000m at the Ethiopian Championships.
MUST READ: England Long Wait For Trophy Goes On After Dutch Nations League Defeat
Paced through 1000m in 2:33 and 2000m in 5:08.8, it was clear from the outset that the finishing time would be well inside 13 minutes.
Once the pacemakers had dropped out, Diamond League champion Selemon Barega did much of the work at the front.
Five or six men were still in contention as they reached the bell in 11:58.3. Bekele and Hagos Gebrhiwet led with Barega close behind.
Barega looked to have timed his final effort well and hit the front with 200m to go, but Bekele wasn't done and kicked back in the final stages, catching his fellow Ethiopian just before the line.
Bekele crossed the line in 12:52.98 with Barega close behind in 12:53.04. Six men in total finished inside 13 minutes.
MUST READ: Warriors Forward Durant To Miss NBA Finals Game Four, Thompson To Return
The women's 1500m wasn't quite as close but was no less exciting.
After being paced through the first 800m in 2:09.24, Genzebe Dibaba overtook the second pacemaker before they reached 1000m (2:40.6).
She continued to lead from fellow Ethiopian Gudaf Tsegay with European champion Laura Muir close behind in third.
They moved up a gear with one lap to go and Muir caught Tsegay with 200m remaining. Dibaba and Muir, now both moving at top speed, kicked again in a desperate bid for the line.
While Muir appeared to make up a bit of ground, there was no catching Dibaba who won in 3:56.28 – her fastest time since breaking the world record in 2015. Muir was just a stride behind in 3:56.73, the second-fastest time of her career.
MUST READ: Special Feature: The Rise And Rise Of Bandari FC Head Coach Bernard Mwalala
"I was certain that I was in good enough shape to clock a world lead in Rome and I am happy I managed to do so," said Dibaba. "But honestly I am ready to run faster even now."