Top Five Stories From Thursday You Must Read Today
12th October 2018 - by Mutwiri Mutuota
Countdown to Harambee Stars versus Ethiopia brews, Lionesses eye Olympics qualification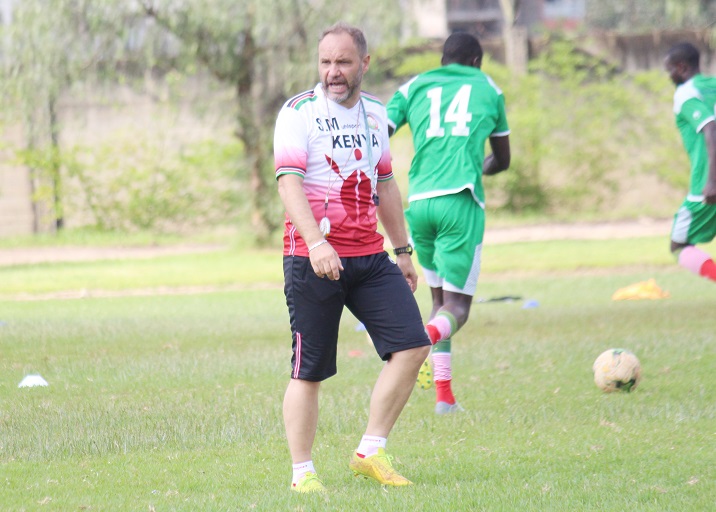 SUMMARY
The Government waived entry fees for the match set for the MISC, Kasarani in a move welcomed by Football Kenya Federation
Thursday also saw Africa champions Kenya Lionesses women's sevens team underline their intention to make the Tokyo 2020 Olympics
IAAF president, Sebastian Coe declared that a decision on whether or not Russia will have their ban from international competition lifted "will probably" be made in December
NAIROBI, Kenya- The run down to Sunday's crucial 2019 Africa Cup of Nations qualifier where Harambee Stars will be out to beat Ethiopia and take a giant step towards making the Cameroon finals grabbed headlines on Thursday.
The Government waived entry fees for the match set for the MISC, Kasarani in a move welcomed by Football Kenya Federation with Stars coach, Sebastian Migne speaking earlier rallied supporters to turn up in record numbers to give the national men's team the push they need to realise their goal.
Thursday also saw Africa champions Kenya Lionesses women's sevens team underline their intention to make the Tokyo 2020 Olympics.
Across borders, the simmering rape allegations facing Portugal and Juventus FC superstar, Cristiano Ronaldo took a new twist on Thursday when the footballer's lawyers claimed his liaison with his accuser was consensual.
IAAF president, Sebastian Coe declared that a decision on whether or not Russia will have their ban from international competition lifted "will probably" be made in December.
Still on athletics, if you have not read the inspirational first part of the A Day In Life With: Eliud Kipchoge, fret not, here's the link to the riveting story as you indulge in the top five stories on SportPesa News from Thursday you must read today.
FKF Welcomes Government's Decision To Waive Gate Charges
NAIROBI, Kenya- The Football Kenya Federation (FKF) has welcomed the government's decision to waive off gate charges for the upcoming Harambee Stars Africa Cup Of Nations (AFCON) qualifier fixture against Ethiopia scheduled to be played this coming Sunday, October 14. The second leg of the fixture will be played at the Moi International Sports Center Kasarani in Nairobi, with the kick-off slated for 4pm. READ MORE
Lionesses Eye Olympics, HSBC Series In New Rugby Season
NAIROBI, Kenya- Continental champions, Kenya Lionesses, are aiming to qualify for Tokyo 2020 Olympics as the new rugby season is set to commence next week. Head coach, Kevin Wambua, is also motivated to book a berth in the HSBC Women Rugby Sevens Series that has eluded the country for years. READ MORE
Sebastian Migne Content With Draw, Urges Fans To Turn Up
ADDIS ABABA, Ethiopia- Kenya men's national football team head coach Sebastian Migne is content with the draw against Ethiopia and has called on Kenyans to show up in large numbers to support the team in the return leg on Sunday. Harambee Stars played out to a barren draw away to Ethiopia at the Bahir Dar International Stadium, which was packed to capacity with over 65,000 fans in attendance for the Wednesday afternoon kick-off. READ MORE
Cristiano Ronaldo Insists Sex Was 'Completely Consensual'
LISBON, Portugal- Cristiano Ronaldo insisted again Wednesday that he did not rape a woman he met in a Las Vegas hotel in 2009 and that their sexual encounter was "completely consensual", said his lawyer. "Ronaldo is forced to break his silence," said the Juventus and Portuguese star's lawyer Peter Christiansen in a statement released through Gestifute, the company which manages the player's affairs. READ MORE
Coe: Decision On Russia Ban To Be Made 'Probably' By December
BUENOS AIRES, Argentina- World athletics chief Sebastian Coe told AFP Wednesday that a decision on whether or not Russia will have their ban from international competition lifted "will probably" be made in December. However Coe, the president of the International Association of Athletics Federations (IAAF), admitted that "we will have to wait and see" if WADA, the global anti-doping body, was right to lift its three-year ban on Russia's own anti-doping agency. READ MORE