Top Five Stories From Sunday You Must Read Today
25th February 2019 - by Louis Kalinga
Gor Mahia FC sink Hussein Dey to go top of Group D, Man City edge Chelsea FC on penalties to be crowned Carabao Cup champions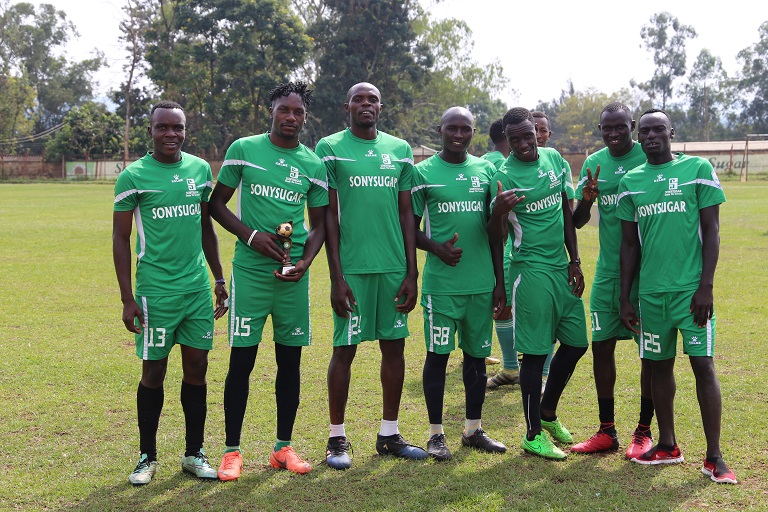 SUMMARY
Record domestic league winners Gor Mahia FC left it late to sink NA Hussein Dey 2-0 at the Kasarani Stadium to go top of Group D in the CAF Confederations Cup on Sunday
Sony Sugar FC were the biggest winners in round 15 of the SportPesa Premier League (SPL) as they ran riot, thumping newcomers Western Stima FC 4-0 at the Awendo Green Stadium on Sunday.
Manchester City retained the League Cup by edging Chelsea 4-3 on penalties on Sunday after an incredible bust-up between Chelsea boss Maurizio Sarri and goalkeeper Kepa Arrizabalaga
NAIROBI, Kenya- Record domestic league winners Gor Mahia FC left it late to sink NA Hussein Dey 2-0 at the Kasarani Stadium to go top of Group D in the CAF Confederations Cup on Sunday afternoon.
In the league, Sony Sugar FC were the biggest winners in round 15 of the SportPesa Premier League (SPL) as they ran riot, thumping newcomers Western Stima FC 4-0 at the Awendo Green Stadium on Sunday.
Manchester City retained the League Cup by edging Chelsea 4-3 on penalties on Sunday after an incredible bust-up between Chelsea boss Maurizio Sarri and goalkeeper Kepa Arrizabalaga.
In the Serie A, Paulo Dybala sent Juventus 16 points clear at the top of Serie A on Sunday with a second-half winner in a 1-0 victory at Bologna.
Here are the top five stories from Sunday compiled by SportPesa News that you must read today:
CAF Confed Cup: Gor Mahia Outclass Hussein Dey To Go Top Of Group D
NAIROBI, Kenya- Record domestic league winners Gor Mahia FC left it late to sink NA Hussein Dey 2-0 at the Kasarani Stadium to go top of Group D in the CAF Confederations Cup on Sunday afternoon. Kenyan International Francis Kahata and Jacques Tuyisenge traded late goals to give Gor the all important victory and three extra points to take their tally to six from three games. READ MORE
Spot On Man City Edge Chelsea To Win Dramatic Cup Final
LONDON, United Kingdom- Manchester City retained the League Cup by edging Chelsea 4-3 on penalties on Sunday after an incredible bust-up between Chelsea boss Maurizio Sarri and goalkeeper Kepa Arrizabalaga. The Italian tried to replace the world's most expensive player towards the end of a cagey 120 minutes that ended 0-0. READ MORE
Four-Star Sony Sugar Switch Off Stima, Sharks Held By Vihiga
NAIROBI, Kenya- Sony Sugar FC were the biggest winners in round 15 of the SportPesa Premier League (SPL) as they ran riot, thumping newcomers Western Stima FC 4-0 at the Awendo Green Stadium on Sunday. The victory, which was also their biggest one of the season, moved them up to eighth on the standings with 19 points. READ MORE
Kenya Cup Champs KCB End Kabras' Ten-Week Unbeaten Streak
NAIROBI, Kenya- Kenya Cup defending Champions KCB RFC ended Kabras Sugar RFC's ten-week unbeaten run in style, beating them 44-20 at the Impala Grounds. Philip Wokorach and Darwin Mukidza exchanged penalties in the first ten minutes of the encounter as Ephraim Oduor landed the first try of the match giving the Cane Cutters a 8-3 lead, with Wokorach missing the resulting conversion. READ MORE
Paulo Dybala Winner At Bologna Extends Juventus Serie A Lead
MILAN, Italy- Paulo Dybala sent Juventus 16 points clear at the top of Serie A on Sunday with a second-half winner in a 1-0 victory at Bologna. After a spotty Juventus display that saw hosts Bologna on top for long periods, Dybala came off the bench to snatch the three points. READ MORE