Kenya Cup Champs KCB End Kabras' Ten-Week Unbeaten Streak
24th February 2019 - by Louis Kalinga
Earlier in the day, Resolution Impala Saracens beat the Menengai Cream Homeboyz 36-27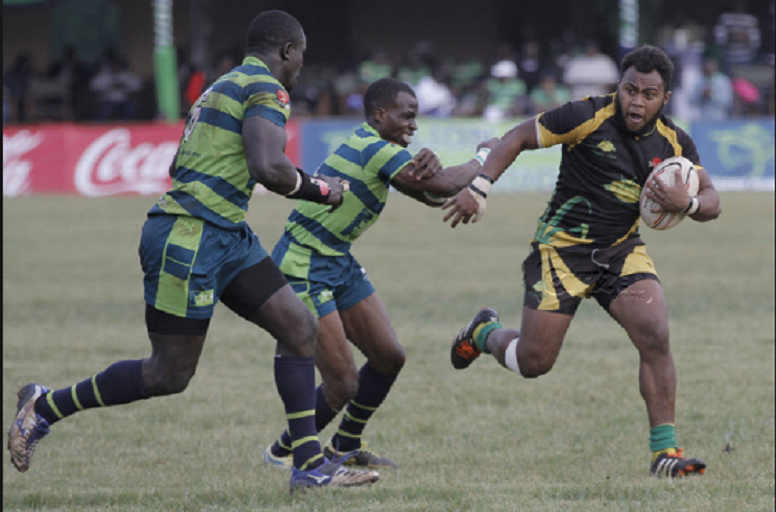 SUMMARY
The Kenya Cup defending Champions KCB RFC ended Kabras Sugar RFC's ten-week unbeaten run in style, beating them 44-20 at the Impala Grounds
Philip Wokorach and Darwin Mukidza exchanged a penalty kick each in the first ten minutes of the encounter as Ephraim Oduor landed the first try of the match giving the Cane Cutters a 8-3 lead
Earlier in the day, Resolution Impala Saracens beat the Menengai Cream Homeboyz 36-27
NAIROBI, Kenya- Kenya Cup defending Champions KCB RFC ended Kabras Sugar RFC's ten-week unbeaten run in style, beating them 44-20 at the Impala Grounds.
Philip Wokorach and Darwin Mukidza exchanged penalties in the first ten minutes of the encounter as Ephraim Oduor landed the first try of the match giving the Cane Cutters a 8-3 lead, with Wokorach missing the resulting conversion.
Four minutes later, Mukidza drilled in a penalty after Kabras were penalized for being offside. The Bankers extended their lead to 13-8 after Oscar Simiyu scored a try and Mukidza's converted.
A skillful offload by Logan Basso set up Kabras to score their second try with the conversion sailing wide. Half time scores read 16-13 in favour of the Bankers.
KCB's Mickey Wanjala's dummy early in the second half split Kabras' defense wide open allowing him to sprint to the try line and score under the posts, Kennedy Moseti added the conversion.
RECOMMENDED READ: CAF Confed Cup: Gor Mahia Outclass Hussein Dey To Go Top Of Group D
Hilary Odhiambo's try followed by a Wokorach conversion saw Kabras trailing by three points as the scores now read 23-20 in favour of the Bankers.
"We stuck together as brothers, we carried the ball well, denied them many chances.
"We lapsed a bit on the defense and they picked up a number of points. We knew they would come hard since they are very good ball carriers and they have the skill set at the backline," KCB captain Curtis Lilago underlined.
"We just worked harder on our defense, denied them the chances and we maximized on the chances we got," he added.
Earlier in the day, Resolution Impala Saracens beat the Menengai Cream Homeboyz 36-27.
In the second half, Homeboyz' attempt at making a come back was futile as the clock was not in their favour as they scored 19 points while Impala scored 13.
Top Fry Nakuru beat Stanbic Mwamba 29-15 at the NAC.
Nondies and Blakblad had drawn 7 points a-piece but an infringement by Blakblad resulted in Nondies kicking in a penalty kick that awarded them the 10-7 win at the Polo Grounds.
READ ALSO: Retiring Kipsang Sets Sights On London, Tokyo Marathons And World Championships
Felix Nangole of Nondies was first on the scoreboard with a try as Fildel Sinei added the conversion and the eventual penalty kick that gave the red lions a win.
Blakblad's try and conversion came from Givens Onyango and Lionel Ajeliti.
Collated #KenyaCup Week eleven FT scores.
Resolution Impala Saracens 36 – Menengai Cream Homeboyz 27
KCB 44 – Kabras Sugar 20
Top Fry Nakuru 29 – Stanbic Mwamba 15
Nondies 10 – Blakblad 7
Mean Machine 15 -Menengai Oilers 36