Special Feature: The Rise Of Kariobangi Sharks From The Ghetto To Glory
11th June 2019 - by Erick Ochieng
In 18 years, the SportPesa Premier League outfit has risen from the sea of vice to become a source of hope for a low income community in the eastern part of Nairobi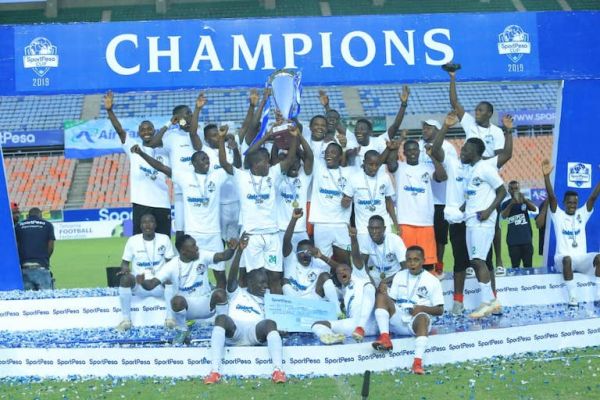 SUMMARY
Quite often, children raised in this notorious settlement rarely live to realise their full potential due to the barriers they have to overcome to make it
Founding coach Dan Kawinzi easily remembers the events that inspired the decision that was to transform the fortunes of Kariobangi forever
Patilah Omotto, a midfielder who also turns up for national team Harambee Stars, refers Sharks as a very unique club compared to other local sides
NAIROBI, Kenya- Ask anyone in Nairobi about the low income residential estate of Kariobangi in the northeastern part of the Kenyan capital and what comes to mind is crime, alcohol and prostitution.

Quite often, children raised in this notorious settlement rarely live to realise their full potential due to the barriers they have to overcome to make it.
However, in the middle of this sea of vice, a football team has risen to be an emblem of hope of the youth in the estate besides placing Kariobangi on the global map for all the right reasons.
MUST READ: Special Feature: Ambitious Sharks Defender Teka Sets Sights On Everton's Walcott
Kariobangi Sharks FC, the SportPesa Premier League (SPL) outfit formed in 2000 by current Football Kenya Federation (FKF) President Nick Mwendwa has become a force in the domestic game following their meteoric rise from the fifth to the top division of the country's football.
In its 18-year existence, the club has scaled massive heights, from playing in nondescript tournaments like the estate tournament Mbuzi Cup to lifting the coveted SportPesa Cup in 2019 that earned them the honour of hosting nine-time English League champions Everton FC at Moi International Sports Center, Kasarani in Nairobi on July 7.

"I used to see a few boys playing at the Kariobangi Catholic Church which was next to where I lived.
"I would get out to watch them through the window. I realised they used to come there everyday but they were disorganised. They used to shout at each other and would stop playing midway due disagreement," Mwendwa stated the origins of the team back in 2000 in a documentary produced about the story of the club.
"After watching them for a while, I decided to buy three balls from Nairobi Sports House which I gave them one Friday to play with at the church's basketball court. 
MUST READ: Special Feature: How Kits For Africa Is Giving Forgotten Talent A Voice
 Kariobangi Sharks FC central defender, Tom Teka (right) in training with his SportPesa Premier League club. PHOTO/Courtesy/Kariobangi Sharks FC
"They really liked it and after two days their number had swollen to 26 and they all wanted to play," the FKF boss who gave up the club chairmanship when he was voted into office in February 2016 recalled.
"Some had no shoes and uniforms so one side had to remove their tops to match-up whenever they played."
After being with the boys for one year, Mwendwa decided to register the team for the Nairobi League which was run by the defunct Kenya Football Federation.
Founding coach Dan Kawinzi easily remembers the events that inspired the decision that was to transform the fortunes of Kariobangi forever.
"We had a big meeting after one of the training sessions. We asked them what they wanted. They stated they all wanted to play in the league, not just to train football everyday.
"All that moment, Mwendwa and I had no idea about any Kenyan league. We only knew there was a team in the neighborhood called Kariobangi Sportiff FC which was playing in some league but we did not know where to start, luckily the boys knew," Kawinzi underlined.
MUST READ: SportPesa News Transfer Juice: Mourinho Eyes 3rd Chelsea Term, Sampdoria Reject Arsenal Double Swoop
Everything was done in such a hurry in the next 12 hours since the registration deadline was coming to an end.
Mwendwa took the team's photo in darkness that day before he woke up very early to go to the federation offices to register the ragtag outfit at the crack of dawn the following day.
After achieving his mission, Mwendwa took up other roles in the team as club's Team Manager and well as Team Doctor.
"When I got a better job, I started to organise for them friendly matches in Kibera where we would split fares. I would pay for each player KSh20 (USD 0.2) as their transport to the other side of town and they would facilitate their return to Kariobangi.
"We could play the whole day without food but it was okay, we just wanted to play," says Mwendwa.
In their bid to strengthen the squad, the team decided to give other players from the area who were talented but rejected by other leagues a chance as recalled by club chairman, Robert Maoga.
The players were either flat footed or did not have the physical structure to compete with big-bodied opponents from the rival clubs initially but this did not dampen their resolve.
"You could see they were headed somewhere but the conditions set for them were not favourable. 
MUST READ: Pogba: Love Me Or Hate Me, I will Always Remain The Same Paul
"We took them, trained them and went to the battle with them and they gave established teams a run for their money," Maoga outlined.
After being properly grounded, Sharks started to realise success which moved them from the lowly Nairobi League in 2001 to the Nationwide League in 2012, coming close into breaking into the country's top flight when they finished third in the 2014 second division.
They were later promoted to the SPL in 2016 and the feat attracted current head coach William Muluya who joined the club and led them to a top three finish in 2017, the second highest finishing position for a promoted club after Sofapaka FC won the 2009 title on their debut.
Even though they dropped to sixth in 2018, the club won the SportPesa Shield domestic cup for the first time to make history when they qualified for the CAF Confederations Cup, having lost the 2017 final and finished third in the 2016 tournament.
After crushing Djibouti outfit Arta Solar 7 in the preliminary round of the second tier competition, Sharks were drawn to face the mighty seven-time African trophy winners Kumasi Asante Kotoko FC of Ghana in the first round.
A battling 0-0 draw on home soil where the Sharks missed many changes to bury the giants saw a continent sit up and take notice was followed by a slim 1-2 loss in Kumasi that ended their Confed Cup debut.
Undeterred, Sharks came into the eight-team regional invitational 2019 SportPesa Cup as underdogs but after shocking Tanzanian record league winners Yanga SC 3-2 in the quarterfinals, went on to win the trophy when they silenced SPL rivals Bandari FC 1-0 in the January 27 final at the National Main Stadium in Dar-es-Salaam.
Apart from a USD30,000 winners' cheque, Sharks booked the prized right of hosting Everton in Nairobi and the team believes they can only get better with a bulk of their squad hailing from the rough neighbourhood of Kariobangi.
"We can only get better. We hope that one day we will be able to qualify for the CAF Champions League to compete with the rest of Africa including  Zamalek  FC and Al Ahly FC.
MUST READ: Revived Golden State Revved Up To Give The Oracle Arena Big Send-Off
"My dream is to play in Europe and win the Ballon d'Or," captain  Erick Juma stated.
Muluya admits Sharks is not a rich club and they still do not have a title partner but that has not stopped them from enjoying the best support that players and technical bench can ever get from a management.
He cites their pristine training base at the Utalii College Grounds in Nairobi as a contributing factor to their success being the facility where they practice their flowing and sleek passing football that has set them apart from their local rivals.
"We have a well maintained pitch, the players welfare is well catered for and our travelling and accommodation is top notch," Muluya hailed.
Club CEO, Lynda Ambiyo, who has been with the side since the team was playing in the FKF Division Two League says the main source of talent is secondary schools.
Sharks have since partnered with Dagoretti, Upperhill and St. Peters Mumias high schools to feed their senior side.
MUST READ: Salah Leads Egypt Charge, AFCON Heartache For Gervinho, Iheanacho
"If the players are good enough or upon reaching maturity they are absorbed directly into the senior team.
"Mostly, after getting the players we put them in our Under 20 team for six months to mature and build confidence, fitness and character before we elevate them to the senior team," Ambiyo explained.
Massive Revenues
Ambiyo is optimistic that soon they will  start to generate big revenues through player transfers with the lucrative European market within their sights.
"So far we have managed to sell two players, one of who was sold to Cape Town City FC in South Africa. To increase their marketability, we buy them food, supplements and develop their strength and conditioning because there is a certain physique that is needed by European clubs," she underscored.
Most players have no regrets joining Sharks because the atmosphere around the team encourages positivity which has helped to build and strengthen their personal brands.
The 2018 SPL Most Valuable Player Eric Kapaito is one who has seen his stock rise since he joined the side and is not willing to move to another domestic rival.
MUST READ: Showers Of Bother: Rain Washouts Causing Cricket World Cup Panic
"Sharks are organised in terms of player management and team structure and the the club founder Mwendwa is so passionate about football.
"Here it's not all about playing the game, the players also share advise on life skills. The coach too motivates and is a mentor who helps to push you hard in training and game," Kapaito says.
Patilah Omotto, a midfielder who also turns up for national team Harambee Stars, refers Sharks as a very unique club compared to other local sides.
"We have no issues on salaries and allowances. Unlike other clubs who turns to media to highlight their financial plight, we don't have stress while headed for a game because everything is well taken care of," Omotto says.
Geoffrey Shiveka, a center back, adds that the reason they are beating teams despite their small size is the self belief that has been instilled in them by their mentors.
"We are actually defined by the beautiful game that we play, we will keep on shattering the barriers. Our mission is to win SPL and represent Kenya in the CAF Champions League in the near future," Shiveka stressed. 
Watch the full documentary below.
MUST READ: Sam Kerr: Women's World Cup Star In The Same Plane As Ronaldo