Sam Kerr: Women's World Cup Star In The Same Plane As Ronaldo
11th June 2019 - by Mutwiri Mutuota
Kerr first played in the FIFA showpiece as a teenager in 2011 in Germany and the 25-year-old scored on Sunday in her ninth finals game for the Matildas in a shocking 1-2 for Australia to Italy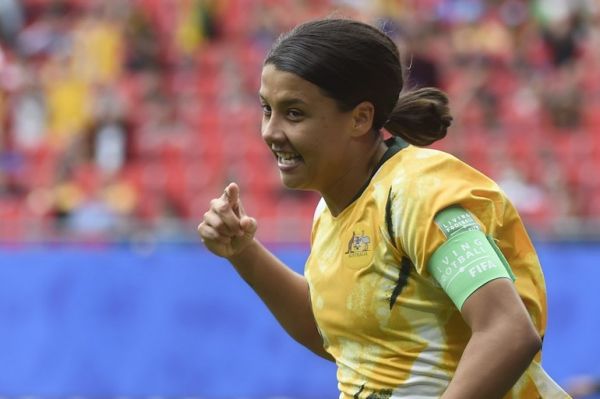 SUMMARY
Kerr is the all-time leading scorer in the US National Women's Soccer League. She has twice been shortlisted for FIFA player of the year
Known for her pace, agility and heading ability, as well as her trademark backflip goal celebrations, Kerr headed to the United States in 2013, first to Western New York Flash, then Sky Blue FC in New Jersey and now Chicago
And earlier this year the forward was the female face alongside five-time Ballon d'Or winner Cristiano Ronaldo and 2018 World Cup winner Kylian Mbappe at the launch of sportswear giant Nike's latest boot campaign
SYDNEY, Australia- Sam Kerr's star has been shining so brightly since her Australia debut at just 15 that she has become not only one of global football's elite players but one of its most marketable faces.
Kerr is the all-time leading scorer in the US National Women's Soccer League. She has twice been shortlisted for FIFA player of the year.
And earlier this year the forward was the female face alongside five-time Ballon d'Or winner Cristiano Ronaldo and 2018 World Cup winner Kylian Mbappe at the launch of sportswear giant Nike's latest boot campaign.
Kerr first played in the Women's World Cup as a teenager in 2011 in Germany and the 25-year-old scored on Sunday in her ninth finals game for the Matildas, albeit in a shock opening 2-1 defeat to Italy in Valenciennes.
She is reportedly on course to become the first Australian woman footballer to earn more than a million dollars a year, as her profile soars on the back of unstoppable recent form for the Chicago Red Stars which saw the two-time NWSL Golden Boot winner named the league's player of the month for May.
READ ALSO: Special Feature: How Kits For Africa Is Giving Forgotten Talent A Voice
It could have been very different. Born to an Indian father and Australian mother, she played Aussie Rules in Western Australia as a youngster and was convinced she would one day represent her beloved West Coast Eagles, like her brother.
She switched to football aged 12 and made her debut for the Matildas as a substitute against Italy in 2009 before she was even 16.
She admits that shifting from Australian Rules -- where there was little hope of earning a living as a woman -- was not easy.
READ ALSO: Migne's Final AFCON 2019 Squad: Miheso, Akumu Out; Masud Juma In
Struggled a lot
"The change from AFL to football was really hard. I remember I struggled a lot," Kerr told the Daily Telegraph ahead of her third World Cup.
"I'm really thankful for my time in the AFL, but I'm also thankful I had to make the switch, because there was no pathway for me at that time in AFL. I think nowadays, if there was a pathway, I probably would have stayed."
She made her debut for the W-League's Perth Glory at 15 and spent four years at the club before moving to Sydney FC.
Known for her pace, agility and heading ability, as well as her trademark backflip goal celebrations, Kerr headed to the United States in 2013, first to Western New York Flash, then Sky Blue FC in New Jersey and now Chicago.
READ ALSO: King Of Clay Nadal: Matching Federer Slam Record Is Not My Obsession
While her onfield achievements have grabbed attention, and countless awards, she has also won plaudits for her work behind the scenes as an advocate for women's sport.
She was named "Young Australian of the Year" in 2018 and was hailed as "inspirational, well-grounded, professional and mature".
Kerr has helped drive change in Australian football with a minimum wage now in place in Australia's W-league and players treated as true professionals.
"We work hard first and foremost but we also enjoy it. We love being a part of this team and we love representing Australia," she said recently.
"I think we're doing really well as role models, but I think we've still got a lot of work to do and that's the exciting part."
Her strike on Sunday took her tally to 32 goals in 78 appearances for the Matildas.
Australia will probably need her to add to that record in the crucial second Group C match against Brazil in Montpellier on Thursday -- a match the Matildas now dare not lose.
READ ALSO: Injury Ends Mandela AFCON Dream, Mohammed Out Of DRC Test