Silva Praised For Stirring Everton Reaction At Tottenham
12th May 2019 - by Erick Ochieng
The draw means the Blues have concluded the campaign with four unbeaten games and finished in eighth spot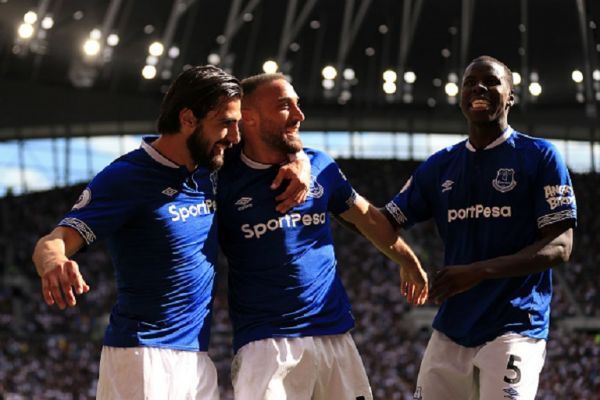 SUMMARY
Christian Eriksen drove home a free-kick to restore parity and earn Tottenham one point from a match which exploded into life following half-time
Silva, though, identified further reason for encouragement in another mature Everton performance
And the manager's work in his debut season was recognised by the travelling Evertonians, who gave their boss a fabulous ovation following the final whistle in north London

LONDON , United Kingdom- Marco Silva says Everton's second-half resurgence at Tottenham Hotspur was the result of his side playing football "our way".

Cenk Tosun's 72nd-minute goal completed Everton's comeback from one goal down against Mauricio Pochettino's side, three minutes after Theo Walcott equalised Eric Dier's early strike.
Christian Eriksen drove home a free-kick to restore parity and earn Tottenham one point from a match which exploded into life following half-time.
MUST READ: What Playing Everton In Nairobi Really Means For Kariobangi Sharks
Everton's draw means they have concluded the campaign with four unbeaten games and finished in eighth spot.
Silva's team has accumulated 54 points, a five-point improvement on 2017-18, and scored 54 goals, 10 more than last season.
"It was a completely different match in the second half," said Silva.
"We played more in our way and scored twice but unfortunately they managed to equalise.
"I told our players [at half-time] they should do everything differently from how we played at the beginning of the match; change some things in the way we were playing.
MUST READ: Staunch Kenyan Arsenal Fans Tip Gunners To Lift Europa League Trophy
"We did not start well and conceded an early goal, which was tough.
"That moment reflected how we started the game, without full concentration or full focus.
"I didn't like our first 20 to 25 minutes.
"But we reacted really well and in the final 15 minutes of the first half created enough chances to change the score."
Dier drilled in following a corner from Erik Lamela but despite enjoying a territorial advantage Spurs did not trouble Jordan Pickford in their pursuit of a second goal.
While the likes of Dele Alli and Lucas Moura shot off target for the hosts, Everton steadily began working Tottenham goalkeeper Hugo Llloris.
He saved athletically from Bernard and pouched a Michael Keane header before half-time.
MUST READ: Roaring KCB Destroy Quins To Set Up Kabras Kenya Cup Final Date
Everton had 17 shots – eight more than the home team – and Walcott finally broke Lloris's resistance with an angled drive on 69 minutes.
Tosun snaffled an opportunity from close range as Everton seized the initiative.
But talented Dane Eriksen hit back with an arcing 25-yard dead-ball strike which left Everton goalkeeper Pickford with no chance.
Silva, though, identified further reason for encouragement in another mature Everton performance.
The Toffees won six and drew three of their final 11 matches of the campaign, scoring 18 goals and recording eight clean sheets.
MUST READ: Spanish GP: Bottas Blows Hamilton Away To Secure Pole Treble
And the manager's work in his debut season was recognised by the travelling Evertonians, who gave their boss a fabulous ovation following the final whistle in north London.
"We finished the season in a good spot, playing good football and achieving good results," added Silva.
"We are a stronger team than the one that started the season – and the players are at a different level from the beginning of the season.
"We have just one way for next season: to improve what we did this time. That must be our target.
"When you are a football manager – or player – and the people are proud of the work you are doing, it is everything.
"I want to give good feedback to my players to help them improve, but also give our fans things they like to see in our squad,
"This is my desire and aim as a manager.
MUST READ: Grealish Inspires Villa To Championship Playoff Victory Over West Brom
"Thanks to the supporters, too.
"We started the season really well and were in a very good position, playing good football, improving many things,
"Everything was different, it was a new philosophy, and they were there.