Nairobi Fight Night 2: Mwakinyo, The Tanzania Rising Boxing Star
16th March 2019 - by Erick Ochieng
His greatest challenge in the game is spending long periods in training with no opponent to trade punches with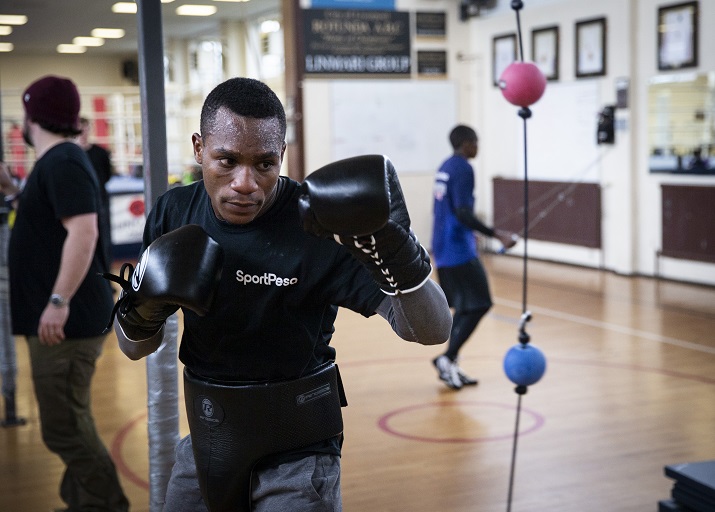 SUMMARY
Tanzanian boxing sensation Hassan Mwakinyo was little known beyond the borders before he floored British boxer, Sam Egginton, in a Super Welterweight non-title fight in England on September 8, 2018
Mwakinyo was received like a hero on his return from the English conquest with his home town of Tanga, located on the west of Indian Ocean, rolling him a red carpet hoping their son will put the region in the global sporting map very soon
Apart from the UBO belt he won last year, Mwakinyo is also a proud owner of the Tanzania, Pugilistic Syndicate of Super Welterweight Title (2016) , East and Central African Professional Boxing Federation Super Welterweight Title and the World Boxing Association Pan African Super Welterweight Title, both won in 2017
He is already optimistic that 2019 will be a great year for him
NAIROBI, Kenya- Tanzanian boxing sensation Hassan Mwakinyo was little known beyond the borders before he floored British boxer, Sam Egginton, in a Super Welterweight non-title fight in England on September 8, 2018.

The rare victory left the 23-year old basking in glory at the same time bringing his talent to international attention.
"Before the fight I was ranked 174th in the world in the division, I'm happy to have scaled the ladder to position 16," Mwakinyo underlined after beating Egginton who is rated eighth best globally.
MUST READ: Tanzania's Promising Boxer Mwakinyo Eyes World Title
Mwakinyo was received like a hero on his return from the English conquest with his home town of Tanga, located on the west of Indian Ocean, rolling him a red carpet hoping their son will put the region in the global sporting map very soon.
"My family and supporters gave me the confidence that I can conquer the world and I'm happy that I confirmed their sentiments by knocking the Briton," he highlighted.
On fire Mwakinyo has since gone a head to win two more fights, both held in Tanga. His first contest was against Said Yazidu who he floored at Jitegemee Grounds on October 20 in a non-title bout.
He was back in the ring eight days later for the vacant Universal Boxing Organization (UBO) International Super Welterweight Title at Mkwakwani Grounds which he won via Technical Knock Out (TKO) against Joseph Sinkala to end the season in style.
The two victories brought his tale of the tape to 14 wins (10 knock-outs) and two losses (1 knock-out) in the 16 fights he has engaged in since turning professional on November 29, 2015.
Hassan Mwakinyo (R) of Tanzania battles with Sam Eggington of England during their Super-Welterweight bout held at Arena Birmingham on September 8, 2018 in Birmingham, England. PHOTO/GETTY IMAGES
MUST READ: Oktay: We Need The Green Army To Turn Kasarani Into A Fortress
Apart from the UBO belt he won last year, Mwakinyo is also a proud owner of the Tanzania, Pugilistic Syndicate of Super Welterweight Title (2016) , East and Central African Professional Boxing Federation Super Welterweight Title and the World Boxing Association Pan African Super Welterweight Title, both won in 2017.
The pugilist has also revealed The Money Team camp, run by American pound to pound boxer, Floyd Mayweather, is now interested in him following his current fame in and out of Tanzania.
"I feel there is no need to set base in the US for now as I have great hopes of succeeding in my country. The facilities here are enough to make a world champion, if we train hard and well," he emphasized.
He has urged Tanzanian authorities to give young boxers a chance whilst challenging his peers to focus on endurance training to last through the grueling 12 rounds in professional boxing.
While his quest for a world title remains his lifelong goal, his immediate mission is to break into the top five in his division.
MUST READ: Nairobi Fight Night 2: Just Who Is Catherine Phiri?
"I need two more high profile bouts, against boxers who are ranked higher than me so I can achieve this."
His greatest challenge in boxing is spending long periods in training with no opponent to trade punches with.
"If it was my wish, I would fight every Saturday, but sometimes it's hard to get a challenger," he rued.
Mwakinyo who draws his inspiration from role models and American pugilists, Terence Crawford, and David Lemieux of Canada, is already back in England where he is stepping up training for his season opening fight slated for Kenyatta International Convention Centre in Nairobi on March 23.
He is already optimistic that 2019 will be a great year for him.
MUST READ: Flashback Friday: Here Is How Fatuma Zarika Vs Catherine Phiri Went Down
TALE OF THE TAPE
Name: Hassan Mwakinyo
Category: Super Welterweight
Fights: 16
Wins: 14 (10 knock-outs)
Losses:2 (1 knockout)