Tanzania's Promising Boxer Mwakinyo Eyes World Title
26th September 2018 - by Mutwiri Mutuota
Super Welterweight sensation stunned British favourite Egginton on September 8 to bring his rich talent to international notice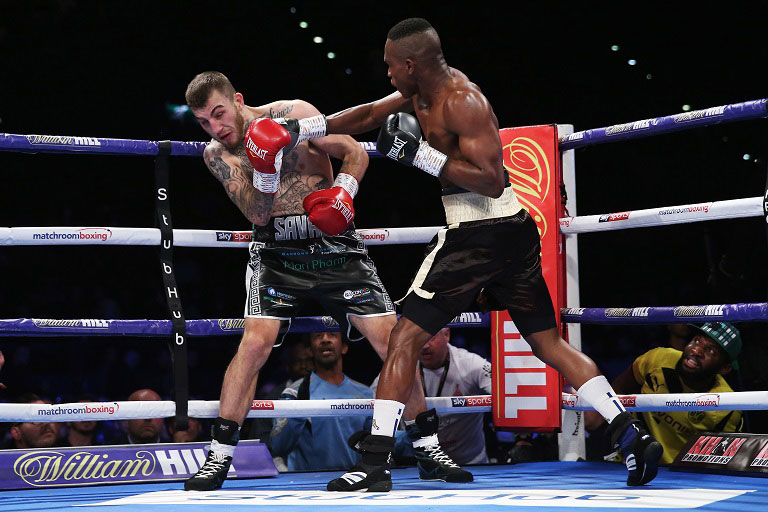 SUMMARY
Mwakinyo, 23, shocked the multiple European titleholder on September 8, the same day where across the border in Kenya, eminent female fighter Fatuma Zarika defended her WBC crown
Mwakinyo draws his inspiration from role models and American pugilists, Terence Crawford, and David Lemieux of Canada
Upon arrival, he was escorted with a convoy of vehicles including Boda Boda (motorcycle taxi) riders who spiced up the occasion with the occasion stunt as they hailed the new hero in town
TANGA, Tanzania- Tanzanian boxer, Hassan Mwakinyo, is still basking in the afterglow of his memorable stoppage via knockout of British boxer, Sam Egginton, in a Super Welterweight non-title fight that brought his talent to international attention.
Mwakinyo, 23, shocked the multiple European titleholder on September 8, the same day where across the border in Kenya, eminent female fighter Fatuma Zarika defended her World Boxing Council Super Bantamweight crown against Mexican challenger, Yamileth Mercado in Nairobi.
The night will go down as a watershed for East African boxing with the Tanzanian- inspired by his biggest career victory thus far- telling of his desire to reach the global peaks Zarika has achieved.
Consider this, before the fight, Mwakinyo was ranked 174th in the world in his division and came up against a fighter rated the eighth-best Super Welterweight on the planet.
"I'm now in position 16th and top in Africa and Tanzania. I thank God for the victory," Mwakinyo told Dar-es-Salaam based Times FM radio in an interview on Tuesday.
However, his crowning moment came by a twist of fate according to the boxer based in Tanga, the most northerly port city of Tanzania on the west of the Indian Ocean.
"I had planned for a fight in Germany against an opponent who was placed 45th, but opted out when the England fight came through.
"I knew my ranking would shoot up if I overcame Eggington, so I went for the challenge," he stated.
The hard hitter did not mind about the short period he had to prepare for the slugfest in England, having only two weeks to get ready.
"Time was limited but I did not panic since I train daily. I practice every day like it's my last moment on earth. I believed I was mentally and physically prepared to face Eggington," he narrated.
On his return from his English conquest, Mwakinyo was received like a hero as his hometown rolled out the red carpet to welcome their son whom they hope will put the region in the global sporting map.
Mayweather interest
Upon arrival, he was escorted with a convoy of vehicles including Boda Boda (motorcycle taxi) riders who spiced up the occasion with the occasion stunt as they hailed the new hero in town.
"My family and supporters gave me the confidence I can conquer the world and I'm happy that I confirmed their sentiments by knocking Eggington," he enthused.
Mwakinyo, whose tale of the tape is now 12 wins (8 knock-outs) and two losses (1 knock-out) in 14 fights revealed that The Money Team camp, run by American pound to pound boxer, Floyd Mayweather, is now interested in him but for now, he is staying put.
"I feel there is no need to set base in the US for now as I have great hopes of succeeding in my country. The facilities here are enough to make a world champion, if we train hard and well," he emphasized.
Following the challenges he faced in his trip to the UK, the East and Central African Professional Boxing Federation champion has called upon the Tanzanian Government to support boxers who are headed for fights abroad.
Mwakinyo urged authorities to give young boxers a chance whilst challenging his peers to focus on endurance training to last through the gruelling 12 rounds in professional boxing.
While his quest for a world title remains his lifelong goal, his immediate mission is to break into the top five in his division.
"I need two more high profile bouts, against boxers who are ranked higher that I to achieve this," he maintained.
Mwakinyo, who turned professional on November 29, 2015, has since contested four belts of which he has nestled two comfortably in his cabinet.
The greatest challenge for the boxer hungry for success is spending long periods in training with no opponent to trade punches.
"If it was my wish, I would fight every Saturday, but sometimes it's hard to get a challenger," he rued.
Mwakinyo draws his inspiration from role models and American pugilists, Terence Crawford, and David Lemieux of Canada.