Flashback Friday: Here Is How Fatuma Zarika Vs Catherine Phiri Went Down
15th March 2019 - by Louis Kalinga
The defending champion, who won the coveted belt in the US in 2016 against Jamaican Alicia Ashley, dominated the first three rounds of the global duel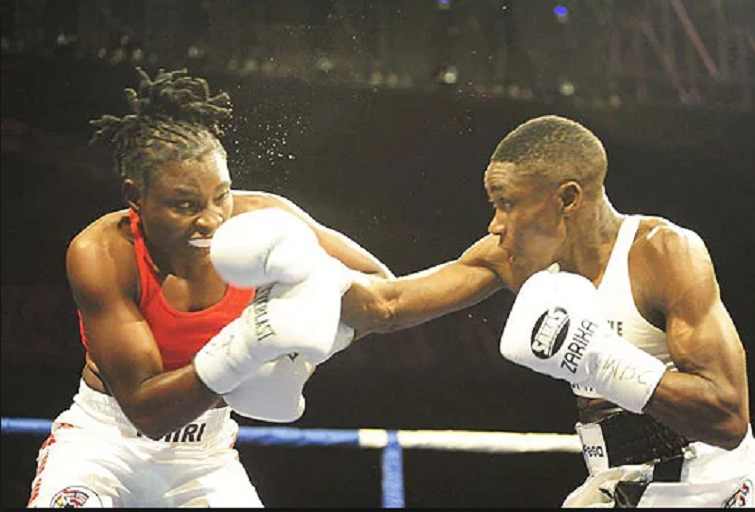 SUMMARY
One might wonder what all the rave about Saturday's (March 23) World Boxing Council Super bantamweight women's title rematch between Fatuma 'Iron Fist' Zarika and Catherine Phiri is all about
With the Christmas mood sweeping across a nation that was hangover from all the drama of repeat General Elections and heightened political tension, Zarika and Phiri traded fisticuffs for the first time in their careers
The victory extended Zarika's win record to 30, 17 of which have been through knockouts
NAIROBI, Kenya- One might wonder what all the rave about Saturday's (March 23) World Boxing Council Super bantamweight women's title rematch between Fatuma 'Iron Fist' Zarika and Catherine Phiri is all about.
As the date grows nearer, the temperatures have been soaring with Kenya's boxing queen set to return home from her training tour to the UK on Saturday, March 16 to set off the final countdown.
To perhaps understand why this is a must see, I cannot be left out, once in a life time as well as potentially a boxing fight of all ages that can go to legend, one just needs to go back to what happened on the night of December 2, 2017 at the Carnivore Grounds in Nairobi.
With the Christmas mood sweeping across a nation that was hangover from all the drama of repeat General Elections and heightened political tension, Zarika and Phiri traded fisticuffs for the first time in their careers.
READ ALSO: Oktay: We Need The Green Army To Turn Kasarani Into A Fortress
What transpired were 10 brutal rounds of boxing, each fighter giving as much as they got.
The defending champion, who won the coveted belt in the US in 2016 against Jamaican Alicia Ashley, dominated the first three rounds of the global duel, with the home crowd almost stunned to silence when the Zambian inflicted a nasty gash under the right eye of the Kenyan heroine.
The blow knocked the stuffing out of Zarika as Phiri had the better opening to the fifth round before she was forced to the ropes by a flurry of counter-punches from the local favourite as the bell came to the rescue of the challenger.
An evenly-matched seventh and eighth rounds followed as both boxers resorted to holding before Zarika finished the stronger in the last two to seal her victory.
The victory extended Zarika's win record to 30, 17 of which have been through knockouts.
"I'm happy to have retained the belt, which proved that I have been preparing well," Zarika said after the bout.
Zambian Phiri admitted that her opponent was superior and promised to challenge her for the WBC crown at a later date, adding to the anticipation both boxers and all fans are experiencing ahead of the global showpiece.
READ ALSO: Perez, Stroll Excited To Lead SportPesa Racing Team In Australian GP
Such was Zarika's scale of achievement that during the subsequent Jamhuri Day national celebrations, President Uhuru Kenyatta bestowed upon her the Head of State Commendation honour.
We can only wait for Zarika vs Phiri 2 with bated breast, with a stern warning sent to the challenger by the Kenyan, stating, ""I promise Catherine Phiri that after our bout, her whole body will hurt. She will not eat meat for a week."
-Additional reporting by Louis Kalinga