Kits For Africa Visit Revives Career Of Former Gor Mahia Youth Striker Otieno
4th September 2019 - by Erick Ochieng
The 23-year-old lanky forward is hopeful that the decision to relaunch his career will take him places including playing for the Kenyan Premier League side Bandari FC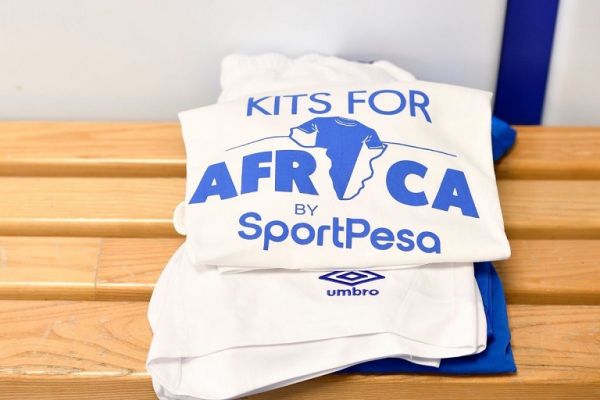 SUMMARY
The former goal-keeper turned striker was later poached by Football Kenya Federation (FKF) side UEFA FC who were by then plying trade in the Nairobi Regional League
Otieno had a six month stint at Gor before tragedy struck that forced him out of football for over a year
He also wants to head to Europe and probably meet his role model Cristiano Ronaldo who he religiously follows in the Serie A every weekend
NAIROBI, Kenya- Brian Otieno has had a dream of playing for the national team Harambee Stars since childhood.

The passion saw him work toward his goal with determination, including making it to the starting 11 while in Form Three at Ngere High School in Kisumu County in 2014.
The same year, the former goal-keeper turned striker was later poached by Football Kenya Federation (FKF) side UEFA FC who were by then plying trade in the Nairobi Regional League.
READ ALSO: Budding Young Talent Onyango Grateful As Kits For Africa Graces Kibera
"I played as a winger and scored one goal in three appearances before the league was concluded, I was happy that I did not end the season goalless," he quipped.
The 23-year-old lanky forward continued to work hard and this paid off when he was penned by Gor Mahia Youth FC who were engaging in the FKF Division Two League.
"It was like a dream come true, playing for Gor was something that even my father approved and rubber stamped," Otieno underscored.
"Under head coach Tom Ogweno, I was able to master endurance, ball control, speed-work and mental strength."
Otieno had a six month stint at Gor before tragedy struck that forced him out of football for over a year.
"I developed chronic injuries- from ankle to knee and groins. I felt frustrated. I had no option but to leave the beautiful game for a while to seek treatment," he recalls.
READ ALSO: Okumu, Omollo Set To Miss Harambee Stars Friendly Against Uganda
Otieno got healed and resumed personal fitness in 2019 at the dilapidated Tena Grounds in Nairobi where he has also formed a club, Alfajiri FC to help him keep fit and be ready for any opportunity that may arise.
Besides his daily practices with Alfajiri, Otieno does 6km road work on Mondays, Wednesdays and Fridays.
He also engages in ball work from 7am to 9am with another evening session starting 4.30pm to 7pm on weekdays to build stamina.
Though his fitness has greatly improved, he has been unable to secure his position back at Gor who have qualified for the FKF Division One League.
But this has not killed Otieno's spirit as he believes big things are in store for him as long as he remains focus.
This belief was reinforced on Tuesday when Alfajiri received uniforms and balls through the Kits For Africa initiative.
Kits For Africa is a programme launched by technology and entertainment business SportPesa and their European football partners where players and fans donate kits that are ferried to grassroots teams in the continent as a foundation of developing the game.
READ ALSO: Neymar To Stay At PSG After Barca Move Collapses
Other teams based at Umoja and the larger Tena estates kitted on the day were Umoja Rhinos FC, Sunrise FC, Uefa/ Ummoiner FC,Tena City FC,Tena United FC, Cathmo FC, Kuklax FC, Hop Sportif Deli FC, Betamax Ladies FC.
Others were Kariobangi South United FC, Despanol FC, Morning Session FC, Alfajiri All Stars FC, Splash FC, Boca Juniors FC, Umoja Wazee FC, Black Stars FC, Yovi FC, Baboru FC and Dance Ayard FC.
"We have never played in a full uniform since Alfajiri was formed.The gifts we received will motivate the players to work extra hard as they now feel really appreciated," Otieno said.
"I was almost giving up on football, but now I'm energised to pursue the career I love the most," the staunch Arsenal supporter admitted.
Otieno is hopeful that the decision to relaunch his career will take him places including playing for Kenyan Premier League side Bandari FC.
He also wants to head to Europe and probably meet his role model Cristiano Ronaldo who he religiously follows in the Serie A every weekend.