Kenyans Shine: Fancy Cherono Reels In Daisy Kimeli For Blossom Cross Triumph
4th February 2019 - by Mutwiri Mutuota
Hard-chasing Davis Kiplangat eclipsed out by Ugandan star Joseph Kiplimo in the men's race as the current IAAF Permit series concluded on Sunday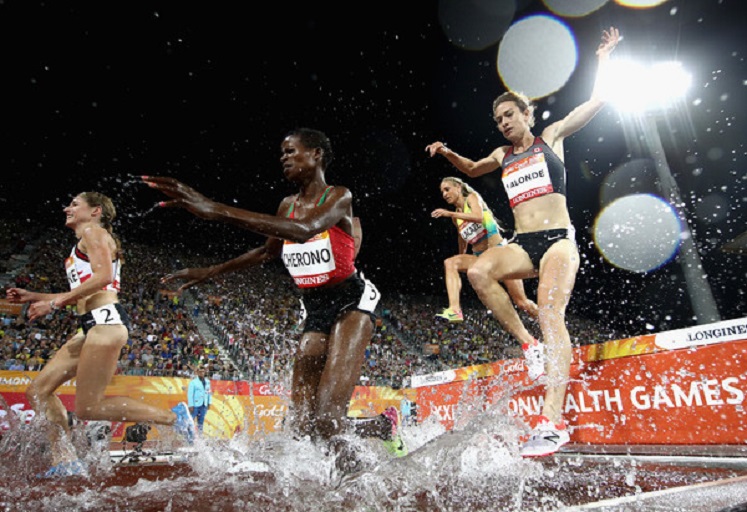 SUMMARY
But Cherono, the Africa Youth Games steeplechase titleholder and African bronze medallist, produced a great sprint once the finish line was in sight and took the win in 20:16 to Kimeli's 20:19
In the men's race Kiplimo, representing Italian team Casone Noceto, broke away on the last lap of the 9.730km course
The 18-year-old won the world U20 cross-country title on home soil in Kampala two years ago. Although he would be young enough to defend his title in Aarhus on 30 March, he recently stated that he would contest the senior race in the Danish city
NAIROBI, Kenya- Olympics Youth Games women 2000m steeplechase champion, Fancy Cherono scored a big victory at the Almond Blossom Cross Country in Albufeira on a sunny and windy day in an event that marked the conclusion of the current IAAF Cross Country Permit series.
Ugandan Jacob Kiplimo took the honours in the men's competition that also doubled as the European Champion Clubs Cup.
The women's race was a close battle between Kenyans Cherono and Daisy Kimeli.
Representing Turkish club Kasimpasa Spor Kulubu Dernegi, Kimeli led for most of the way and was six seconds ahead of her 17-year-old compatriot after the second and third laps.
READ ALSO:Fleet-Footed Betsy Saina Holds On To Maragume Half Title
But Cherono, the Africa Youth Games steeplechase titleholder and African bronze medallist, produced a great sprint once the finish line was in sight and took the win in 20:16 to Kimeli's 20:19.
With three finishers in the top six, Cherono's club – Sporting Clube de Portugal – comfortably took the team victory.
"I'm so happy to help my team win the European Cup and take this individually," she said.
Spain's Trihas Gebre, who was 12th at the European Cross Country Championships, finished third in 20:44, holding off Alm Moller of Denmark by seven seconds. Gebre's club, Bilbao Atletismo Santutxu, finished second in the team standings.
Broke away
In the men's race Kiplimo, representing Italian team Casone Noceto, broke away on the last lap of the 9.730km course.
READ ALSO: Kenya Legend Tergat Donates Iconic Kit To IAAF World Cross Exhibition
The 18-year-old Ugandan – who has also won the permit meetings in Atapuerca, Soria, Alcobendas and Seville in recent months – was kept on his toes by Kenya's Davis Kiplangat, who crossed the line just a few strides behind.
The team contest was just as thrilling as Casone Noceto were vying for the title with Spanish club Atletismo Bikila. Both teams had four counters in the top 20 but despite Kiplimo winning for the Italian club, Atletismo Bikila took the overall title with 43 points to Casone Noceto's 52.
Sweden's Robel Fsiha was a distant third, 50 seconds adrift of the lead pair.
Kiplimo explained afterwards that he had been experiencing some minor pain in his back. "I had to manage my pace throughout the race so that I wouldn't compromise my main goal, the IAAF World Cross Country Championships," he said.
READ ALSO: Kamworor Bags 6th Police XC Crown, Chespol Rules Prisons
"On the final lap I felt that I could increase my pace, but Kiplangat showed that he is strong too," added Kiplimo.
The 18-year-old won the world U20 cross-country title on home soil in Kampala two years ago. Although he would be young enough to defend his title in Aarhus on 30 March, he recently stated that he would contest the senior race in the Danish city.
READ ALSO:Record Holder Chepkoech, Rono Face Ugandan Might In Seville
LEADING RESULTS
Men (9.73km)
1 Jacob Kiplimo (UGA) 29:00
2 Davis Kiplangat (KEN) 29:00
3 Robel Fsiha (SWE) 29:50
4 Robin Hendrix (BEL) 29:59
5 Ayad Lamdassen (ESP) 30:15
6 Peter Glans (DEN) 30:17
7 Yago Rojo (ESP) 30:20
8 Michael Gras (FRA) 30:20
Women (6.09km)
1 Fancy Cherono (KEN) 20:15
2 Daisy Jeptoo Kimeli (KEN) 20:19
3 Trihas Gebre (ESP) 20:44
4 Maja Moller Alm (DEN) 20:51
5 Catarina Ribeiro (POR) 20:53
6 Sara Moreira (POR) 20:58
7 Anna Gosk (POL) 21:03
8 Deborah Schoneborn (GER) 21:11