Kenya Legend Tergat Donates Iconic Kit To IAAF World Cross Exhibition
1st February 2019 - by Mutwiri Mutuota
The distance running great gave away the uniform that he wore when striding to his third senior men gold medal in Turin, Italy in 1997 that will be on display in Denmark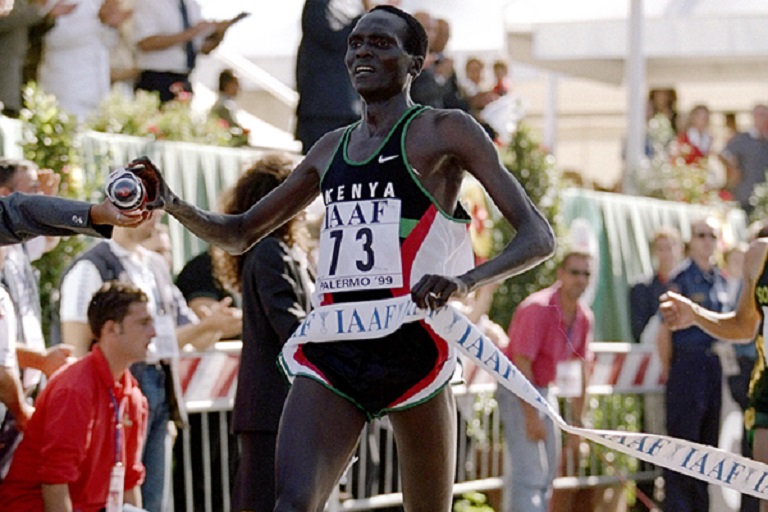 SUMMARY
Tergat- now the president of the National Olympics Committee-Kenya- famously became the first man to win five World Cross senior titles in a row when he held on to the coveted crown from 1995 to 1999 when the event was an annual affair
The highlight from the modern era will be competition spikes and clothing from several multiple gold medallists from the World Cross
The IAAF Heritage display takes visitors along a timeline from those early days to the establishment of the sport across the UK in the 1830s and then, via its mention in Thomas Hughes' famous 1857 Rugby School novel Tom Brown's School Days, across the Atlantic to America
NAIROBI, Kenya- World Cross Country Championships legend, Paul Tergat, has become the latest famous athlete to donate competition kit to the IAAF Heritage Collection.
The iconic Kenyan distance running great gave away the uniform that he wore when striding to his third senior men gold medal in Turin, Italy in 1997 and the kit will be on display during the Aarhus 2019 World Cross in Denmark exhibition.
Tergat- now the president of the National Olympics Committee-Kenya- famously became the first man to win five World Cross senior titles in a row when he held on to the coveted crown from 1995 to 1999 when the event was an annual affair.
READ ALSO: Best of 2018: Mixed Bag For NOCK As Reform Agenda Took Shape
"I really glad to be able to donate my kit to IAAF Heritage and to support their historic exhibit in Aarhus. I'm looking forward to seeing the display when I visit the IAAF World Cross Country Championships in March," Tergat told the IAAF website www.iaaf.org.
The 'IAAF Heritage Cross Country Running Display – 1819 to 2019' will open in DOKK1, Aarhus' library and culture centre on February 28 where the two-time Olympics men 10000m silver winners' running kit will be among the proud items on display.
The mini-exhibition will feature text and photographic based displays, archive video and artefacts dating back to the early 1800s.
The highlight from the modern era will be competition spikes and clothing from several multiple gold medallists from the World Cross.
READ ALSO: NOCK Chief Tergat Ascends To Dakar 2022 Youth Olympics Coordinating Body
Tergat- a former world marathon record holder- is one of a half-a-dozen winners of the world title who have been invited to Aarhus to celebrate 200 years of cross-country running when the 43rd edition of the championships take place on Saturday, March 30.
The discipline of cross-county running, as we know it today was first recorded in 1819 in the English school of Shrewsbury as a paper chase game called 'Hare and Hounds'.
The IAAF Heritage display takes visitors along a timeline from those early days to the establishment of the sport across the UK in the 1830s and then, via its mention in Thomas Hughes' famous 1857 Rugby School novel Tom Brown's School Days, across the Atlantic to America.
READ ALSO: Bright Minds Gather In London To Promote Creativity In Athletics
Cross country's development led to the eventual establishment of the International Cross Country Union (ICCU) in 1903.
That same year the ICCU began the organisation of the 'International Championships', which steadily increasing in popularity came under the flag of the IAAF in 1973.
The timeline continues through the 42 editions of the World Cross that have taken place since and the exhibition in Denmark will remain open for a month until the Aarhus World Cross.
The iconic winning 1997 IAAF World Cross uniform donated by Kenya legend Paul Tergat to the IAAF World Cross Heritage Exhibition in Denmark. PHOTO/IAAF