Kamworor Bags 6th Police XC Crown, Chespol Rules Prisons
26th January 2019 - by Erick Ochieng
Top athletes will represent their institutions at the forthcoming national trials where Athletics Kenya will pick a team to represent the country in the 43rd edition of IAAF World Cross Country Championships in Aarhus, Denmark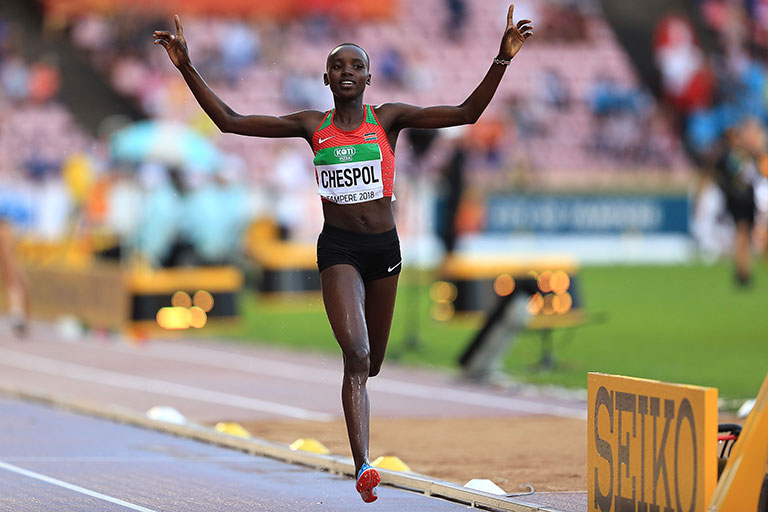 SUMMARY
Former Africa Cross Country bronze medalist, Charles Muneria and

 

World U-20 women's 3000m steeplechase titleholder, Celliphine Chespol are the winners of the 2019 Kenya Prisons Cross Country Championships

 

held at the Prisons Staff Training College in Ruiru on Saturday

Chespol breezed to the tape in 33:14.9 to win the women's contest ahead of former Africa champion, Alice Aprot (33:32.0) who finished second and third placed Loise Chemnung (34:21.9)

World Cross Country champion Geoffrey Kamworor edged out Josphat Boit in a hotly contested men's 10km race to win his sixth Kenya Police Service Cross Country Championships at the Ngong Race Course in Nairobi

Top athletes in their respective categories will represent their institutions at the forthcoming national trials in Nairobi where Athletics Kenya will pick a team to represent the country

 

in the 43rd edition of IAAF World Cross Country Championships in Aarhus, Denmark

 

on March 30, 2019
NAIROBI, Kenya- Three-time World Cross champion Geoffrey Kispsang Kamworor raced to an unprecedented sixth Kenya Police Service Senior 10km title as World Under 20 winner, Celliphine Chespol bagged the corresponding honours at the Prisons meeting in Nairobi on Saturday.
The two disciplined forces with an established tradition in athletics held their selection events for the Athletics Kenya National Cross Country Championships at the Ngong Race Course and at the Prisons Staff Training College in Ruiru in that order where the biggest names in the field fulfilled their favourite roles to perfection.
Kamworor edged out Josphat Boit in a hotly contested men's 10KM race in the cuthroat Police competition.
READ MORE: Record Holder Chepkoech, Rono Face Ugandan Might In Seville
Former Africa Cross Country bronze medalist, Charles Muneria and Chespol who is the World U-20 women's 3000m steeplechase titleholder emerged winners in the Prisons contests.
Muneria clocked 29:12.5 to bag the hotly contested men's 10KM category as Joshua Nakeri (29.52.2) and Emmanuel Ngatuny (29.53.4) came second and third.
Chespol breezed to the tape in 33:14.9 to win the women's contest ahead of former Africa champion, Alice Aprot (33:32.0) who finished second and third placed Loise Chemnung (34:21.9).
READ MORE: KSh250 Million Facility In Honour of Record Breaking Kipchoge
Top athletes in their respective categories will represent their institutions at the forthcoming national trials in Nairobi where Athletics Kenya will pick a team to represent the country in the 43rd edition of IAAF World Cross Country Championships in Aarhus, Denmark on March 30, 2019.
Prisons Men's Results
1.Charles Muneria 29:12.5
2.Joshua Nakeri 29:52.2
3.Emmanuel Ngatuny 29:53.4
4.Silas Kiplagat 30:15.9
5.Victor Chepkwony 30:16.8
Prisons Women's Results
1.Celliphine Chespol 33:14.9
2.Alice Aprot 33:32.0
3.Loice Chemnung 34:21.9
4.Nancy Nziza 24:24.5
5.Beatrice Ruto 34:41.8