It's Almost Eliud Time! Kipchoge Eyes Unrivaled Fourth London Marathon Crown
24th April 2019 - by Louis Kalinga
The three-time Berlin Marathon winner has not tasted marathon defeat in six years, his sole loss was finishing runner-up to compatriot Wilson Kipsang in 2013 in Berlin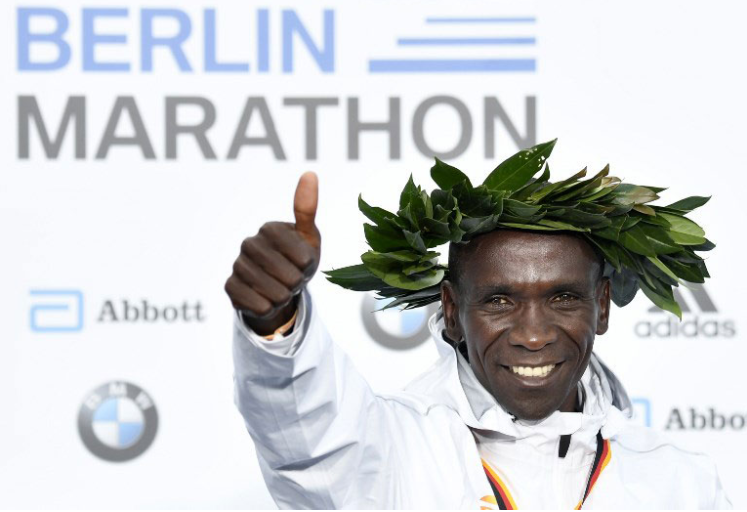 SUMMARY
With four days left until the 2019 edition of the London Marathon, the global athletics fraternity looks to reigning Olympic marathon champion Eliud Kipchoge, as he sets his sights on an unprecedented fourth title
Kipchoge, who won the United Nations Person of the Year for 2018, entered uncharted waters as he continued to fly the Kenyan flag he represents even higher with his global icon status
Since bursting onto the scene in 2003, when he won the world 5,000-meter title at just 18 years old, Kipchoge is highly regarded as arguably the greatest marathoner of all time

NAIROBI, Kenya- With four days left until the 2019 edition of the London Marathon, the global athletics fraternity looks to reigning Olympic marathon champion Eliud Kipchoge, as he sets his sights on an unprecedented fourth title.
Kipchoge, who won the United Nations Person of the Year for 2018, entered uncharted waters as he continued to fly the Kenyan flag he represents even higher with his global icon status.
The three-time Berlin Marathon winner has not tasted marathon defeat in six years, his sole loss was finishing runner-up to compatriot Wilson Kipsang in 2013 in Berlin—but on Sunday morning, April 28, in London, he will face what could be the toughest test of his career.
"My preparation has been good. I am fit.
RECOMMENDED READ: A Day In Life With: Eliud Kipchoge Part 1
"I think I will have a good result," Kipchoge stated.
The humble Rio 2016 Olympic champion is eager to become the first man to ever win the London Marathon four times, Norway's Ingrid Kristiansen is the only woman to accomplish the feat.
At the Berlin Marathon last year, his 2:01:39 carved a staggering 78 seconds off Dennis Kimetto's world record, plugging the one hole on his resume.
Unfortunately, these days no athlete can take a world record into the stratosphere without suspicion coming along for the ride.
"Before Berlin I was not complete.
"I tell those who are truly skeptical that they need to see our training, what we are doing for the whole week and then compare the [practice] times [to races]. We are working even harder in training," Kipchoge underlined.
READ ALSO: A Day In Life With: Eliud Kipchoge Part 2
Following the jaw-dropping performance, the hope of a Kenyan victory in Sunday's race lies in Kipchoge's more than capable hands, rather legs in this scenario.
When he returned to Kenya from Berlin last fall, many in his home country were keen to hold a public parade, but Kipchoge preferred a more modest approach.
"It was just a small celebration with friends and family," he said.
Kipchoge proceeded to take a full month off running before beginning training again in late October.
"In the offseason I allow my body to recover, my mind to recover," he said.
"I like to be with my family, to read books, and know what is going on in the world, to understand how people think."
Since bursting onto the scene in 2003, when he won the world 5,000-meter title at just 18 years old, Kipchoge is highly regarded as arguably the greatest marathoner of all time.
READ ALSO: A Day In Life With: Eliud Kipchoge Part 3
His life in and out of athletics is well depicted in a three-part series by SportPesa News titled 'A Day In Life With: Eliud Kipchoge' , where the meek legend spent a couple of days with the team and walked them through his journey to the top of the athletics hall of fame.
In terms of self-confidence and faith in himself, Kipchoge has unshakeable strength, developed through decades of hard work and by digesting countless books on self-help and psychology.
The key to breaking down athletic barriers, he noted, is keeping your mind as sharp as your body.
"If you want to break through, your mind should be able to control your body.
"Your mind should be a part of your fitness," the 34-year old advised.
READ ALSO: Untouchable Eliud Kipchoge Smashes Marathon World Record
In London on Sunday, he will target his 10th straight marathon victory (11 if we count Nike's Breaking2 event in Monza, Italy, where Kipchoge ran 2:00:25, a time that was ineligible for record purposes).
He may speak with the polite manners of a bellboy, but make no mistake: on race day, Kipchoge rules the roads.
There was Berlin in 2015, when he ran the majority of the race with his insoles hanging loose and still finished 81 seconds clear of the runner-up; there was Rio in 2016 where, despite oppressive heat, he cruised to Olympic gold with more than a minute to spare.
During his three wins in London—2015, 2016 and 2018—he charged to the finish with such strength and speed that it became hard to envision his reign ever ending.
To win on Sunday, however, he will need to be at his best.
At the London Marathon, he faces former world record holder Wilson Kipsang of Kenya and Shura Kitata of Ethiopia, who was just 32 seconds behind Kipchoge when runner-up last year.
MUST READ: A Salute To Eliud Kipchoge: The Greatest Of All Time
The most dangerous threat may be Britain's Mo Farah, the four-time Olympic champion on the track who is slowly mastering the marathon.
"Mo Farah is a strong athlete," said Kipchoge, who watched Farah's victory in Chicago last October from afar.
"With all the people of the United Kingdom on the streets, he'll have a big run on Sunday."
When he arrives on the starting line, Kipchoge will live in the present, aware that past achievements and accolades count for nothing. Now that the world record is his, Kipchoge will be not be looking at the clock, but at his rivals.
-Additional reporting from www.runnersworld.com