A Day In Life With: Eliud Kipchoge Part 1
Oct 10 - by SPN Correspondent for SportPesa News
Olympic champion and world marathon record holder pioneers the new series on SportPesa News. Three-time Berlin winner offers deep insight of how he shifts from being a global super star to the guy next door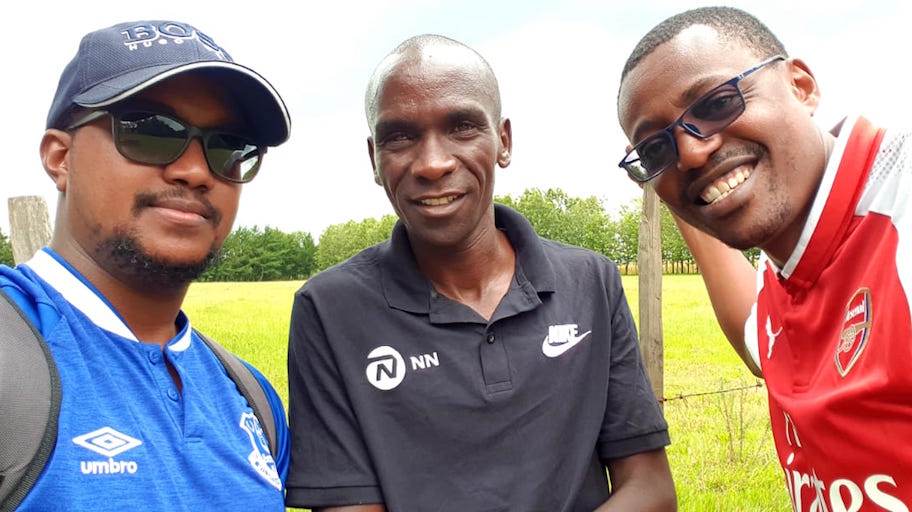 On any public holiday, the gym that bears no trappings of majesty, grandeur or top-notch equipment is usually closed but on this day, Ben Koech Sudi, the sprightly 64 year-old aerobics trainer who looks way younger than his age had to open the premises
The Rio 2016 Olympic champion is smartly decked in a Nike and his team NN black polo t-shirt, branded slacks and running shoes, a firm guarantee to honour his sponsors even when going about casual business
What is the craziest thing that has ever happened to you with a Kenyan fan apart from being interviewed in a farm by two individuals (from SportPesa News)?
ELDORET, Kenya- Its shortly after 7am local time (+3GMT) on a public holiday in Kenya (October 10) when six individuals get down to work, having left their beds at the crack of dawn instead of taking the day off from their daily chores.
The setting is a modestly equipped gym at the heart of the self styled 'Home of Champions' Eldoret; the fifth largest city in Kenya located some 314.3Km west of the capital Nairobi.
On any public holiday, the gym that bears no trappings of majesty, grandeur or top-notch equipment is usually closed but on this day, Ben Koech Sudi, the sprightly 64 year-old aerobics trainer who looks way younger than his age had to open the premises.
He had no choice because Sudi serves a special clientele, who come rain, come shine, public holiday or not, their self-discipline and dedication to their profession does not allow room for luxury or indulgence.
This is the setting that greeted SportPesa News when it got the rare privilege to spend a day in the life with Eliud Kipchoge, okay scrap that, actually two days with the man simply known as the Greatest Marathoner of All Time.
Besides the world record holder over the ultimate distance in athletics during Wednesday's workout is Gladys Cherono, a fellow three-time winner at the BMW Berlin Marathon.
On September 16, 2018 Kipchoge and Cherono made history when the former produced the finest individual performance in the marathon of all time when he stopped the clock at a 2:01:39 (still unbelievable) new world record as the latter added the gross by breaking the women's course record in 2:18:11 for the Kenyan double.
Yet, less than a month later, as the world continues to reel from the sheer audacity of their achievement, the pair and four colleagues are already putting in the hard work to prepare for their next assignments, the spring marathon season in April next year, six months away.
If that commitment and dedication to their career does not blow you away, just think of the state most Kenyans woke up to on the morning of October 10 after the Government announced it would be a public holiday following a court order reversing the scrapping of Moi Day?
While the staggering success of Kipchoge, who is still 33 having had a career spanning 17 years at the top of his sport, is in no doubt, the aim of spending a day with him was to unmask the human face behind the biggest distance running force the planet has ever witnessed.
Mind-blowing
Our mind-blowing experience starts on Tuesday (October 9) when Kipchoge, the Olympic marathon titleholder asks us to meet him at a restaurant located at the leafy Elgon View Estate at around 9pm following our journey from Nairobi.
Arriving to the venue in a hired cab, the hotel is two hours from opening for business but the lone guard inquires why we are there. "Eliud has asked us to meet him here," comes the reply.
And just like that, like a code word or magic password, we are let in. Minutes later, as we soak in the welcome sunshine rays and clean air of the second most important city in western Kenya after Kisumu, an Isuzu D-Max double cabin truck approaches the gate.
At last, our man is here but instead of waiting for a guard to open it for him, he steps out of his vehicle- one of the two he was rewarded with in the span of two years following his partnership with General Motors- lets himself in, locks it and proceeds to park where we are waiting.

The Rio 2016 Olympic champion is smartly decked in a Nike and his team NN black polo t-shirt, branded slacks and running shoes, a firm guarantee to honour his sponsors even when going about casual business.
There is a lesson in there for Kenyan sportspersons seeking to attract commercial endorsements.
He then disarms us from the palpable excitement of being in the presence of a global super star, an icon, a giant and the finest in his trade by breaking into a broad smile, warm greeting and a question, "How did they let you in here?"
"We just told them Eliud told us to wait here and that was enough," prompting him to break into laughter. "You're a big name you know," we continue.
Our adulation does not faze him even one bit as he listens patiently, intently and obediently to the purpose for our visit. We are not here to dwell on his jaw-dropping ever-expanding list of milestones in athletics; we came just to spend a day with Kipchoge the man and have a chat.
Follow me
"Okay, ask your driver to follow me," he grins and leads us out of the hotel, once again letting himself out of the gate. He's driving alone, no entourage, no ceremony, just another motorist a scenario that belies his status as a mega star.
After a 20 minutes drive, we arrive at his farm that poignantly, neighbours a high school owned by his namesake and fellow Nandi County athletics symbol, Dr. Kipchoge Keino who is widely hailed as the father of Kenya's athletics.
Then, what initially started as a one-to-one while strolling on a farm turned into a one hour and 45 minutes of spellbinding awareness of what exactly makes Kipchoge seamlessly blend his status as a legendary distance runner commanding global acclaim with his enchanting ability to be the guy next door who can slip unnoticed in a crowded street.
One great Kipchoge borders another great Kipchoge, was that by design or a coincidence? How did that Kipchoge help this Kipchoge to be what he has become? We pose, pointing in the direction of the Kip Keino High School that was opened by IOC President, Thomas Bach.
"That was coincidence," he replies in deep laughter. "My mentor is Patrick Sang, I came into the limelight after knowing Sang and with that, I came to know Kipchoge Keino.
"In this world, you are remembered by only two things, the problems you solved or the problems you created. I think Kipchoge will be remembered by the problems he solved, such as constructing a school, he has solved the problem of illiteracy," he offers in one of his many zingers of wisdom that leave you in stunned reverence.
What kind of influence did you gain from Sang, from what angles and where was the turning point? We dig deeper to understand the intense relationship between the athlete and the coach who has moulded the talent of the distance running titan from a teenage world champion in 5000m to the biggest act in marathon.
"If I did not meet Sang, you would not be here interviewing me now. I have been with him in my whole (professional) life. He is the one who nurtures and motivates the talent," he readily admits, celebrating the Barcelona 92 Olympics 3000m steeplechase silver medallist who has towered over his incredible career since 2001.
"Sang is not only a sports coach but also a life coach. He teaches how to invest and all sort of things in this life so if you bump and stay with him, you are in the right side of life.
"He is like a lecturer in the university and I'm a student. I'm still learning every day, I have never graduated," he explains.
Do you intend to graduate any time soon?
Going on strike
"I don't know, men! I've never though of graduating any time soon, I still have a lot to learn. He is the teacher, I'm the student," the two-time London winner who has won 10 of his 11 marathons started in reinforcing his mantra of being a stellar student of athletics and the marathon.
Are you planning to ever go on strike?
"(Prolonged laughter) Hatugomi (we will not strike)."
The story goes that after several attempts to catch the eye of America-educated Sang, Kipchoge won a local Athletics Kenya organised race that saw him gifted his first Timex digital sports watch by his mentor in 2000. The rest, as the tired adage goes, is history.
His next response on the importance to sticking to and obeying a coach who has masterminded his rewarding career offers one of the many insights that set Kipchoge apart from his peers in his quest for unmatched greatness.
"I have never met a student with more IQ (intelligence quotient) than the teacher. If there is, that is more genius than everybody else and I would love to meet them. If you meet a good teacher, it is good to stay for a long time and learn more."
A model of longevity and discipline that is firmly engrained in his DNA, we turn to his audacious Nike Breaking2 attempt to run the 42.195km marathon distance in under two hours at the Monza Formula 1 track on May 6 last year, an astounding effort that fell an agonising 25 seconds short (2:00:25).
Does he believe the 2:00 barrier can be breached and is he the first man to do it?
"Considering the documentary of Breaking2, I'm still in denial that the big guy who was behind this died five days ago.
"I'm sorry for his demise but if the time comes… It teaches us that in life when we are given a chance, we should take it," he started by paying a heartfelt tribute following the death of Sandy Bodecker, one of the most influential behind-the-scenes figures in the sports world.
Canadian Bodecker, 66, passed on October 3 and he was Nike's Vice-President of Special Projects, with the Breaking2 initiative that captivated the world and turned millions among them American star comedian, Kevin Hart, into athletics fans his most visible.
Breaking2 statistics
"That was Nike's project and who knows who else will come up with such an idea. I would love to do another great thing in the world before I leave the sport."
At the home of the Ferrari Formula 1 racing team, Kipchoge eclipsed two other potent distance runners in world half marathon record holder, Zersenay Tadese (Eritrea) and Lilesa Desisa (Ethiopia) in an event that made history as the first to be live streamed on micro-blogging site, Twitter.
Since then, the Breaking2 documentary continues to pull insane interaction on social media, spiking again when he pulverised the four year-old previous world record set by countryman Dennis Kimetto (2:02:57) at the same Berlin course four years ago.
Despite hailing from an era where social media was a foreign phenomenon, Kipchoge has quickly adapted to the digital age and the powerful modern communication tools that have fuelled his rise to superstardom.
He is one of the few Kenyan sports personalities with a verified Twitter account, with over 84,000 followers.
"To say the truth, in Kenya nobody believed I could do Breaking2, apart from my coach Sang and training mates. There were some nasty comments on Twitter but all in all, somebody else cannot kill your idea.
"Personally, I internalised and thought about how to run under two hours for seven months. The training took three months first then we went for a test run to feel how a formula one track is," the former Chicago Marathon winner informed.
"Later, we came for another three months for pure training for the marathon. A 100 per cent of a whole population cannot like what you are doing but will believe it when you actually show them this is right.
"With a week to go to the real Breaking2, I was happy to see positive tweets and posts on social media. I was amazed after missing (the target) by 25 seconds; those watching on www.nike.com were 13.5 million without Runners World or all those websites," Kipchoge quipped with his eyes lighting up.
He then went on to outline the incredible figures on social media about a project that was slammed by some as a gimmick and a joke for the sport he starred in and the pride of place it takes in his career although there was no medal on offer.
"Eight hours after that, those who got interested were 660 million! And from that time since the Breaking2 documentary first aired on National Geographic, every week from May 6, 2017, 40,000 to 50,000 people watch it every week (on YouTube) to date!
"It has been voted, more than 10 times, as the best documentary ever!"
Let those scarcely believable statistics sink in for a moment.
Monza experience
We're right back, attention shifting to his experience at the home of the red arrows of Formula 1.
You have done so many things, and if we achieved anyone of them, we would retire. What was it like to be in Monza, did you ever aspire at any one point to run on a Formula 1 track?
"My favourite driver is (Lewis) Hamilton but I support both the Mercedes and Ferrari teams. That was beyond my thoughts, a Formula 1 track is out of this world. When you go to a Formula 1 track and see how it has been maintained, it is beyond human thinking.
"I never knew that one day I would run in a Formula track and I can say I'm the fastest human being to run in a Formula 1 track! Monza is the fastest Formula 1 track, 386km per hour. It was great for me to be given a chance to run there," he says with unmistakable pride.
Do you think Kenyans love you? Do you feel appreciated?
"Kenya has come to appreciate sports, not like previous times. You can see the reaction around of the country and I can say maybe half of the population in Kenya watched the Berlin race and felt inspired."
What is the craziest thing that has ever happened to you with a Kenyan fan apart from being interviewed in a farm by two individuals (from SportPesa News)?
"(More laughter) I once went into a supermarket and bumped into someone who was crying grabbed me and I had to stop shopping and ask him what is going on. He said no, I have been a great inspiration to him and his kids.
"I was touched. We took a photo and left the supermarket after my shopping. That is why we are in sport, when you inspire someone, it's better than being given a big trophy, that is the beauty of sport."
-To be continued in Part 2
-Report by Farid Kipirash and Mutwiri Mutuota