A Day In Life With: Eliud Kipchoge Part 2
12th October 2018 - by Mutwiri Mutuota
In the continuation of the first part of the new feature segment on SportPesa News, the Olympic marathon champion and world record holder open up about money, music, reading and his monastic lifestyle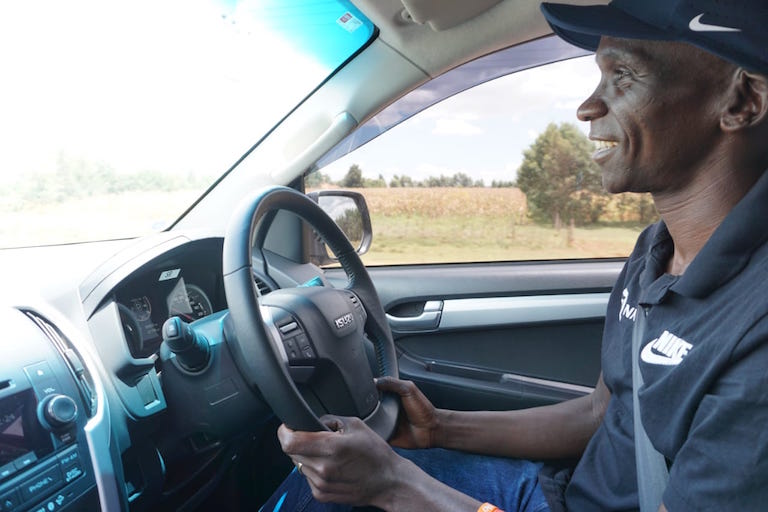 SUMMARY
In Part 1 of A Day In The Life With: Eliud Kipchoge, SportPesa News detailed how we got the esteemed honour of spending two days with the Greatest of All Time (G.O.A.T) in marathon, if not distance running
Having driven us from our first meeting spot at the Elgon View suburb to his farm in Eldoret, the world marathon record holder responded with consummate to topics mostly unrelated to his astonishing running career
His dutiful spouse was busy running chores but the moment Kipchoge started speaking with much adulation about his family, Grace parked the small saloon car she was using out of earshot but within sight
ELDORET, Kenya- Three men stand in the middle of a sub divided plot inside an expansive farmland deep in the Kenyan Rift Valley locked in deep conversation with the most famous among them leaning casually on a barbed wire demarcating fence.
To the casual eye, it looks like two men working hard to convince the third to part with the undisturbed piece of fertile soil that has some cedar trees offering good shade at a discounted price.
On closer inspection however, the visitors dressed in official replica kits of English Premier League clubs, Everton FC and Arsenal FC, are in the middle of interviewing a living legend, with one bearing a radio recorder and the other, a digital camera- everything that is going down must be documented for posterity after all.
The trio had earlier started their discussion with a mid morning walkabout but as the sun rays hid and then re-appeared intermittently from low hanging clouds up above, the exchange got more captivating and juicer they stopped without being prompted at one spot, transfixed by the enchantment of it all.
In Part 1 of A Day In The Life With: Eliud Kipchoge, SportPesa News detailed how we got the esteemed honour of spending two days with the Greatest of All Time (G.O.A.T) in marathon, if not distance running.
The compelling insight into the human being wrapped inside the man who simply has no limits in his chosen sport continues in Part 2, with the Olympic champion opening up on aspects of his family life and his take on money among other facets that make him the giant he is.
Having driven us from our first meeting spot at the Elgon View suburb to his farm in Eldoret, the world marathon record holder responded with consummate to topics mostly unrelated to his astonishing running career.
Taking to the skies
Can we walk as we talk? The conversation had started.
"Yes, no problem, that's fine." Kipchoge, the winner of three Berlin and two London marathon titles replied.
How did you get into running?
"I started running in school, but there, I only did it during games time but in every competition, I always emerged number one. In those days, we had a champion runner from my village who was my neighbour and I wanted to be like him.
"We would sometimes watch him running on television," the 2003 men 5000m world champion who hails from Kapsisiywa village, near Kapsabet, Nandi County began.
"Later, I wished one day, I would have time and fly to Europe and maybe have a race there or just board a plane, that was my plan."
From early on, you realised running was a ticket that gave you an opportunity to board a plane. When and where did you spot your first plane? We continued as the noise from the cracking dry leaves underfoot created a crunching soundtrack.
"My aim was just to board a plane. I did not know at the time I would compete and fly into big cities around in high profile races. Yes, I just wanted to be inside a plane, I never thought of the outcome from running or competition.
"The beauty of any young person is just to go up in the air, that was my dream. I think it's also a dream for mature men or women that one day, they will fly in a plane or helicopter to Nairobi, Europe or somewhere," Kipchoge who completed his O-Level education at Kaptel Secondary School charged.
Like every young Kenyan growing up in the Nyayo Era of retired President Daniel Toroitich arap Moi, who ruled Kenya from 1978 to 2002, Kipchoge was attracted to matters aviation by the pomp and pageantry of national day celebrations.
"Every holiday like Kenyatta Day (October 20), Moi Day (October 10) of Jamhuri Day (December 12), the jets of President Moi used to fly across the country from Nairobi like Whoooooosh (gestures with his arm while simulating the deafening sound they made in flight) and those were the first planes I saw and told myself, one day I want to fly in them."
Musical interlude
What kind of music do you listen to?
"I'm not a big fan of music but sometimes I listen to Kelly Clarkson. She sang a beautiful and strong song, What cannot kill you can only make you stronger, that is the best among my favourite songs," he replied in a nod to the American singer and songwriter who won the 2002 season of television series, American Idol.
Kipchoge, 33, however, is still in touch with what is hip and enjoys the tunes of Tanzania Bongo music megastar, Diamond Platnumz (born Naseeb Abdul Juma).
"I know Mutwiri is also a fan of one of his recent hits, Diamond's Kwangwaru song!" he says, tapping the shoulder of one of the SportPesa News journalists with him.
That caused the trio to burst into prolonged laughter.
Kwangwaru where Diamond is featured by Harmonize (born Rajab Abdul Kahali) another Tanzanian artiste, razed the East African music charts with the song garnering over 28,150,736 views on YouTube by time of going to press.
Do you listen to any song or is there any tune that plays in your head before you take to the roads to train or compete?
"No, I actually don't listen to music when I'm running. Most put earphones when they are training but a race takes a lot of energy and need more concentration. When I'm about to enter a race, there is a lot on my mind.
"I cannot think of a song, I think of what could happen. In any marathon, you cannot know what will happen, you might be knocked down in the first five kilometres, maybe something will happen and you will not finish, there is a lot going on."
Breaking pain barriers
What keeps you going at that point when you feel your body is about to give up?
"When you're running at high speed and you feel like you want to give up, to me, I know that is where success is if you persevere since you are not the only one feeling that pinch.
"If you are 10 people (left in a leading pack) for example, each has their own percentage of perseverance. One may have 10, another 90 or 80 per cent. The more you persevere, the more you win and that is where success is."
That goes a long way in explaining why Kipchoge emerged the winner at the 2017 Berlin and this year's London marathons where he prevailed over unheralded Ethiopians Guye Adola and Tola Shura Kitata who chased him all the way to the final stages.
The Kenyan ace put them down for victory after epic battles of attrition that cemented his status as the undisputed king of the event before his world record in September confirmed him as the G.O.A.T.
"What helps me to go through the pain is when it becomes harder than anything else, I start auditing my life. The audit does not happening like in accounting where you put it down with a pen, its thinking.
"All the training I have done, the sacrifices I have made to get here and if I don't go through pain and hard training, I will not get to the finish," Kipchoge adds.
What are your favourite dishes, outside those recommended by dieticians or nutritionists?
"Ugali and Chapati," he responds citing the maize and wheat flour delicacies enjoyed across East Africa.
But you can't just eat Ugali and Chapati (unaccompanied)?
"Yes, you cannot do that, so I enjoy them with beef. And I like tea a lot too," Kipchoge reveals with another wide dazzling smile.
Kipchoge biography
When young people come to you for mentorship, how do you deal with this?
"That happens to me everyday. Everybody wants to seek advice and associate with those who have made it and the most important thing is to respect the advice."
Have you ever thought of writing a book?
"Oh yes! I have not yet written but in the future, I have to write a book."
What are the three key messages you will want that book to tell the world apart from the incredible story of your life?
"One is love of sports and what it brings apart from earning a living. The healthy part of it (is important) because they say in this world, any man or woman without a sport is like a ship without sails.
"You can work and play, it does not mean to be a sportsman, you must earn from it, you could be running for a cause or your health. Secondly, its to pass a message to millions of young people that education propels sport, without it, you will not go anywhere," the Athens 2004 Olympics 5000m bronze winner underscored.
"The third key lesson is humanity. We need to respect all human beings despite all the titles you may hold."
Do you read?
"I read for pleasure and knowledge. I have read a lot of books but the one that I read over and over is Who Moved My Cheese? It's just a small book but it says a lot as far as change is concerned.
"If you read that book and finish, you will be ready to change and accept change in every way," he professed, saluting the motivational business fable written by Dr. Spencer Johnson that was published in September 1998.
Who Moved My Cheese? was a New York Times business bestseller upon release and remained on the list for almost five years and spent over 200 weeks on Publishers Weekly's hardcover nonfiction list. It has sold more than 26 million copies worldwide in 37 languages and remains one of the best-selling business books.
Importance of change
Inspired by his favourite read, Kipchoge identifies change as one of the top ingredients of his roaring success.
"Change makes me love sport and my daily life. When you accept changes in technology and all other aspects of life, you will have a bright future. The current regime might change and what you are doing stops so, adapt to every new situation.
"The other thing that has kept me going since 2001 apart from change is self-discipline and I don't possess a money attitude on my mind. Those who are running with money on their mind cannot go anywhere?"
Can you expound on money attitude?
"Money attitude is in all professions. It's in sports, law and all careers and that is why you find teachers in this country (for instance) want to go on strike because of their money attitude.
"Can you harvest money? (Yeah) If you want to harvest money, you must sow the seeds. What are the seeds? (Work), Yeah, work hard and sow the seeds!
"People want to go on strike and they are not working hard. If you work hard, your employer will increase your payment!" he exclaimed.
Having made a colossal fortune from the proceeds of his glittering career, Kipchoge has firmly resisted the trappings of financial largesse.
Besides opening gates for himself when driving through, he also washes the toilet for his NN Running teammates at the Global Sports Training Complex in Kaptagat whenever he is in camp.
How has he avoided getting sucked up into the glitzy and pampered lifestyle of global superstars?
"In this world, if you are given a billion dollars, it will bring a big problem to your life even if it's all yours. You need to put material things in life aside and stay simple. The moment you are ruled and married by money, you will be done.
"Money comes with pride and pride is the sign of failure. The reason for staying up there is money cannot actually change your life. It can get you expensive cars; clothes but it cannot change your thinking. Even if you are a multi-billionaire but remain in your cocoon, you will always be trapped in it."
Monastic lifestyle
Although he does not subscribe to the faith, Kipchoge leads a monastic life of unwavering devotion and dedication to his sport.
For instance, the sprawling farm has not been cultivated yet and when we inquired why he has chosen to lead such an existence, his response left us gobsmacked.
"Material things can help us go somewhere or do something or help your children in future. A man is his conscience. You can define a man by his thoughts, not his riches.
"I believe when you achieve something, it is like climbing one of the branches of a tree," he remarks while staring at a nearby tree.
"Let me say I was here before Berlin, that branch was a world record," he narrates more, pointing at a branch.
"I have (now) stepped at a world record. The world record is there and has passed. People are now looking forward to Berlin and London next year. So, what has passed is gone, you aim for the next branch.
And he was not done.
"What you have or achieved should not control your thoughts. What is the use saying I'm a record holder; I have done this or that? That is nonsense!
"I will climb every branch and I don't know when I'll reach the treetop. You own a phone; no one can take it away from you. I own a world record, no one can take it away from me."
Have you ever drunk alcohol in your life?
"(Long laughter) Yes, you know I come from a community (the Kalenjin) where during circumcision, there are drinks, the local brew.
"During our circumcision, alcohol is part of the rite for passage and since then, I have never taken any drink."
But what about the huge glass of frothy stuff you've been pictured with after winning the Berlin Marathon?
"Those are sponsors and what we take is non-alcoholic," he confirms.
"Do you know Meru leads in alcohol (consumption in Kenya)," he quips, putting the poor journalist who hails from the community that lives in Eastern Kenya interviewing him on the spot, and that off course, sparks another round of hearty laughter.
Family man
Have you ever thought of buying a big fancy car?
"What I know is that if you buy a new car, the most beautiful even, the only time you will enjoy it is from the showroom to your house. The next day when you wash it, the feeling is gone and you're left with nothing.
"I don't see why you should go to a showroom and buy everything."
How do you fill the time in your off season during the break from the rigours of training and competition like right now?
"I don't go out to the bar and sit down for a drink. I don't have time in my life called free. I hear people saying they're idle but I have never been idle in life, I don't know, maybe I have a problem.
"My diary is full. I'm doing gym for the whole of this month (October) next (November) I have a two week tour in Asia and then come back for training. I've never woken up in the morning and felt idle," Kipchoge elaborated.
"Like this land for example is here because I come from a community that loves farming and I have not started being serious about it because I still have my career."
A single mother brought up Kipchoge, a fact that steeled him to make it in life. He went on to pay a heartfelt tribute to her, his wife Grace and three children.
"My family are the unsung heroes in my heart, they have contributed a lot, they are the ignition keys when I wake up. My mother is interested in what I do and prays all the time I'm outside.
"She has contributed a lot to my success because I want to make her feel happy in life. When you have one parent, especially a woman, in our tradition they treat those children as if they are not strong, they will not be leaders and they can't think well," the Beijing 2008 Olympic men 5000m silver winner lamented.
"I was brought up in a good and a straight way and I thank my mother for taking care of our whole family. I want to be a good father to my children and take care of my wife and kids.
"I have no experience on as far as fraternal love is concerned and I don't know how a father can love their kids but I'm trying my best to love mine to ensure they are happy and will have a good future and positive minds," the G.O.A.T emphasised.
His dutiful spouse was busy running chores but the moment Kipchoge started speaking with much adulation about his family, Grace parked the small saloon car she was using out of earshot but within sight before she stepped out and patiently waited for her husband to finish with his guests.
It later turned out there was an important message she wanted to pass across but opted to wait instead of interrupting the conversation.
"First, I want to give first class education to my kids and mentor them to love sport. If they get a good education, I will be a smiling father when I see them graduate in future.
"I was happy to be a father when we got our first born but I was not there to witness it happen. I see today's men going to witness kids being delivered and stay there, especially you people living in Nairobi. I'm still a traditional man and when my wife goes into labour, my mom is there.
"What I'm I doing there? I'm not a doctor! Provided they're okay, I'm okay," he adds.
Would you say traditional values are important to Kenyans?
"Traditions make us to morally upright. If we lose morals, we are eroding the whole society."
-Report by Farid Kipirash and Mutwiri Mutuota
-To be continued in the last segment Part 3