IAAF Slaps 10-Year Ban On Rio 2016 Olympics Team Manager Major Rotich
22nd May 2019 - by Mutwiri Mutuota
Disgraced official also ordered to pay a USD5000 fine after being found guilty of of agreeing to provide advance notice of planned doping tests to certain (fictional) athletes in exchange for money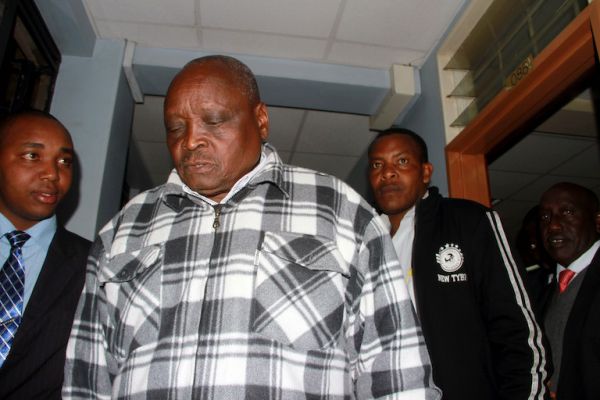 SUMMARY
In a 12-page ruling sent to newsrooms by the world athletics governing body, Rotich was found guilty of agreeing to provide advance notice of planned doping tests to certain (fictional) athletes in exchange for money
In January 2016, George Arbuthnott and David Collins, two undercover reporters from the UK publication Sunday Times and German TV, ARD met Joseph Mwangi and Major Rotich in Kenya
Despite the furore of the scandal, Kenyan runners went on to excel in Rio and return a record performance of six gold, six silver and a bronze to finish second in the track and field medal standing behind United States
NAIROBI, Kenya- The IAAF Ethics Board has banned disgraced track and field Team Kenya manager for Rio 2016 Olympics, Major (Rtd) Michael Rotich, for 10 years on Wednesday.
In a 12-page ruling sent to newsrooms by the world athletics governing body, Rotich was found guilty of agreeing to provide advance notice of planned doping tests to certain (fictional) athletes in exchange for money.
He was also ordered to pay USD5000 to the IAAF in fines with the right to appeal the decision at the Court for Arbitration for Sport within 21 days of the decision.
"The purpose of this agreement was plain: it was to assist those athletes to flush their systems of banned substances before taking doping tests.
"In these circumstances the Panel has concluded that Major Rotich should be banned for 10 years from taking part in any athletics-related activity including holding any relevant office in athletics," part of the judgement read.
READ ALSO: Special Feature: Woes Of Being At Mt. Kenya FC: Sleep In A Pub, Wife Runs Away
Rotich was found guilty after appearing in a sting operation aimed at uncovering dope cheats and suppliers ahead of the last Summer Games.
In January 2016, George Arbuthnott and David Collins, two undercover reporters from the UK publication Sunday Times and German TV, ARD met Joseph Mwangi and Major Rotich in Kenya.
The journalists purported to be the sports manager and coach of a fictional team of British athletes where Mwangi- one of the pharmacists/herbalist arrested and charged with doping Kenyan athletes but later released- offered to sell the reporters the banned substance EPO for use by their athletes.
The reporters met with Major Rotich on January 21 and 22 and later on February 21, 2016.
READ ALSO: Lowry Stars As Toronto Raptors Thump Bucks To Level Series
"During those meetings, which were secretly filmed, the reporters explained that they planned to dope eight British athletes with EPO and asked Major Rotich's assistance to protect their athletes from testing.
"Footage obtained from those meetings was published by the Sunday Times on 7 August 2016. It was accompanied by a news article of the same date," the Ethics Board ruling highlighted.
In the damning footage, Major Rotich was depicted;
"That he knew "the process", "the requirements" and "when they [drug tests] are done; That there was a British couple who conducted the tests, whom he knew "very well", and that they had a list that says, I'm going to test so and so; When asked whether this couple would "let [him] know [of planned drug tests], he replied, "oh yeah."
Banned substances
READ ALSO: Special Feature: Samuel Wanjiru Legend Lives Eight Years After Passing On
Mwangi on the other hand told the reporters that the athletes would need 12 hours' notice in order to flush their systems of banned substances, Rotich reportedly answered the time frame was 'reasonable.'
The reporters then offered retired Kenya Defence Forces a three-month lump payment of 9000 pounds (approx. KSh11, 529,450 today) to facilitate the meeting with the British couple with advance information for drug tests.
"That would be fine. I've no problem. Even 10 [thousand]. It would be a round figure. With that I will endeavour to go to this British family, not even tell them everything.
"I have athletes there and I am in charge of the region. Would you mind to…from time to time… let me know if you are coming to test," Rotich replied.
The couple in question were Paul and Liz Scott, who are official anti-doping testers in Kenya.
READ ALSO: Unbowed Semenya To Take On Obiri Over 3000m At Prefontaine Classic
After being expelled from Brazil, Rotich was arrested and detained upon arrival in Nairobi before being brought to court on August 9 where he was charged with conspiring to use St Luke's Orthopaedics' and Trauma Hospital in Eldoret for unlawful promotion of the use of prohibited substances to athletes.
Mwangi was arrested in 2017 alongside a doctor, Samson Talei and Ken Kipchumba after being covertly recorded saying they supplied athletes, including the Britons, with banned drugs such as banned blood booster EPO.
Following the publication of the explosive claims, Kenyan athletes gearing to run in Rio were subjected to harsh scrutiny after the country barely escaped a ban from the Olympics in the aftermath of the doping crisis.
The IAAF had placed Kenya on the doping watch list and it took the intervention of President Uhuru Kenyatta to speed up the process of giving the Anti-Doping Agency of Kenya legal powers and outlawing doping through an act of Parliament to avert a doping ban.
READ ALSO: Paralympian Star Mutai 'Overjoyed' With Clinching April StarTimes Award
Rotich was appointed the track and field Team Manager for Rio following the conclusion of the Olympic Trials in Eldoret in July 2016 having served as an Athletics Kenya branch chairman in the north rift.
Despite the furore of the scandal, Kenyan runners went on to excel in Rio and return a record performance of six gold, six silver and a bronze to finish second in the track and field medal standing behind United States.