Special Feature: Woes Of Being At Mt. Kenya FC: Sleep In A Pub, Wife Runs Away
21st May 2019 - by Mutwiri Mutuota
Relegated SportPesa Premier League club players go on live television to narrate the nightmare of being in a cash-strapped outfit that is first sinking into oblivion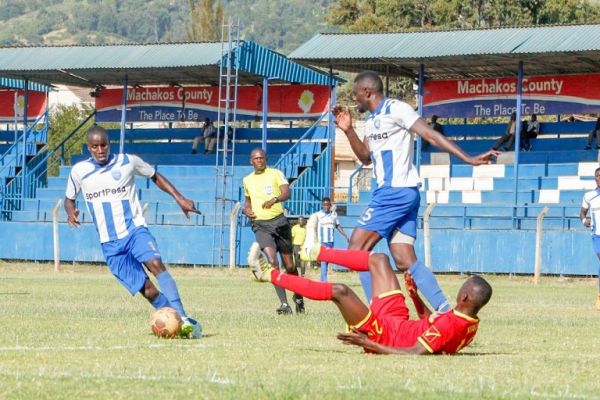 SUMMARY
At one point, the outfit formally known as Nakumatt FC, was the envy of many other teams in the land, reaching the now renamed SportPesa Shield domestic cup final in 2015 whilst playing in the second division before they fell to top tier Bandari FC
Like his captain, Zunzi told the show he has been unable to reach businessman cum politician Francis Mureithi, who took over the club in a consortium after their previous title partners, Nakumatt Supermarket chain also hit a financial rut mid last year
Unless the commercial ownership structure of local clubs is changed soon, sad stories like that of Mt. Kenya will continue being the norm, not an exception in the SPL
NAIROBI, Kenya- The inevitable relegation of Mt. Kenya United FC from the SportPesa Premier League (SPL) last weekend was another dark reminder of the how many a local football clubs have turned from grace to grass for the simple lack of cash.
At one point, the outfit formally known as Nakumatt FC, was the envy of many other teams in the land, reaching the now renamed SportPesa Shield domestic cup final in 2015 whilst playing in the second division before they fell to top tier Bandari FC.
Barely three years later, after hanging on to their top flight status last term by the skin of the teeth, Mt. Kenya followed an all too familiar path when they fell through the relegation trap door after accumulating only 18 points from 31 matches, winning just five, drawing thrice and losing a staggering 23 games.
Two of their losses were not even suffered on the pitch, with the fed up players electing to award SPL champions Gor Mahia FC and 2008 league winners, Mathare United FC (May 12) walkovers as they pressed for their payment.
MUST READ: Special Feature: Samuel Wanjiru Legend Lives Eight Years After Passing On
Speaking on Citizen TV's show, the suffering players gave a sorry tale of how their SPL dream collapsed without a fight with the club now facing an uncertain future after dropping down a division to the notoriously difficult National Super League (NSL).
"We have a squad capable of beating everyone. Lack of finances brought about all our problems. To speak the truth, if a player is not doing well pocket-wise, they cannot mentally focus on the game.
"We are a good team, we gave our all in some of the games we played. We have not been training, we used to come from home and head straight to the game," Kelvin Thairu lamented on live television.
"We have not been paid for eight months and you have a landlord chasing you daily. Having been loyal tenants in the past, sometimes they could pardon you for two or three months.
Nomadic lifestyle
"But by the fourth month, you have exhausted your deposit and now most of our players live with their friends and most can testify," the skipper who wore a brave face despite the shocking revelations added.
Thairu said initially, they elected to seek in house solutions and keep their woes from the public, claiming the playing unit were not aware where the grants from the Kenyan Premier League- some KSh280,000 per month- went to instead of alleviating their misery.
MUST READ: Did Gor's Nicholas Kipkirui Present Strong Case For AFCON Inclusion?
Congolese national, Litumba Zunzi, who was signed at the beginning of the season, is one of Mt. Kenya players who have suffered most as a foreigner plying their trade in the SPL.
"My sleeping conditions are so bad. I have been hopping from one friend to another during my time. I love training, playing football and scoring. How can I score goals if I'm not eating or sleeping well?
"I have slept twice in a vehicle and once in Egesa Villa (a nightclub in Nairobi's Umoja Estate)," the forward narrated.
Apart from his nomadic lifestyle, Zunzi claims he has not received a cent from his signing on fee from Tanzanian giants Yanga SC, decrying the situation has hit his family back in Congo hard.
Like his captain, Zunzi told the show he has been unable to reach businessman cum politician Francis Mureithi, who took over the club in a consortium after their previous title partners, Nakumatt Supermarket chain also hit a financial rut mid last year.
Goalkeeper Morzat Adjetey, who comes from Ghana, is another who has been most affected by the woes with seasoned former Muhoroni Youth FC man Kevin 'Gaza' Omondi making more startling claims.
"My wife left me, she thought that I have another partner and was lying to her that I have not been paid," the defender started.
"Our owner has already taken to his heels and is nowhere to be seen. I have gone 10 months without pay, he is not aware how I have been paying my rent or taking my children to school," Omondi went on.
The entire video on the plight of Mt. Kenya players can be watched below.
tried to contact club chairman, Bernard Musomi, to remark on the unsettling claims made on national television by his players before going to press but he responded; 'talk to me later.'
MUST READ: It Boils Down To This: Beat Vihiga And History-Chasing Gor Are SPL Champions
However, there is not hiding the fact that his team follows an all too familiar script in local football with recent examples being Nakuru AllStars FC, Muhoroni and Nairobi City Stars FC (before getting a new owner recently) who fell into difficult times after being relegated from the top flight.
In the past, glamour clubs such as Mumias Sugar FC, Kenya Pipeline FC, Eldoret KCC, Rivatex FC, Coast Stars FC and Transcom FC amongst others folded once their parent sponsors went broke or abandoned them altogether.
The sad tale of the SPL basement club served another reminder of the inherent danger in trusting the ownership of club to individuals as well as public or private business entities that are only keen on using them for Corporate Social Responsibility.
Financial stability
When Football Kenya Federation (FKF) introduced the CAF Club Licensing rules before the start of the 2017 season, one of its key requirement was only teams with financial stability would be allowed to participate in the top tiers of the country football.
However, the SPL and NSL have been allowed to run with teams who have met partial requirements with reports in March suggesting up to nine clubs in the top tier are hanging on a thin financial thread although they might escape the relegation exe that befell Mt. Kenya.
MUST READ: Unbowed Semenya To Take On Obiri Over 3000m At Prefontaine Classic
Speaking in a newspaper article published in , FKF President, Nick Mwendwa defended individual owners who have sacrificed their resources to keep local teams afloat with little or no support from corporates.
"How many of us who are willing to do that? Our institutions and parastatals are not ready to sponsor our team. If you antagonise individuals who break their backs, the Sofapakas and Zoo Kerichos of this world, what will happen when they walk away?" Mwendwa posed.
Third-placed Sofapaka FC and Zoo, who are desperately fighting to avoid joining Mt. Kenya in the SPL relegation scrap heap, are two of the teams who were identified as having delayed paying their players for months.
Mt. Kenya were formed and registered by Nakumatt in 2006 before rising to the second division in 2015 and premier league two years later and only retained their top tier status by beating Ushuru FC in the SPL/NSL Play-off at the back end of last season.
By then, ownership had changed hands and their name was formerly changed before the start of their last campaign in the first division for now.
MUST READ: Henrikh Mkhitaryan To Miss Europa League Final, Arsenal Announce
Taking part in an expanded 18-time SPL without the additional financial backing that was promised added the strain to local top division clubs since the exit of South African TV broadcast partner, SuperSport in April 2017.
Mt. Kenya players for example, said to have been offered a KSh30,000 token to honour their fixture against Kakamega Homeboyz FC on April 22 where they lost 1-0 while Sofapaka President, Elly Kalekwa, is on record saying the KSh400,000 needed to honour an away fixture in the country's depths is way below the KSh280,000 monthly grant they receive from KPL.
Unless the commercial ownership structure of local clubs is changed soon, sad stories like that of Mt. Kenya will continue being the norm, not an exception in the SPL.
Mt. Kenya FC's Boniface Mukhekhe in action in a previous SPL clash. PHOTO/Courtesy/Mt. Kenya FC