Giants Fall: Teenagers Auger-Aliassime, Gauff Steal Wimbledon Opening Show
2nd July 2019 - by Mutwiri Mutuota
Stars Osaka, Tsitsipas, Zverev and Venus Williams in shock first round exits as All England Club tennis grand slam serves off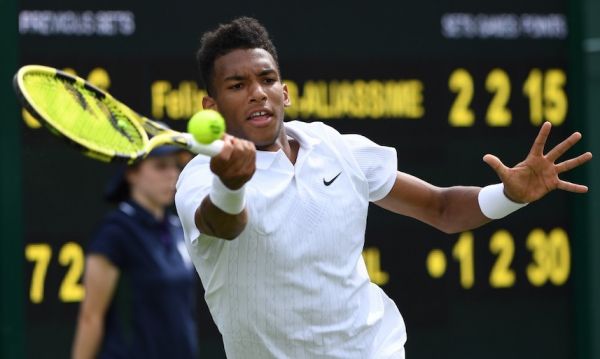 SUMMARY
Stefanos Tsitsipas and Alexander Zverev are leading the 'NextGen' youngsters tipped for the top in tennis but crashed out of the Wimbledon first round
At the same time, Wimbledon hailed a new queen when 15-year-old Cori Gauff stunned five-time champion Venus Williams as opening day at the All England Club witnessed shock defeats for title hopeful Naomi Osaka who joined Zverev and Tsitsipas in the shock exit scrap heap
US Open and Australian Open winner Osaka is the first top-two seed to lose in the first round since Martina Hingis in 2001
LONDON, England- Felix Auger-Aliassime showed up the stumbling NextGen flops at Wimbledon on Monday night, becoming the first man born this century to win at the All England Club but described talk of him as a potential champion as "crazy".
Stefanos Tsitsipas and Alexander Zverev are leading the 'NextGen' youngsters tipped for the top in tennis but crashed out of the Wimbledon first round.
However, 18-year-old Canadian Auger-Aliassime kept them on their toes by creating a little bit of history on his debut at the Championships.
The 19th seed beat compatriot Vasek Pospisil 5-7, 6-2, 6-4, 6-3 to register his first Grand Slam win.
"With the level I'm playing now and my ambitions, I look forward and I look to go even further than that," the teenager said.
The 2016 US Open boys' champion said the bookmakers' odds on him winning Wimbledon were unrealistic.
"It would be a cool story," he conceded.
DO NOT MISS: Matasi Heroics Fall Short In 10-Man Harambee Stars Collapse To Mane's Senegal
"If I can go all the way, I'll go all the way. But it's a bit exaggerated to put me as maybe a fifth- or sixth-favourite to win the title. That's a bit crazy.
"I'm already going faster than the majority and they want me to go even faster which I think is not sometimes realistic.
"People have to relax. I'm 18."
Meanwhile Tsitsipas and Zverev said they had plenty of rethinking to do -- and questioned whether they were made of the same stuff as the giants they are trying to replace such as Roger Federer, Rafael Nadal and Novak Djokovic.
German sixth seed Zverev, 22, long tipped as a future Grand Slam champion, lost 4-6, 6-3, 6-2, 7-5 to Czech qualifier Jiri Vesely, the world number 124.
Greek seventh seed Tsitsipas was beaten 6-4, 3-6, 6-4, 6-7 (8/10), 6-3 by world number 89 Thomas Fabbiano of Italy.
"People expected things from me. I didn't deliver," said 20-year-old Tsitsipas.
Ruin everything
DO NOT MISS: Safari Rally 'Has Met All FIA Requirements' For WRC Return- Sport PS Kaberia
"When you get so much support, so much energy, so much positivity from everyone, and just ruin everything by yourself, it's devastating."
As for the suggestion that things were just all happening too fast, the Australian Open semi-finalist said that was no excuse.
"Rafa and Roger seemed very mature and professional in what they were doing, they had consistency from a young age. They always did well tournament by tournament without major drops or inconsistency.
"Something that we as the Next Gen players lack, including myself, is this consistency week by week."
After losing to the lowest-ranked player ever to beat him at a Grand Slam, Tsitsipas was asked if he would take some time off.
"Maybe I don't deserve a break," he shrugged.
Zverev failed to reach the Wimbledon second round for the first time ever.
DO NOT MISS: Gor Ace Kahata: I Have Not Yet Signed For Simba, Seda Named Sharks Assistant Coach
"I didn't lose this match on tennis. It's just my confidence is below zero right now," the 2013 boys' world champion said.
"I get down on myself a lot.
"Everything that happens outside the court affects you. The last two days, I would say, are very rough for me personally. I'm not going to get into details."
Now Zverev wants to sort himself out in time for the US Open at the end of August.
"I have a few months until the US Open. I'll figure it out. I've always said that the US Open this year is the tournament that I think I can have my breakthrough at the Grand Slams," he recalled.
At the same time, Wimbledon hailed a new queen when 15-year-old Cori Gauff stunned five-time champion Venus Williams as opening day at the All England Club witnessed shock defeats for title hopeful Naomi Osaka who joined Zverev and Tsitsipas in the shock exit scrap heap.
Gauff, already in the record books as the youngest player ever to qualify for the tournament, showed nerves of steel after squandering three match points in a tense conclusion on Court One before securing a 6-4, 6-4 win.
She made just eight unforced errors while 39-year-old Venus committed 25 as the veteran American suffered only her second first round loss at Wimbledon -- the first was in 1997.
DO NOT MISS: Sealed With A Kiss: Faith Chepng'etich Makes Prefontaine Classic Victorious Return
Williams had already won two of her five Wimbledon titles by the time Gauff was born in 2004, but the teenager was unfazed.
Cori Gauff of U.S.A. (L) shakes hands with against Venus Williams of U.S.A. just after the ladies' singles first round of the Championships, Wimbledon at the All England Lawn Tennis and Croquet Club in London, United Kingdom on July 1, 2019. PHOTO/AFP

"It's the first time I have ever cried after winning a match," said 313-ranked Gauff who took up the sport after being inspired by Venus and Serena Williams.
Good luck
"At the net, Venus told me congratulations and keep going, she said good luck and I told her thanks for everything she did."
"I wouldn't be here if it wasn't for her -- I told her she was so inspiring. I've always wanted to tell her that but I've never had the guts."
On a day of seismic shocks, Japanese superstar Osaka slumped to a 7-6 (7/4), 6-2 defeat to 39th-ranked Yulia Putintseva of Kazakhstan who had defeated the world number two on grass in Birmingham two weeks ago.
US Open and Australian Open winner Osaka is the first top-two seed to lose in the first round since Martina Hingis in 2001.
DO NOT MISS: Kenyan Rascals Plant Lewd 'Wamlambez, Wanyonyez' Sign Outside Senegal Embassy
"Can we stop now? I think I am going to cry," she told reporters as she made a quick exit from her post-match news conference.
Osaka has yet to make a final since her Australian Open win in January.