Kenyan Rascals Plant Lewd 'Wamlambez, Wanyonyez' Sign Outside Senegal Embassy
1st July 2019 - by Mutwiri Mutuota
Harambee Stars will battle the Lions of Teranga in their final Group C clash at the Egypt 2019 AFCON on Monday night where the winner is assured a ticket to the last 16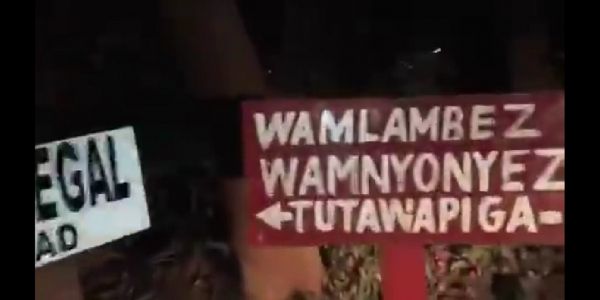 SUMMARY
AFCON fever has swept through the country that last featured at the continental showpiece at Tunisia 2004 and with their team Harambee Stars needing at least a draw to sail to the knockout phase for the first time in history
In the video shot dead in the of night, the rascals who were careful to hide their faces from the camera are seen tip-toeing towards a sign post written 'Embassy of Senegal, 65 Nairobi road' and hammering in quickly another written 'Wamlambez, Wamnyoneyz Tutawapiga' with an arrow pointing towards the Senegalese banner
The highly anticipated clash against Senegal was the biggest topic on social media on Monday morning with the hash tag #SenegalMustFall trending in the country
NAIROBI, Kenya- A naughty sign post chiding Senegal was planted outside the country's Embassy in Nairobi on Sunday night ahead of the crucial Egypt 2019 CAF Africa Cup of Nations (AFCON) clash where Kenya will play the Lions of Teranga with a ticket to the last 16 at stake.
AFCON fever has swept through the country that last featured at the continental showpiece at Tunisia 2004 and with their team Harambee Stars needing at least a draw to sail to the knockout phase for the first time in history.
A bunch of witty local supporters went to the gates of the Embassy located at House No. 192, Gigiri Close, Off United Nations Crescent in the outskirts of the Kenyan capital according to a 32 second video that went viral on social media on Monday morning to plant the offensive sign post.
READ ALSO: Kenyans To Migne: Drop Kahata, Omar For Crucial Senegal AFCON Test
In the video shot dead in the of night, the rascals who were careful to hide their faces from the camera are seen tip-toeing towards a sign post written 'Embassy of Senegal, 65 Nairobi road' and hammering in quickly another written 'Wamlambez, Wamnyoneyz Tutawapiga' with an arrow pointing towards the Senegalese banner.
'Wamlambez, Wamnyonyez (roughly translated to lick and suck)' is street lingo with sexual connotations that has caught Kenya by storm following the release of a lewd song by the group Sailorz that is currently ruling the charts in the East African nation. 'Tutawapiga' simply means we will beat you.
Defacing property is illegal in Kenya and that perhaps explains why the pranksters chose to strike in the darkness of night in a carefully orchestrated operation that according to the video, lasted less than 35 seconds.
READ ALSO: Harambee Stars Hope To Cage Teranga Lions In Showdown For Last 16 Ticket
After opening their campaign with a limp 0-2 loss to already qualified Desert Foxes of Algeria, Kenya reignited hopes of qualifying for the knockout stages of the AFCON for the first time in their history when they twice came from behind to beat neighbours and regional rivals Tanzania 3-2 in the most enthralling game of this edition.
Stars need victory to book their automatic place or at least a draw to remain in contention of finishing among the best four third-placed teams when they face the Lions of Teranga who are the best rated African team in FIFA world ranking.
The highly anticipated clash against Senegal was the biggest topic on social media on Monday morning with the hash tag #SenegalMustFall trending in the country.
READ ALSO: Madagascar Stun Nigeria To Qualify Top Of Group B, Burundi Out Pointless