Aviation Scoop Kenya Six-Goal Tournament Trophy
Sep 18 - by Erick Ochieng for SportPesa News
Winners secure crown with an 8-7 victory over White Cap Lager in a see-saw final at Nairobi Polo Club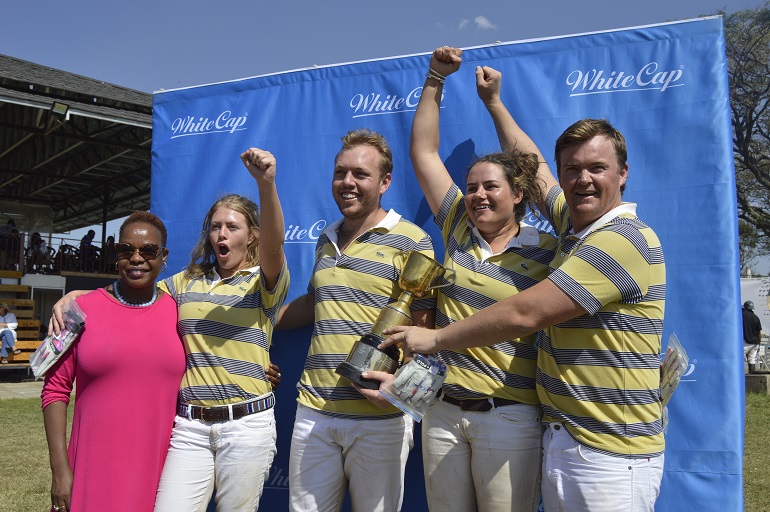 The winners outclassed Work In Progress 7-4 in the preliminaries and Mombasa Island Cargo Terminal (MICT) 9-6.5 in the semis on their way to the finals

Raphael Nzomo's sponsored Samurai whitewashed White Cap Lite 6-2.5 to win the Plate
White Cap Lager have enlisted Kenya international and handicap five player, Jamie Murray, ahead of 14-Goal challenge this Friday
Chris MacKenzie will be the highest rated player in the forthcoming competition at handicap seven
NAIROBI, Kenya- Afrika Aviation pipped White Cap Lager 8-7 to emerge champions of the three day Kenya International Six-Goal Polo Tournament that concluded at the Nairobi Polo Club on Sunday evening.

The winners outclassed Work In Progress 7-4 in the preliminaries and Mombasa Island Cargo Terminal (MICT) 9-6.5 in the semis on their way to the finals.
"The matches were very tough, this is because of the caliber of players that have been flown in by the teams to assist the clubs," Aviation patron and Nairobi Polo vice chairman, Raphael Nzomo, underlined.
Governors Camp, led by handicap 3.5 player, Archie Voorspuy, finished third after beating MICT that was steered by former South African national team hard hitter, Buster MacKenzie, 8-5.5 in the play-off.
Nzomo's sponsored Samurai whitewashed White Cap Lite 6-2.5 to win the Plate category
Izzy Parsons of Governors was voted Most Valuable Player of the event that acted as a curtain raiser to the 14-Goal challenge to be defended by Samurai at the same venue starting this Friday.
Samurai have enlisted South African handicap four player, Brad MacGibbon, to boost their chances.
"Brad has returned to Kenya to help us secure the cup. He is the best-mounted international player one can ever have in their team," Nzomo underlined.
The club edged R.J Polo 7.5-6, Royal Salute 4.5-4 and Samsung 7.5-5 on their way to winning the trophy in 2017.
White Cap have also signed Kenya international and handicap five player, Jamie Murray who has had professional stints in England, Thailand, Australia, South Africa, Zimbabwe, Zambia and Barbados.
Intense competition
Aviation will be fortified by another South African high profile scorer and handicap five Gareth Evans.
"My dream is to be a handicap 10 player before I retire from this game," Evans underscored.

The MICT have also dug deep into their pockets to fly in veteran MacKenzie who gave his opponents goose bumps in the past whenever he saddled.
MacKenzie jetted in with his son, Chris, who will be the highest rated player in the competition at handicap seven.
"This year's edition is historic in that Kenya's 12-Goal tournament has been upgraded to 14-Goal competition because of the number of highly seeded professionals that have been flown in by the teams.
"We expect intense competition this coming weekend," highlighted Nzomo.
Six-Goal Tournament Preliminaries results
MICT 6.5 5 White Cap Lite
Afrika Aviation 7 4 Work In Progress
Governors Camp 6 2.5 Ultimate Security
White Cap Lager 6 5.5 Samurai
Semis results
Afrika Aviation 9 6.5 MICT
White Cap lager 7.5 7 Governors Camp
Third Place Play-off
Governors Camp 8 5.5 MICT
Plate final
Samurai 6 2.5 White Cap Lite
Six-Goal Cup Final
Afrika Aviation 8 7 White Cap Lager
Most Valuable Player- Izzy Parsons (Governors Camp)