Timothy Cheruiyot Reigns Supreme, Hassan Blasts To World Record In Monaco
13th July 2019 - by Mutwiri Mutuota
Botswana's Nijel Amos runs fastest time since David Rudisha in men 800m to beat Ferguson Rotich in explosive night of athletics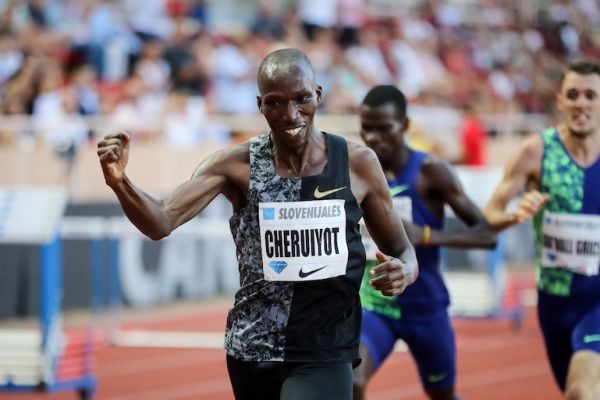 SUMMARY
Cheruiyot who is the Diamond Trophy champion and favourite for the world title in Doha won the men's 1500m, which was not a scoring race in the Diamond League, but was a phenomenal race in anybody's estimation
Hassan, who had broken the 5km road race world record in the Principality in February, simply cut loose over the final lap and was suitably rewarded for her enterprise by the digital clock
As he neared the line he was chased home by the taller figure of Kenya's Ferguson Rotich, who was rewarded for his persistence with a personal best of 1:42.54
MONACO, Principality of Monaco- Timothy Cheruiyot once again impressed as Ethiopian-born Sifan Hassan set a new world record on an explosive night of athletics at the Herculis EBS Diamond League in Monaco on Friday night.
Cheruiyot who is the Diamond Trophy champion and favourite for the world title in Doha won the men's 1500m, which was not a scoring race in the Diamond League, but was a phenomenal race in anybody's estimation.
After the pacers had dropped away, Kenya's London 2017 world silver medallist, who had won the previous week's race in Lausanne in a 2019-leading 3:28.77, led the field through 800 metres in 1:51.3 – a couple of seconds slower than the split in Switzerland – and pushed on.
But as the field came to the bell it was Norway's 18-year-old Jakob Ingebrigtsen who threw down the gauntlet and led through. Halfway down the back straight, however, the lean and hungry Kenyan pushed back into the lead and while the young Norwegian never slackened in his challenge he had to give best on this occasion.
MUST READ: Djokovic Stands Between Federer And Greatness After Epic Nadal Victory
On a track where he set his personal best of 3:28.41 last season, Cheruyiot won in 3:29.97, with Ingebrigtsen second in 3:30.47 and Uganda's Ronald Musagala third in a national record of 3:30.58.
Britain's Charlie Grice also had a night to remember as he clocked a personal best of 3:30.62, a reward for his own bold challenge over the final lap, while back in sixth place Kenya's 18-year-old George Manongoi, younger brother of world champion Elijah, set a personal best of 3:31.49 – earning a hug from the winner, with whom he and his brother train.
Digital clock
Hassan, who arrived on the Stade Louis II track as the third fastest miler of all time, produced a marvel of a final lap to finish in 4:12.33, thus breaking the 23-year-old mark of 4:12.56 held by Russia's 1996 Olympic 800 and 1500m champion Svetlana Masterkova.
After the field had been paced through 800m in 2:08.20, Hassan moved into the lead with 600 metres remaining, with Ethiopia's Gudaf Tsegay the only runner in touch at that stage.
MUST READ: Police Salute Kariobangi Sharks Heroes In Kits For Africa Drive
Hassan, who had broken the 5km road race world record in the Principality in February, simply cut loose over the final lap and was suitably rewarded for her enterprise by the digital clock.
In her wake the effort of chasing told on Tsegay, who faded to fourth in a season's best of 4:18.31 as Britain's Laura Weightman came through to finish second in a personal best of 4:17.60 and Gabriela Debues-Stafford of Canada took third place with a national record of 4:17.87.
Nijel Amos produced the fastest 800m since the London 2012 Olympic final – where David Rudisha set the current world record of 1:40.91 and he himself won bronze in a personal best of 1:41.73.
That meant that his winning time here of 1:41.89 was not even a personal best, despite being the sixth fastest time ever.
It was an electric effort from the runner from Botswana, who, incredibly, is still only 25. He drove on as the second of the two pacemakers moved aside after taking the field through 400m in 48.70.
MUST READ: Former Commonwealth Champion Joyce Chepkirui Suspended For Doping
As he neared the line he was chased home by the taller figure of Kenya's Ferguson Rotich, who was rewarded for his persistence with a personal best of 1:42.54.
Amek Tuka of Bosnia and Hercegovina was third in a season's best of 1:43.62.