Police Salute Kariobangi Sharks Heroes In Kits For Africa Drive
12th July 2019 - by Louis Kalinga
SportPesa Cup champions have earned many admirers since their brave performance against Everton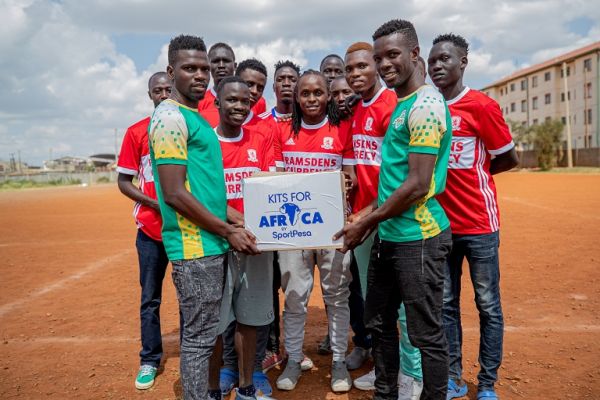 SUMMARY
In a video, the excited officer then boarded the bus and immediately sort out goalkeeper, Brian Bwire who was the star of the Sharks 4-3 shootout win after the two teams shared a 1-1 draw in regulation time
The incident was another demonstration of the impact of the landmark international friendly where Everton officially launched their 2019/20 pre-season tour in Nairobi in a match that drew a record 64,829 crowd at the MISC Kasarani
As part of giving back to a community and nation that willed them on in the face of the challenge from the English heavyweights, Sharks head coach William Muluya, led the distribution of the kit at the estate he was born 34 years-ago

NAIROBI, Kenya- In Kenya, it is a rarity for a traffic police officer to flag down a vehicle to celebrate the passengers inside. On most occasions panic spreads among commuters when the men and women in blue wave a driver to stop but on Tuesday the same feeling of dread must swept inside a bus ferrying SportPesa Premier League (SPL) side Kariobangi Sharks FC as it made its tour around Nairobi.
The team is riding on a wave of popularity following their impressive showing against English Premier League (EPL) side, Everton FC last Sunday and just how famous they have become was laid out bare for all to see when a traffic officer flagged down the specially branded bus adorned by the green and yellow team colours of the 2019 SportPesa Cup champions.
As the bus approached the round about to access Kariobangi North Primary School where the team was involved in distributing donated uniform from the Kits for Africa initiative that was launched by technology and entertainment business, SportPesa to grassroots team from Dandora estate, a policeman hailed the bus to stop.
In a video, the excited officer then boarded the bus and immediately sort out goalkeeper, Brian Bwire who was the star of the Sharks 4-3 shootout win after the two teams shared a 1-1 draw in regulation time.
MUST READ: SportPesa News Transfer Juice: Arsenal Dealt Fraser Blow, Griezmann To Barca Almost Done
"Goalkeeper ako wapi, goalkeeper ako wapi? (where is the goalkeeper?), he is fit for my team Arsenal FC and in Kenya, I support Sharks. Next season, you should win the league and if you do not, this bus will never pass through here," the cheerful policeman told the members of the team who were delighted with the encounter, bursting in huge laughter.
The incident was another demonstration of the impact of the landmark international friendly where Everton officially launched their 2019/20 pre-season tour in Nairobi in a match that drew a record 64,829 crowd at the MISC Kasarani.
As part of giving back to a community and nation that willed them on in the face of the challenge from the English heavyweights, Sharks head coach William Muluya, led the distribution of the kit at the estate he was born 34 years-ago.
"I'm glad to have returned to my roots to help with presentation of the uniforms. These teams we are kitting are so poor, they have no funds to buy sport gear, leave alone anything to show up for on any match-day.
"It is a tall order to support these clubs and that is the reason we that the team that has worked tirelessly to ensure these shorts and jerseys have reached the players here in Dandora," Muluya told SportPesa News.
MUST READ: Woman Dead, Shops Looted As Algerian Fans Cause Unrest After AFCON Victory
Despite their strong performance against Everton, the 2018 SportPesa Shield and 2019 SportPesa Cup winning coach maintained he was still in the market for defenders to strengthen his backline in his quest to mount a SPL title challenge.
"But first I have to know whom I'm dropping so I can work towards reinforcing that position, I think I have like six weeks to make a final decision," the head coach added.
His striker, Duke Abuya who became the first Kenyan to net a goal against Everton in the Sunday clash echoed his coach's sentiments.
"I'm happy to have presented my former team Dandora Fullnesco FC with a box full of kit. I remember we used to play bare-chested back in 2015 at Dandora Stadium in the many estate tournaments we used to take part in. I can not wait to see them in the new uniforms when they take on rivals in the Nairobi County League in August," Abuya added.
Abuya narrated how he left Fullnesco to join SPL side Mathare United FC in 2016 without ever having won a full uniform.
"I will not hesitate if an opportunity presents itself to play for my former club again especially during off-season tournaments like Koth Biro so I can have the chance to try out the new outfits that I handed them today," the forward added with a smile.
Fullnesco captain, Pascal Mwangi said lack of funds to buy proper uniform and honour away matches have seen them stagnate in the Nairobi County League for the last three seasons adding the gifts they received will inspire them to aim for better results, especially following the achievement of their former player who got the chance to play against one of the most famous teams in Europe.
READ ALSO: Coach Bayliss Will Not Stay Even If England Win 2019 Cricket World Cup
"Where Abuya has reached clearly tells us that all is possible if we work hard to realise our dreams. I was at the stadium when he scored that goal against Everton and this was great encouragement to the team that everything is possible under the sun," Mwangi charged.
Abuya is among the few former players who are currently role models to young and upcoming players at Fullnesco. Other notable local stars who honed their skills at the side are Daniel Mwaura (Mathare United FC), Geofrey Kataka (Posta Rangers FC), Christian Bwamwi (Norway)and Peter Kamau (Talanta FC).
"I felt happiness from the players when they tried out the jerseys and the boots. I'm optimistic that such opportunities will present again so all the hundreds of teams in Dandora can benefit," Sharks captain, Eric Juma highlighted.
Apart from Fullnesco, other teams that were kitted on the day include Dandora All Stars FC,Dandora Youth FC,Dandora FC, Dandora Young Stars FC, Dandora Younsters FC, Wazito FC, Dandora Community FC, Dandora Baltimore FC, Help Them Lord FC, Dandora Jobless FC, Dandora Hotspurs FC, Gaza FC and Dandora Maono FC.