Seasoned Choda Honoured For Bravery, Commitment To Rhino Charge Cause
30th June 2019 - by Erick Ochieng
The 72-year old was presented with the Spirit Of The Charge Award, the highest that a competitor can be accorded in the charity initiative, in a colourful ceremony held in Nairobi to recognise his effort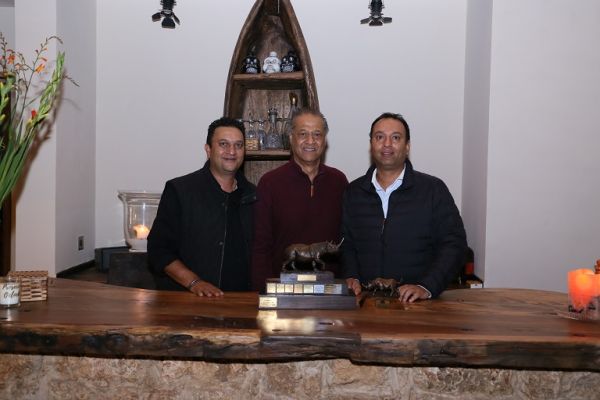 SUMMARY
His son, Sachin who is part of his Ole Choda team, was also struck by the attackers coming at a time the pair was gearing to participate at the grueling annual event organised to raise funds towards environmental conservation
He led his Car Number 6 crew, composed of his children Sachin,Sandev and Sunaina and Niccolo Amsellem and Amit Sharma, all through the 13 guard posts to finish ninth out of 56 contestants

Despite his age, the tourism business mogul reiterated his sentiment not to retire any soon as his mission to support the Rhino Ark activities is not yet over
NAIROBI, Kenya- Three weeks before the 31st Rhino Charge on June 1, retired local rally ace Manee Choda was shot by thugs at his palatial Karen home in Nairobi during a robbery attempt.

His son, Sachin who is part of his Ole Choda team, was also struck by the attackers coming at a time the pair was gearing to participate at the gruelling annual event organised to raise funds towards environmental conservation.
Luckily, they survived the ordeal and resorted to seek treatment.
READ MORE: Raging Team 23 Revved Up For 31st Edition Of The Rhino Charge
Despite the setback, the 72-year old did not give up his participation in the Rhino Charge, an event he has attended for the last 30 years.
With bandages all-over his body, Choda marshaled courage to conquer the grueling terrains of Nannapo Wildlife Conservancy in Oldonyiro where the challenge was staged.
He led his Car Number 6 crew, composed of his children Sachin,Sandev and Sunaina and Niccolo Amsellem and Amit Sharma, all through the 13 guard posts to finish ninth out of 56 contestants.
Choda was on Saturday night honoured by the event organisers for his bravery and dedicated service in the competition which has spanned for three decades.
He was presented with the Spirit Of The Charge Award, the highest that a competitor can be accorded in the charity initiative, in a colourful ceremony held in Nairobi to recognise his effort.
READ MORE: Ghana Sweat As Cameroon Clash Of AFCON Giants Produces Drab Draw
 "This is one of the best things to ever happen in my life, the trophy means a lot to me and my family. I really feel inspired now more than ever.
"I will continue to mobilise people to take part in this noble cause promoting conservation of Kenya forests and water catchment areas," Choda underlined in his speech.
Despite his age, the tourism business mogul reiterated his sentiment not to retire any soon as his mission to support the Rhino Ark activities is not yet over.
Sachin gave good account of his father saying Choda introduced him and his siblings to the sport ten years after he started and they will continue to follow his foot steps.
"I have engaged in the challenge for the last 20 years. It feels good knowing that you are preserving the environment for the next generations.The best thing one can do is to save a life," he underscored.
READ MORE: SportPesa News Transfer Juice: Man United Ban Boring Players, Juventus To Unveil De Ligt
Rhino Charge Clerk Of Course, Don White noted that they gave special recognition to exceptional people in the night to showcase the spirit of the event. 
"These are people who have shown bravery and kind gesture in helping others.The awards shows why Rhino Charge is held and what the competition is all about.  
"Choda has been with us for the last 30 years, he has inspired many to be part of the movement including his own family, so we are proud to honour him today," White highlighted.
Apart from Choda, other competitors awarded were Car Number 4 (Rhino Ashtrays Trophy), Car Number 55 and 39 (Best First Time Entrant Award) and Car Number 49 (Rob Combes Trophy).
This years's event was won by Car 48 led by Mark Glen who used the least distance (30.19km) to cover all controls including the gauntlet.
READ MORE: Wimbledon: Champion Djokovic Faces Stiff Challenge From Federer, Nadal
Despite not bagging top positions in the terrain challenge, the SportPesa teams were among the highest fundraisers in 2019 with Car 23 topping the charts with KSh19m (USD187,000) as Car 62 emerged third with KSh15m.