Safari Tour Golf: Mumias Hard-Hitter Indiza Commands Leader-Board In Kampala
7th November 2019 - by Erick Ochieng
The 2018-19 series champion Greg Snow, who shot a round of 2-over par, 74, to place him T17, alongside the 2019 Entebbe Open winner, Justus Madoya found the going tough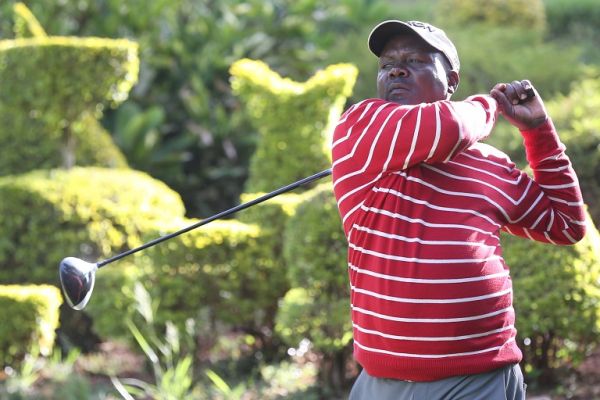 SUMMARY
The Mumias based golfer hit three birdies in front nine, however an equal number of bogeys saw him hold a turning score of par
Professional Golfers of Kenya captain, CJ Wangai is among five players who finished with a score of par, in seventh
KAMPALA, Uganda- Kenya's Dismas Indiza shot an impressive 4-under par 68 to command leader-board at the ongoing Lake Victoria Golf Resort Open in Kampala, Uganda.

The Mumias based golfer hit three birdies in front nine, however an equal number of bogeys saw him hold a turning score of par.
It was at the back nine that he turned on the style, shooting a blemish free nine holes, including four birdies to wrap up the score ahead of fellow country-mate Edwin Mudanyi.
Mudanyi had a bogey at the par-4 16th, his only dropped shot of the round.He also shot birdies on the sixth, eighth and thirteenth, while holding par through the other holes, a further birdie on the 18th saw him card a round score of 3-under par, 69 to sit a shot a head of Sujan Shah.
READ MORE: Muthaiga's Timbe Leads Kenyan Pack In Entebbe, Chinhoi Rules Leader-Board
Like Mudanyi, Sujan was on course for a table topping round, having not dropped a shot in sixteen holes, before a double bogey at the par-5 17th, cancelled out two of his four birdies in the round, he would hold on for a 2-under par score, just enough to finish above the trio of Henry Lujja (Uganda), Abbey Bagalana (Uganda) and Golf Park's David Wakhu, who finished the round with identical scores of 1-under par, 71.
Professional Golfers of Kenya captain, CJ Wangai is among five players who finished with a score of par, in seventh.
The others are Ronnie Bukenya (Uganda), Ronald Rugumayo (Uganda), Alfred Nandwa and Eric Ooko of Kenya.
It was a challenging day for the 2018-19 Safari Tour Series winner Greg Snow who shot a round of 2-over par, 74, to place him T17, alongside the 2019 Entebbe Open winner, Justus Madoya.
Safari Tour Calendar 2019/20
Event 1 Nyali Golf and Country Club 24th – 28th August 2019 (Winner: Greg Snow)
Event 2 Uganda Open (Lake Victoria Serena) 10th - 14th Sept 2019 (Winner: Madalitso Muthiya)
Event 3 Royal Nairobi Golf Club 12th – 16th October 2019 (Winner: Tony Omuli)
Event 4 Entebbe Open (Entebbe Golf Club) 30th Oct – 2nd Nov 2019
Event 5 Lake Serena Golf Resort Open (Lake Serena Golf Resort) 6th – 9th November 2019
Event 6 Great Rift Valley Golf Club 23rd – 27th November 2019
Event 7 Muthaiga Golf Club 14th – 18th December 2019
Event 8 Thika Greens 4th – 8th January 2020
Event 9 Sigona Golf Club 25th – 29th January 2020
Event 10 Kitante Open (Uganda Golf Club) 12th – 15th February 2020
Event 11 Karen Country Club 22nd -26th February 2020
Event 12 Tanzania Open (Kiligolf) TBC
2019 Magical Kenya Open, Karen Country Club, 12th – 15th March 2020.